Gastrointestinal Stromal Tumors | GIST Tumor | Symptoms & Treatment | MedStar Health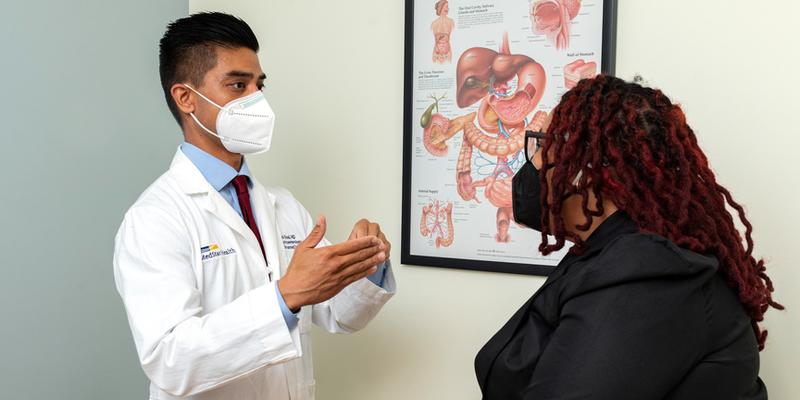 Overview
Patient-centered care for rare tumors affecting the GI tract
Gastrointestinal stromal tumors (GIST tumor) are an uncommon type of sarcoma that grow in the GI tract wall. Because this disease is so rare, few doctors have experience treating it. However, MedStar Health has become one of the country's major centers for the clinical study of GIST. Our specialists are revolutionizing treatment for this disease through clinical trials.
You'll benefit from state-of-the-art, personalized therapies as soon as they're available. Our cancer specialists are pioneers in treating GIST with novel therapies, including targeted therapies. For example, we participated in early trials testing imatinib, a biologic drug that is now used as the standard of care for treatment. Our doctors are leading new investigations for drugs that use information about your cancer's DNA to deliver effective treatment. As a patient at MedStar Health, we may recommend an emerging clinical trial that may improve your quality of life or oncologic outcome.
Most tumors begin in the stomach or small intestine. They may also develop in other GI organs, such as the esophagus, rectum, or colon. GIST tumor cells may be cancerous or noncancerous. Because they behave differently than other gastrointestinal cancers, they require a different approach to diagnosis and treatment.
Symptoms and risk factors
Most patients with GIST do not have any specific symptoms.
Gastrointestinal stromal tumor symptoms are common to a variety of different problems. Check with your doctor if you experience any of the following:
Blood in your vomit or stool
Severe stomach pain
Painful swallowing
Your stomach feels full even after eating just a small amount of food
Fatigue

Gastrointestinal stromal tumors can be hereditary.
We don't always know why people develop this kind of tumor. However, in some cases, risk factors can increase your chances of developing this disease. The primary risk factor is genetics, meaning that the cancer can be passed down in families. Certain genetic syndromes may also be risk factors, including:
Neurofibromatosis type 1, a rare condition that affects the skin, bones, and nervous system
Carney triad, a condition involving three rare GI tumors, including GIST, pulmonary chondromas, and paragangliomas
If you have a personal or family history of either of these, you may benefit from genetic counseling. Our board-certified genetic counselors can provide education, support, and recommendations for lowering your risk of disease if you have an inherited gene alteration.
Screening and prevention
There are no routine tests for detecting GIST early.
Many other types of cancer can be detected early with screening tests. For example, colon cancer can be preventable through regular colonoscopy screenings. However, because these tumors are rare, there isn't an effective way to screen for them if you don't have symptoms. And because the only risk factors associated are inherited syndromes, you can't prevent this type of cancer.
If you do have symptoms, it's important to talk to your doctor immediately so they can figure out the cause. There are always more treatment options when a tumor is found early.
Diagnosis
If you have signs of this disease, our experts will use several tests to look for a tumor.
Because there is no way to screen for this type of cancer, most patients find out they have it while undergoing other exams—or even surgery for an unrelated issue. Other times, patients come to their doctor with symptoms and need further testing to understand what's causing them. Your primary care doctor may refer you to a specialist in treating GI disorders, called a gastroenterologist.
To determine if you have a this type of tumor, your doctor perform several diagnostic tests, including:
Medical history: We will review your symptoms and discuss your medical history, including illness and previous surgeries. We will also discuss whether anyone else in your family suffered from GIST.
Physical examination: We will examine you carefully for signs of this kind of tumor.
Imaging tests: We may use one or several types of imaging to view your GI organs and tissues, including a CT scan,> MRI, Positron emission tomography (PET) scan, or Chest X-ray.
Upper endoscopy: We will place a thin, lighted tube (endoscope) through the mouth and esophagus to examine the organs of the upper GI tract (esophagus, stomach, and small intestine).
Lower endoscopy (Colonoscopy): We will insert a colonoscope through the anus to view the rectum and entire colon.
Endoscopic ultrasound and biopsy: this procedure, your surgeon creates an image of your GI tract and removes tissues for a biopsy. A biopsy is a close examination of your tissue under a microscope that determines whether the tissue is cancerous.
If these tests indicate cancer, your gastroenterologist will refer you to a surgical oncologist. They may perform or refer you for additional tests to confirm your diagnosis and/or learn whether your cancer is spreading to other parts of your body. For example, a pathologist may use additional tests to study the cells, such as:
Immunohistochemistry, a test that checks for certain antigens
Mitotic rate, to measure how quickly the cancer cells are growing
Understanding your GIST diagnosis
Your surgical oncologist will discuss your results with you thoroughly, explaining everything to you so that you confidently understand your diagnosis. In particular, it's important that you know about:
Tumor size
Mitotic count, or the number of abnormal cells visible under a microscope
Tumor location
Whether you have a certain molecule that indicates a GIST tumor (c-KIT positivity)
Tumor stage
Whether you need targeted therapy before or after surgery
What clinical trials are available
What your chances of recurrence after surgery are

Armed with this information, your team of surgical oncologists will work with a team of other specialists to determine the most effective treatment options for your disease.
Types of cancer
There are several rare subtypes of GIST.
These sarcomas can be further categorized by the following:
Wild-type GIST: These tumors develop spontaneously and aren't caused by cell mutations
Pediatric GIST: This type of tumor affects children and young adults
Syndromic GIST: This type is linked to Carney's Triad Syndrome
Familial GIST: These tumors are related to KIT gene alterations passed down from parent to child
Treatments
Treatment depends on whether or not the GIST can be removed with surgery.
Today, the outlook for patients with this kind of tumor is more promising than ever before. Some GIST tumors are small, and we may recommend watchful waiting. This involves closely monitoring the tumor and delaying treatment. If the tumor starts to grow or change, then we may consider treatment.
Surgery offers the best hope for a cure for GIST. Some patients also benefit from targeted therapies, including drugs offered through clinical trials. We work closely with our multidisciplinary team of specialists to determine the best treatment approach for you.
Your treatment options depend on two factors:
Whether a surgical procedure can remove your tumor
Whether your tumor is spreading to other parts of your body
After your treatment, your team of physicians will follow your recovery closely. We will meet with you and repeat imaging and diagnostic tests to ensure the cancer is not returning or spreading.
Surgery
When gastrointestinal stromal tumors have not spread to other parts of the body, surgery is the best treatment option. If your tumor can be surgically removed, it's considered a resectable GIST. During GIST surgery (resection), a surgeon removes the tumor and surrounding tissue. This is complex surgery because these tumors can spread if the lining that encapsulates them is torn. Our surgical oncologists are experienced in performing these procedures with exceptional precision. This has allowed us to remove some tumors that other centers considered inoperable.
Some patients are candidates for minimally invasive approaches that offer benefits over open surgery. Because minimally invasive surgery uses smaller incisions and specialized tools, patients may experience:
Shorter hospital stays
Faster recovery times
Fewer complications
Our skilled surgeons can also remove large tumors, and these procedures may involve removing nearby GI organs when cancer has spread. Sometimes, we may recommend targeted therapies before surgery to help shrink the tumor and make it easier to remove. Your care team will work together to plan a treatment that considers your best options.
If you have metastatic GIST that has grown into other parts of the body, you may not be a candidate for surgery. Your doctors will work together to find alternative treatment options, such as interventional radiology techniques, like ablation or arterial embolization.
Chemotherapy
Chemotherapy uses drugs to attack cancer cells. Historically, these drugs were used in an attempt to shrink the tumors. Now we know that targeted therapies are often more effective and less toxic in treating this type of cancer. Your treatment recommendations will involve input from a medical oncologist who has experience in treating GISTs with medication, including clinical trials that may offer breakthrough therapies.

Immunotherapy and targeted therapy
Targeted therapies use certain drugs to target and attack proteins in GISTs that allow them to grow and multiply. For example, Tyrosine kinase inhibitors (TKIs) block signals to the tumors, which prevents them from growing. We were among the first to study imatinib, the first targeted therapy developed for GIST. We also participated in clinical trials for other drugs to target GIST, including sunitinib, and nilotinib.
Targeted therapy may be used before or after surgery, depending on your tumor's characteristics:
Before surgery: Targeted therapy can help shrink very large tumors so your surgeon can then remove them with surgery. Imatinib (Gleevec) is the most commonly used targeted therapy for GIST
After surgery: For some patients, we recommend targeted therapy after surgical removal of your GIST. To determine whether you need this treatment, we evaluate your pathology report, and factor in your tumor size and mitotic count.
While these drugs do not cure the disease, they do help some tumors stop growing or shrink, which has extended the survival rate for patients with recurrent or metastatic GIST.

Radiation therapy
Radiation therapy kills cancer cells using high-energy rays. However, this type of cancer treatment is not generally recommended for GIST. In some cases, it may be used palliatively to alleviate bone pain or other symptoms. Your care team will involve a radiation oncologist who will determine whether or not radiation could benefit you.
Looking for expert cancer care?
With multiple locations throughout the region, patients have access to many of the nation's renowned cancer specialists offering high quality care, second opinions and a chance for better outcomes close to where they live and work. Georgetown Lombardi Comprehensive Cancer Center, one of the nation's comprehensive cancer centers designated by the National Cancer Institute (NCI), serves as the research engine allowing patients access to clinical trials that often lead to breakthroughs in cancer care.
Why choose us
Your individualized treatment plan involves input from some of the most experienced doctors who treat GIST. A multi-specialty team of experts will review your case and determine the best approach for treating your tumor. You'll benefit from the expertise of surgeons who have extensive experience performing complex and challenging surgeries on these tumors that affect critical organs and other tissues. Many times our surgeons can even remove tumors that were considered unresectable at other institutions. Your surgeons will also collaborate with other specialists, including experts in gastroenterology, pathology, and radiology, as well as medical and radiation oncology. This ensures we consider all of your options, including those unavailable elsewhere.
You'll benefit from state-of-the-art, personalized therapies as soon as they're available. Our cancer specialists are pioneers in treating GIST with novel therapies, including targeted therapies. For example, we participated in early trials testing imatinib, a biologic drug that is now used as the standard of care for treatment. Through The Ruesch Center for the Cure of Gastrointestinal Cancers, our doctors are leading new investigations for drugs that use information about your cancer's DNA to deliver effective treatment. As a patient at MedStar Health, we may recommend an emerging clinical trial that may improve your quality of life or oncologic outcome.
We offer comprehensive support, education, and resources for you and your loved ones. We're invested in helping you maintain or improve your quality of life during and after treatment. And because your diagnosis affects your family, we're here for them, too. From financial, transportation, and lodging assistance to spiritual guidance, peer mentoring, and counseling, we offer all the supportive care you need to navigate your cancer journey.
Clinical trials and research
Clinical trials
Clinical trials allow us to continue refining treatment options for GIST. We were one of the first centers to study imatinib for GIST treatment in clinical trials. Our specialists continue to participate in and lead exciting new trials that are not yet widely available.
Research
Through our partnership with the only National Cancer Institute-designated Comprehensive Cancer Center in Washington, D.C., our doctors and researchers are investigating new treatments that offer more hope for a cure and better quality of life.
Support services
If you have cancer, knowing all of your options and having access to the right resources can make all the difference. Whether you are undergoing treatment or recovering, we offer comprehensive services to help you through.
Learn More About Cancer Support Services
Genetic counseling
Genetic counseling and testing can be helpful for patients who have familial GIST. These types of tumors are caused by inherited gene alterations, which means you could pass them along to the next generation. Our board-certified genetic counselors can help you understand you or your family's predisposition to this type of cancer and your options for managing your risk.
Learn More About Genetic Counseling
Personalized rehabilitation
Cancer rehabilitation may involve several types of therapy to help you regain strength, independence, and health during and after treatment. Your personalized rehabilitation plan may involve specialists in physical therapy, occupational therapy, nutrition, speech-language pathology, and others.
Learn More About Cancer Rehabilitation
Survivorship
Cancer can affect every aspect of your life, even after you've finished treatment. We provide a wide range of programs and services to help you and your loved ones transition to life beyond cancer, from counseling and stress management to addressing treatment side effects and improving your quality of life. We also guide you through frequent follow-up care to monitor any signs of recurrence.