Small Intestine Cancer | Causes, Symptoms, & Treatment | MedStar Health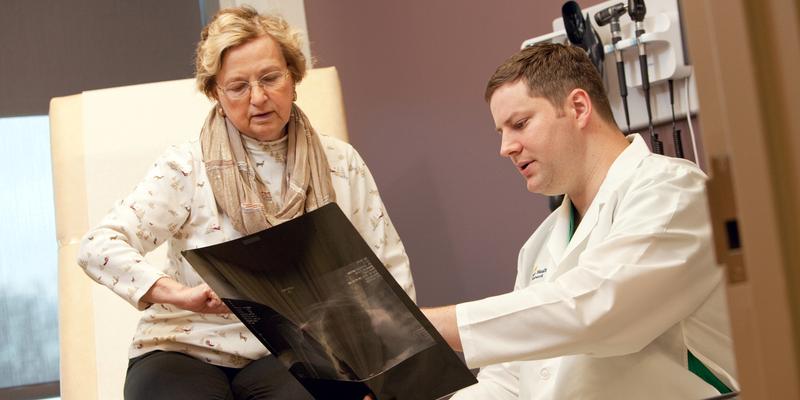 We provide access to the latest research, experienced specialists, and state-of-the-art technology necessary for treating this rare type of cancer.
Small intestine cancer, also called small bowel cancer, this is one of the most rare forms of GI cancer and can be challenging to detect. The small intestine is a long tube that connects the stomach to the large intestine as part of the body's digestive system. Many experts believe that cancer in the small intestine develops from a polyp that changes into cancer, much like colon cancer begins.
When cancer is detected in the small intestine, you need an experienced team of gastrointestinal specialists who use the latest diagnostic and treatment approaches that best fit your unique case. At MedStar Health, we have a dedicated team who focuses exclusively on advancing care for gastrointestinal cancers, including this type of cancer. Because we're part of the Georgetown Lombardi Comprehensive Cancer Center, you can expect access to the most advanced treatment options available, including clinical trials that may be hard to find elsewhere.
Symptoms and risk factors
Abdominal pain and unexplained weight loss may be signs of small bowel cancer.
You should consult a doctor if you experience any of the following problems:
Pain or cramps in the middle of the abdomen
Weight loss with no known reason
A lump in the abdomen
Blood in the stool
These and other symptoms may be caused by cancer or by other conditions, so it's important to talk to a doctor who can help determine the cause.
Your diet and health history can increase your risk of developing small intestine cancer.
A risk factor is something that increases your chances of developing a disease. Risk factors for small bowel cancer include:
Eating a high-fat diet

Having Crohn's disease

Having celiac disease

Having familial adenomatous polyposis (FAP)
Talk to your doctor if you have two or more risk factors, as you may be considered to have a high risk of disease. You may benefit from our Gastrointestinal Cancer Prevention program, where a multidisciplinary team of specialists will help you understand and manage your risk of this disease and other related cancers.
Screening and prevention
A healthy lifestyle can lower your risk of cancer.
Because there's no definitive cause of this type of cancer, there's no way to guarantee prevention. However, there are several things you can do to optimize your health and lower your risk of cancer, including:
Avoiding tobacco
Limiting alcohol
Eating a nutritious diet
Maintaining a healthy weight

If you have symptoms, you may benefit from a screening test.
Unlike screenings for colon cancer and other types of cancer, there is no standard screening test for small intestine cancer. Therefore, if you don't have any symptoms of the disease and you aren't considered to have a high-risk, screening is not recommended. However, if you have signs of the disease, such as abdominal pain or sudden weight loss, there are several tests that may help detect this type of cancer. And, if you are considered to have a high-risk of developing a GI cancer, your doctor may recommend a screening test to increase your chances of early detection.
Diagnosis
Advanced imaging helps to detect, diagnose, and stage this type of cancer.
If you have symptoms of this type of cancer, a gastroenterologist will conduct a physical exam and ask you about your medical history. Then, they may recommend one or several tests, including imaging that may help for diagnosis. If these tests confirm cancer, your doctor will also stage the cancer or determine how far it has spread at the same time. This information is important because it will help inform your treatment options, including whether or not the tumor can be removed with surgery.
The following tests and procedures may be used:
Blood tests, including:

Liver function tests: Your doctor may analyze a blood sample for certain substances released into the blood by your liver. If the amount of these substances is higher than usual, it may be a sign of disease caused by this cancer.

Fecal occult blood test: A test to check stool (solid waste) for blood that can only be seen with a microscope. Small samples of stool are placed on special cards and returned to the doctor or laboratory for testing.

Imaging tests, including:

Endoscopy, which uses an endoscope (a thin, lighted tube) to look at the inside of the esophagus, stomach, and small intestine. There are several types of endoscopy, including:

Upper endoscopy to view the first part of the small intestine (called the duodenum)

Capsule endoscopy, which involves swallowing a capsule with a tiny camera that travels through the digestive tract

Double balloon endoscopy, which uses an endoscope placed inside an outer tube and attached to a balloon to move through and view the entire small intestine

Upper GI series with small bowel follow-through, which involves drinking a liquid containing barium before taking a series of X-rays of the upper gastrointestinal (GI) tract

Biopsies, which removes cells to be analyzed for signs of cancer by a pathologist. Tissue samples may be performed during an upper endoscopy, a lymph node biopsy, or laparotomy.

Laparotomy, which allows surgeons to check for disease inside the abdomen using an incision

While staging is important, these tumors are grouped based on the type of small intestine cancer and whether the tumor can be removed by surgery.
Types of cancer
There are five types of small bowel cancer.
The types of cancer found in the small intestine are:
Knowing the type of cancer you have is important because they each require different treatment.
Treatments
Treatment for this type of cancer depends on if it can be removed by surgery.
In order to plan treatment, it is important to know the types and whether your tumor can be removed by surgery. At MedStar Health, your care team involves specialists across several disciplines, including gastroenterology, surgical, medical, and radiation oncology, pathology, and others. These doctors work together to evaluate your cancer and determine a treatment approach that will be safe and effective for your unique case.
Your treatment options may vary depending on:
The type of small bowel cancer you have
Whether cancer has spread to other places in the body
Whether cancer can be completely removed by surgery
Whether cancer is newly diagnosed or has returned

Surgery
Surgery is the most common treatment of small intestine adenocarcinomas and leiomyosarcomas. Depending on your tumor, your surgeon may perform one of the following types of surgery:
Intestinal resection: This type of surgery involves removing part or all of the small intestine. Once your surgeon removes the cancerous part of the intestine, they will perform an anastomosis, which connects the cut ends of the intestine together. If cancer has spread to nearby organs, your surgeon may also remove those through a complex Whipple procedure (pancreatoduodenectomy). They may also remove nearby lymph nodes, which can be examined by a pathologist to see if they contain cancer.

Bypass: If a tumor is blocking your intestine but cannot be removed, a surgeon may perform a bypass surgery. This procedure will allow food to go around, or bypass, the tumor to allow food to continue through the digestive system. A bypass is typically performed as palliative surgery to relieve symptoms, such as abdominal pain, nausea, and vomiting.
Many times, patients benefit from other treatments in addition to surgery. This recommendation will be determined at a multidisciplinary tumor board, where all of your doctors will meet to discuss your best options.
Chemotherapy
Chemotherapy is a cancer treatment that uses drugs to stop the growth of cancer cells. It's a systemic therapy, which means that drugs enter the bloodstream to reach cancer cells throughout the body. Because of its widespread effect, chemotherapy may cause side effects. However, our specialists are experts in helping to manage these. When appropriate, we may adjust your treatment plan to best address your needs.
Your care team will include a medical oncologist who will determine if you may benefit from chemotherapy with or without other therapies. For example, patients with adenocarcinomas may receive chemotherapy with radiation therapy if their tumor cannot be removed. In other cases where the tumor cannot be removed, chemotherapy may help to relieve symptoms and improve your quality of life.

Immunotherapy and targeted therapy
Through clinical trials, we're learning new ways to treat adenocarcinomas and leiomyosarcomas using drugs that use your immune system to slow cancer growth. Called immunotherapy or biologic therapies, these treatments can prolong your survival and may have fewer side effects than chemotherapy. Other types of small intestine cancers, including GISTS, may benefit from targeted therapies using drugs that pinpoint tumors with certain proteins and genes. If your tumor cannot be removed, your medical oncologist may recommend a clinical trial that offers access to these newer drugs before they're widely available.

Radiation therapy
Radiation therapy is a cancer treatment that uses high-energy X-rays or other types of radiation to kill cancer cells. If the tumor in your small intestine cannot be removed, your radiation oncologist may recommend external radiation therapy to:
Shrink the tumor (with or without chemotherapy)
Relieve symptoms and improve your quality of life
We use several types of radiation therapy, including the latest advances that improve precision and spare healthy tissue. Some patients also benefit from radiosensitizers, which are drugs that increase cancer cells' sensitivity to radiation therapy. Your care team will discuss the pros and cons of the types of radiotherapies that may best treat your cancer.
Looking for expert cancer care?
With multiple locations throughout the region, patients have access to many of the nation's renowned cancer specialists offering high quality care, second opinions and a chance for better outcomes close to where they live and work. Georgetown Lombardi Comprehensive Cancer Center, one of the nation's comprehensive cancer centers designated by the National Cancer Institute (NCI), serves as the research engine allowing patients access to clinical trials that often lead to breakthroughs in cancer care.
Why choose us
We have specialized expertise in GI cancers through the Georgetown Lombardi Comprehensive Cancer Center. We've dedicated our entire clinical careers to finding better, smarter ways to treat GI cancers today and in the future. Our doctors are known internationally for advancing GI cancer care through innovative research, personalized medicine, and advocacy for these cancers.
Your personalized treatment plan considers all of your options, including those hard to find elsewhere. Your care team involves doctors who specialize in gastroenterology, surgery, radiation, oncology, medical oncology, transplant surgery, radiology, pathology, genetic counseling, and more. We regularly collaborate in weekly tumor boards that allow our multidisciplinary team to discuss each patient's case. These conversations ensure we consider all of your treatment options, including emerging drugs and therapies discovered through our own research before they become the standard of care.
We're here to guide you every step of the way. A cancer diagnosis can be overwhelming, and we don't leave you to navigate treatment alone. We provide comprehensive support services that include counseling and peer mentoring to help you cope, as well as access to dietitians, physical therapists, and other specialists who can help you live life to the fullest during and after treatment. In addition, you'll appreciate the care and compassion from everyone you encounter, from your specially-trained cancer nurses to advanced practice providers, doctors, and surgeons.
Clinical trials and research
Clinical trials
Our GI cancer program has an unmatched legacy of leading cancer treatment innovations through clinical trials. Your doctor may recommend a therapy or treatment approach for small intestine cancer currently being tested in clinical trials.
Research
Our doctors collaborate with scientists, pursuing innovative research that puts the patient first. Through federal, international, and private grants, we're working tirelessly to find a cure for GI cancers, including small intestine cancer.
Support services
Here, you'll find patient-centered care that goes further than just clinical treatment. Our team of specialists is dedicated to ensuring you achieve your highest level of health, physically, mentally, and emotionally. That's why we offer comprehensive support services designed to help you be as healthy as possible wherever you are in your journey with small intestine cancer.

Genetic counseling
Genetic counseling and testing can help you understand your risk for inherited cancers. This is especially beneficial if you have a family or personal history of GI cancers. Our board-certified genetic counselors provide education, support, and guidance to help you and your family reduce cancer risk or detect cancer early.

Personalized rehabilitation
Rehabilitation can help you to regain strength, endurance, and range of motion after cancer treatment. Our physical and occupational therapists specialize in helping cancer survivors reclaim their independence. Through personalized therapy plans designed to address your unique functional challenges, our goal is to help you get back to the activity level you had before your diagnosis.

Survivorship
Following treatment, your care team is dedicated to helping you live well. Through our survivorship program, we provide education and support related to managing your health, addressing any lingering effects of cancer treatment, and navigating any stress or anxiety as you return to your community, work, and life.
Patient resources
Blog articles
Videos