Soft Tissue Sarcoma | Symptoms & Cancer Treatment | MedStar Health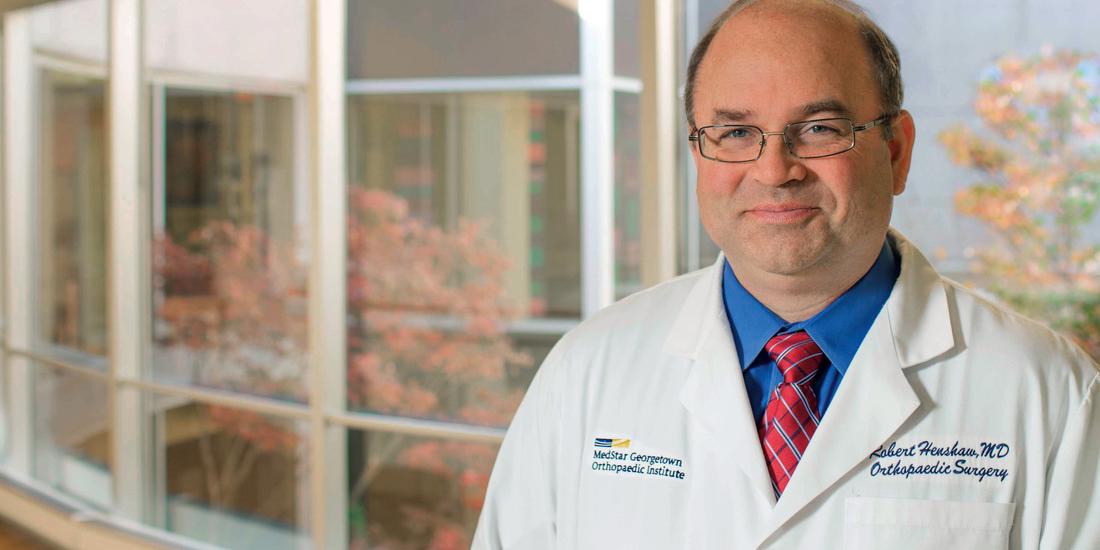 With decades of combined experience, we are specially trained to diagnose and treat rare soft tissue sarcomas using the most advanced approaches available.
Soft tissue sarcomas are rare cancerous tumors that begin in connective tissues. While sarcomas can also form in bones, they usually develop in fat, muscle, nerves, tendons, joint linings, or blood or lymph vessels—the tissues that connect, support, and surround other body parts and organs. Sarcomas can affect people of all ages, from children and teens to young and mature adults.
This rare disease can grow almost anywhere in the body, but in adults are usually found in the head, neck, arms, legs, trunk, or abdomen. The most common occurrences in children are found in the arms, legs, chest, or abdomen.
Less than one percent of all adult cancers are sarcomas, which is why it's important to seek care from a treatment team experienced in diagnosing and treating these cancers. At MedStar Health, we're a "high-volume" center for treating sarcomas. In addition to treating hundreds of patients with these types of cancers every year, we're also leaders in developing new techniques that improve treatments for sarcoma of soft tissue worldwide.
Here, you'll find the best treatment options, from surgical and radiation therapy techniques that preserve healthy tissue, internal organs, and limbs to chemotherapies, systemic therapies, and targeted agents that offer promising results, including new sarcoma treatments only available in clinical trials. Because we partner with Washington, D.C.'s only comprehensive cancer center designated by the National Cancer Institute, Georgetown Lombardi Comprehensive Cancer Center, our patients often gain access to these treatments before they become the standard of care.
Using a multidisciplinary approach, we work as a team to personalize treatment that considers your cancer's characteristics as well as your preferences and goals. Because we work closely under the same roof, you won't have to navigate different appointments and locations to get answers. And as a member of the region's largest health system, you'll benefit from seamless care for whatever needs arise, including rehabilitation to help you recover and regain strength after treatment.
Symptoms and risk factors
As soft tissue sarcoma grows, you may notice a painless lump.
A sarcoma may cause a painless lump under the skin (usually on the arms, legs, or trunk), but often no other symptoms exist at first. As the sarcomas grow and press on organs, nerves, muscles, or blood vessels, they can cause:
Pain
Breathing trouble
Abdominal swelling (or distension)
These symptoms can indicate a variety of different problems. Make sure to discuss any that you experience with your doctor, especially if you also have risk factors for soft tissue sarcoma.
Certain medical conditions can increase your odds of developing this cancer.
Soft tissue sarcoma is not a common type of cancer—it accounts for about 6,000 cases every year. While we don't know what causes most soft tissue tumors, risk factors include:
Inherited disorders, such as:

Retinoblastoma
Neurofibromatosis (von Recklinghausen disease)
Tuberous sclerosis (Bourneville disease)
Gardner syndrome
Li-Fraumeni syndrome
Werner syndrome
Gorlin syndrome (Nevoid basal cell carcinoma syndrome)

Past radiation therapy for certain cancers
Chronic swelling in the arms or legs (tied to some lymph vessel cancers in adults)
Extensive exposure to certain chemicals, including Thorotrast, vinyl chloride, or arsenic
Screening and prevention
Tell your doctor if you notice any unusual lumps on your body.
Sarcomas are very rare, and we don't yet have a specific prevention strategy for this type of cancer, but research is ongoing. Many times, people find out they have cancer incidentally after undergoing imaging for a soft tissue injury.
Like other cancers, early detection can make these cancers easier to treat. Although there is no general screening method, talk to your doctor if you notice an unusual lump or soft tissue sarcoma symptoms. They can monitor it or recommend tests to determine the cause, whether it's cancer or something else.
Diagnosis
Our interventional radiologists are experts in performing minimally invasive biopsies in collaboration with your surgeon.
Successful treatment depends on a complete and accurate diagnosis. Each of our patients receive a thorough evaluation so we can create an individualized plan. To diagnose sarcoma, we may conduct the following:
Medical history: We will discuss your symptoms and medical history, including whether you have any risk factors.
Physical examination: We will examine you thoroughly, including any lumps you have.
Blood work
Imaging scans: A variety of imaging scans can help identify the presence, type, and size cancer, including:

MRI: This imaging test uses high-powered magnets to create a picture of the affected area.

CT (CAT) scan: This imaging test uses X-ray technology and computers to create a detailed picture of your affected tissues.

PET scan: For this imaging test, your doctor injects radioactive glucose. The PET scan follows the glucose's path, which identifies the presence of cancerous cells.

Biopsy: Your surgical oncologist will determine whether you need a minimally invasive procedure to collect a biopsy, or tissue sample, using imaging guidance. If you do, a specially-trained interventional radiologist and your surgeon will decide on the appropriate path to remove tissue from the affected area. This collaboration is important for ensuring the biopsy doesn't interfere with the surgical plan, and not every cancer center is equipped to perform biopsies using this approach. Once the tissue is removed, a pathologist will examine it closely under a microscope. This will help us diagnose the cancer and understand how quickly the cells are spreading.
Types of cancer
There are more than 80 different types of soft tissue sarcoma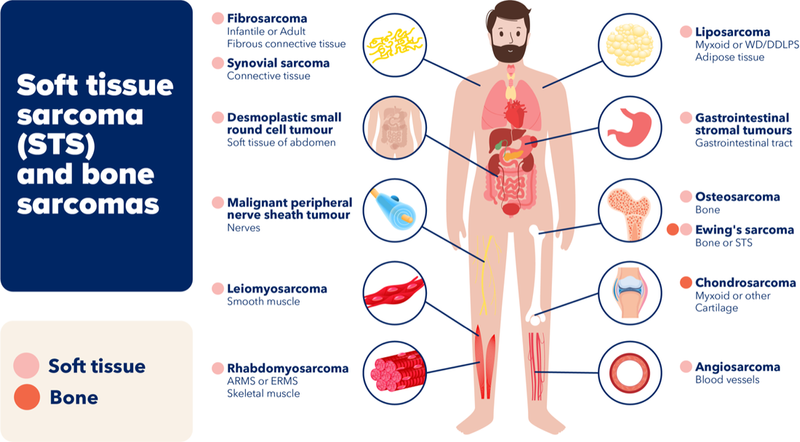 This disease is one of the most rare cancers, but different subtypes are more common in certain body parts and affect specific age groups. Therefore, each type of soft tissue cancer requires a different approach to treatment. Some of the more well-known subtypes include:
Alveolar Soft Part Sarcoma are rare, slow-growing tumors that mainly affect teens. They often grow deep in the thigh, though they can also show up in the heads and necks of younger children.
Clear Cell Sarcoma mainly affects younger adults ages 20 to 40, growing just beneath the skin and affecting tendons and muscle sheaths—usually in the foot and ankle.
Epithelioid Sarcoma mainly develops in the forearm or hand, most frequently in male patients in their teens or 20s.
Fibrosarcoma develops from the tissues keeping bones, organs, and muscles secure. One type of the disease mainly affects middle-aged adults, usually in the legs, arms, or trunk. The other type affects children—most frequently at birth and seldom past age two. Outcomes are better for children, with a lower chance the cancer will spread or return.

Gastrointestinal Stromal Tumor (GIST) is a rare tumor that tends to affect adults. It develops in the abdomen, where it can grow quite large before it's noticed. This can make it harder to remove.

Leiomyosarcoma develops from blood vessels in the trunk and limbs and mainly affects adults starting in middle age.
Liposarcoma develops from fatty tissues and usually appears in the arms, legs, abdomen, or buttocks—most frequently in men and women over 50.
Rhabdomyosarcoma is made of cells that typically develop into the skeletal muscles we use to control our body. These tumors are found mainly in the head and neck, urinary and reproductive organs, arms and legs, and trunk. While the tumors can affect all ages, they're mainly found in children under five and are the most common childhood soft tissue sarcoma. They can grow quite large in a short time.
Synovial Sarcoma can develop deep in the muscles of the arms and legs and mainly affect young adults, particularly men in their 30s.
Treatments
Treatment will depend on the type, size, and location of disease, as well as your goals and preferences.
We offer the area's most advanced and comprehensive care. Our team of sub-specialized physicians and advanced practice clinicians have years of experience treating people with these types of cancer. You'll also benefit from our multidisciplinary approach, which allows us to collaborate with experts in a variety of fields, including:
Fellowship-trained surgical and orthopedic oncologists
Medical oncologists
Radiation oncologists
Interventional radiologists
Pathologists
Reconstructive surgeons
And others
In addition, we use the most cutting-edge research to guide your care. That means you can access the latest cancer clinical trials and the most innovative ways to treat your disease.
Our team of specialists discusses each case in bi-weekly tumor boards, where we can collectively recommend the best treatment recommendation. Children and teens may respond to treatment differently than adults. Therefore, we're working to safely lower the amount of radiation and chemotherapy younger patients receive while still providing successful cancer treatment.
Surgery
Patients with this type of sarcoma are often referred to a surgeon for evaluation. Because surgery is often the best way to remove these types of cancer, most patients will undergo a "wide resection," during which the surgeon will remove the tumor and a layer of surrounding healthy tissue to minimize the risk of recurrence. When sarcoma impacts the arms or legs, we are experienced in performing limb-sparing surgery, which eliminates the need for amputation in more than 95 percent of patients. When amputation provides the best chance for cure, we offer comprehensive services to help our patients physically and emotionally cope with losing a limb.
Your surgical team will plan your surgery based on:
The location and size of your tumor
What other internal structures are involved
What we can reasonably and safely save
How we can reconstruct what is left to ensure maximum function
These sarcomas are often large and/or complex to operate on because of nearby blood vessels, nerves, and muscles. That's why it's important to choose a surgeon with extensive experience in treating sarcomas in collaboration with other specialists. Our orthopedic oncologists and surgeons have decades of combined experience, making us highly specialized. We also work closely with other specialists to determine the right approach for you. For example, we may collaborate with reconstructive surgeons to help rebuild internal structures or to restore the body's appearance. Your care team will also include radiation and medical oncologists who may recommend radiation therapy and/or chemotherapy before or after surgery.
Recovery and follow-up after surgery
Often, we can perform surgery as an outpatient procedure, allowing patients to go home the same day. We take an innovative approach to managing postoperative pain, using local anesthetics and regional blocks, which helps you get moving earlier. The length of recovery will vary based on the location of your surgery and other factors. On average, you can expect to have some discomfort and swelling for several weeks. Physical therapy and rehabilitation will play an important role in helping you to regain strength and mobility.
Soft tissue sarcoma can recur, or reappear, even after treatment. We will work with you to ensure we catch any recurrence as early as possible. Factors that can affect recurrences include:
Sarcoma size: A large sarcoma size has a higher chance of recurring.
Sarcoma grade: Low-grade sarcomas are less likely to recur.
Location of sarcoma: Sarcomas that affect the inside of the abdomen and the organs around it are more likely to recur than those that affect the limbs.
How much of the sarcoma was surgically removed: If your surgical oncologist was unable to completely remove the sarcoma, you may be more likely to have a recurrence. Sometimes the location of the sarcoma does not allow for complete removal. In those cases, we will follow up surgery with radiotherapy.
Previous recurrence: A sarcoma that has already recurred is more likely to recur again
Type of sarcoma histology: The specific details of the tissue that make up the sarcoma can affect recurrence.
Your age: If you are older, it is more likely for the sarcoma to recur.
Chemotherapy
This treatment can destroy some but not all types of soft tissue sarcomas. It uses powerful drugs delivered either orally or through your veins (IV). Our medical oncologists specialize in treating sarcomas with these drugs, including chemotherapies available through clinical trials. They'll work with your other specialists to determine if and/or when chemotherapy will offer you the best outcome while minimizing side effects. Sometimes, chemotherapy may be given with or without radiation before surgery to help shrink the tumor and increase the chances of a limb-sparing procedure.
Chemotherapy may also be used to treat recurrent or metastatic soft tissue sarcoma.
Immunotherapy and targeted therapy
Targeted therapies or agents are newer drugs that offer hope for some subtypes of this cancer. These medications can "target" genetic changes in cancerous tumors, which allows us to further personalize your treatment. For example, the targeted therapy imatinib (Gleevec) is already approved for treating gastrointestinal stromal tumors (GIST). Imatinib is typically recommended for a year after surgery to ensure the cancer does not return. It's also used when tumors are too large for surgery, in an attempt to shrink them and make them operable.
Similarly, immunotherapy drugs help to fight cancerous cells in specific sarcomas using the body's immune system. We've been leaders in using this type of therapy to effectively treat cancers and improve the quality of life for our patients. We continue investigating new targeted therapies and immunotherapies through clinical trials. We may recommend one of these clinical trials if we think it could help to improve your outcome or quality of life.
Learn More About Targeted Therapy
Learn More About Immunotherapy
Radiation therapy
Many patients benefit from radiation therapy before surgery (neoadjuvant therapy) to shrink the tumor or after surgery to minimize recurrence. This decision is made by your multidisciplinary team based on the size and location of your tumor and other factors. When radiation therapy is recommended for sarcoma, we use the latest advances to administer it in a way that limits radiation exposure to healthy tissue. And, we regularly monitor how your body responds to treatment to ensure we address and minimize side effects.
Most commonly, radiation is delivered daily over five to six weeks using intensity-modulated radiation therapy (IMRT). This innovative form allows our radiation oncologists to change treatment intensity as they go based on tissue type, delivering specific doses to different parts of a tumor, and sparing healthy tissue. This is particularly useful for tumors in hard-to-treat areas, such as the spine or pelvis.
Others may benefit from proton therapy, which is an exceptionally precise way to administer radiation to the exact size and shape of the tumor. Many patients report fewer side effects and a better quality of life, and this is often the best, safest way for pediatric patients to undergo radiation. If a soft tissue sarcoma has spread to the lungs or other critical organs, we may use stereotactic body radiation therapy (SBRT) to deliver radiation to cancer cells.
Looking for expert cancer care?
With multiple locations throughout the region, patients have access to many of the nation's renowned cancer specialists offering high quality care, second opinions and a chance for better outcomes close to where they live and work. Georgetown Lombardi Comprehensive Cancer Center, one of the nation's comprehensive cancer centers designated by the National Cancer Institute (NCI), serves as the research engine allowing patients access to clinical trials that often lead to breakthroughs in cancer care.
Our locations
Distance from Change locationEnter your location
9103 Franklin Square Dr. The Harry and Jeanette Weinberg Cancer Institute Suite 220 Baltimore, MD 21237
3800 Reservoir Rd. NW Washington, DC 20007
110 Irving Street, NW Washington, D.C., 20010
Why choose us
We treat a high number of patients with sarcoma with exceptional outcomes. Rare tumors require specialized care from doctors who have experience treating it using the latest advances in surgery, radiation, and medicine. In fact, research proves that clinical outcomes are better at cancer centers who see a high number of patients with a particular disease. Our sarcoma doctors know how to treat soft tissue sarcoma because they have additional subspecialty training and focus exclusively on caring for people with these types of cancers. We see hundreds of patients every year, making us one of the most experienced in the country.
We personalize your cancer treatment using the latest therapies and approaches, including those only available in clinical trials. Compared to other cancer types, there are often fewer treatment options for sarcomas because they are so rare. However, our sarcoma specialists stay up-to-date on the most advanced treatment options, including new drugs and treatments that are hard to find elsewhere. We regularly investigate innovative immunotherapies, targeted therapies, and other treatments that offer hope for our patients.
You'll benefit from a team of healthcare providers with both compassion and decades of combined experience. From the beginning of your care, we involve healthcare providers who specialize in different aspects of cancer-related treatment. Through regular tumor boards, we discuss recommendations that consider your treatment from every angle. This allows us to effectively work together to plan, personalize, and coordinate treatment that will work best for you. Unlike other cancer centers, you won't have to travel to meet with different specialists to get all of the information you need. You'll receive the best possible recommendation with input from all of the right experts, under one roof.
Clinical trials and research
Clinical trials
Clinical trials help us to discover the best, safest treatment approaches. We regularly participate in and lead trials that test new therapies and/or therapy combinations to improve outcomes for patients with soft tissue cancers.
Research
Our physicians are internationally known for their contributions to sarcoma research and treatment. From novel surgical techniques that preserve limbs to expandable implants for young patients who are still growing, we are pioneers in finding and adopting the latest advances in sarcoma care.
Support services
In addition to your medical providers, your care team may include social workers, case managers, dietitians, rehabilitation specialists, genetic counselors, and others who can help to address any psychological and practical needs you have. Our goal is to support you and your family as you navigate the impact of a cancer diagnosis on your emotional health and day-to-day life.
Learn More About Cancer Support Services
Genetic counseling
Because some inherited conditions can affect your risk of developing these cancers, you may benefit from meeting with one of our board-certified genetic counselors. Our genetic counseling services can help patients and their family members understand and manage their cancer risks through screening, surveillance, and other strategies.
Learn More About Genetic Counseling
Personalized rehabilitation
Cancer treatments can negatively affect your quality of life, and surgery can affect your mobility. Through comprehensive and coordinated rehabilitation, our physical and occupational therapy experts can help you achieve your greatest level of independence and function wherever you are in your journey back to health.
Learn More About Cancer Rehabilitation
Survivorship
For every patient who comes through our clinic, we create a personalized survivorship plan designed to address all of their physical, psychological, and social needs. Based on the treatments they received, we'll tailor recommendations for follow-up care. This may include connections to other experts throughout MedStar Health, including doctors in internal medicine, gastroenterology, cardiology, and other specialties.