Bone Cancer | MedStar Health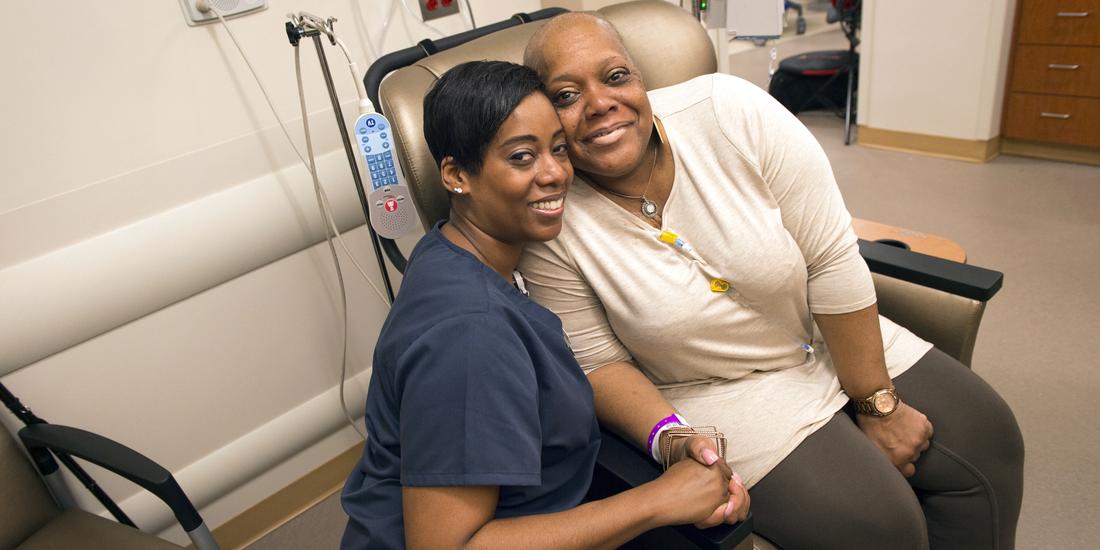 We're one of the most experienced teams in the region, treating bone cancer with the most effective, least invasive approaches possible.
At MedStar Health, our experienced doctors and healthcare providers deliver the most advanced care for sarcoma of the bone, or bone cancers. Primary bone cancer begins in the bone, while secondary bone cancer, or metastatic cancer that spreads to the bone from another part of the body. Our experts are skilled at diagnosing and treating both using the latest diagnostic tools and advanced treatments, personalized to each individual.
Bone cancer can affect any bone, in any person, including both children and adults. They're extremely rare cancers, and it's more common to have a benign bone tumor⁠—a tumor in the bone that isn't cancerous or life-threatening.
Not every cancer center has the experience necessary for effectively diagnosing and treating these tumors. Here, we see a high number of patients with bone cancer, making us some of the most experienced in the country. Our surgeons, oncologists, pathologists, and radiologists have decades of combined experience and sub-specialized training in treating sarcoma and bone cancer. Our goal is always to remove cancer while saving as much of your appearance and function as we can through limb-sparing surgery.
Because we're affiliated with a National Cancer Institute-designated comprehensive cancer center, we offer the latest bone cancer treatment options, including limb-sparing sarcoma surgery reconstruction, complex sarcoma revisions, and cutting-edge clinical trials. We're prepared to diagnose and treat any kind of sarcoma, including complex cases that other medical centers cannot.
Symptoms and risk factors
Bone pain can indicate cancer or another condition.
This cancer may not cause any symptoms when it begins to develop. Over time, patients may experience:
Pain in a bone or joint (the most common bone cancer symptom)
Swelling or a lump
Unexplained bone break (fracture)
Certain types, such as Ewing sarcomas, can also cause other symptoms, including:
Fever
Fatigue
Unexplained weight loss
These symptoms may be caused by noncancerous conditions, like osteoporosis. If you notice any of these signs of bone cancer, see your primary care physician right away.
Bone cancer occurs in patients of all ages, races, and lifestyles.
Anyone can develop this cancer, and there's no clear cause. Scientists and doctors believe there are certain things that may increase the chances of bone cancer, such as:
Previously undergoing cancer treatments like radiation therapy or chemotherapy
Having a family history of osteosarcoma or other orthopedic cancers
Having a related musculoskeletal condition or injury, such as Paget's disease, pre-existing noncancerous bone tumors, chronic osteomyelitis, and metallic implants
Hereditary conditions, like Li-Fraumeni syndrome, Lynch syndrome, Rothmund-Thomson syndrome, Retinoblastoma, and others
However, most people with the disease don't have any risk factors, making it hard to spot in early stages.
Screening and prevention
Because we don't know what causes bone cancer, there's no way to prevent the disease.
There's nothing you can do to prevent bone cancer. As with any cancer, the key to better outcomes is early detection, preventing metastasis (spread) to other parts of the body. You may also improve your outcomes with a healthy, tobacco-free lifestyle that includes eating a well-balanced diet, exercising, and managing stress.
Diagnosis
Our specialized pathologists and radiologists use sophisticated methods to accurately diagnose bone cancer.
Many patients visit us after an imaging test for an unrelated condition reveals something abnormal. Others come to us with unexplained pain or symptoms of bone sarcoma. In either case, bone tumors can be challenging to diagnose, which is why you need an experienced team, including pathologists, radiologists, and oncologists who use advanced diagnostic tools and know how to distinguish between a cancerous and noncancerous bone tumor.
We thoroughly evaluate each patient using several diagnostic tools:
Reviewing your medical history and conducting a physical examination helps us understand your overall health, symptoms, and risk factors.

Bloodwork measures specific enzymes and can indicate an abnormality in bone tissue.

Advanced imaging tests pinpoint the tumor and any possible cancer growth using advanced technology. Our diagnostic radiologists are experts in knowing which tests to use for different patients to minimize unnecessary radiation exposure, especially for pediatric patients. These may include:

Minimally invasive biopsies can help accurately identify cancer without going through surgery. Your doctor uses imaging-guidance to remove tissues or cells from the tumor to determine whether it is benign (noncancerous) or malignant (cancerous) and how aggressive it is. These are safer and just as accurate as open biopsies.

Pathology and radiology review allows your doctors to learn about the tumor and cancer, including type and stage. This informs how much normal tissue your surgeon needs to remove around the tumor.
Types of cancer
Different types of bone cancer are more common in certain age groups.
Our approach to treating your bone cancer depends on the type you have, as well as your age and other factors. The following are the most common bone sarcomas:
Osteosarcoma: This rare bone cancer generally affects growing children and teenagers near the end of bones, commonly in the knee.
Chondrosarcoma typically affects the cartilage of joints in adults over 50.
Ewing sarcoma is another type of sarcoma that affects pediatric patients, typically in the hips, ribs, and long bones, like the upper arm and thigh bones.
Metastases: A bone metastasis can occur when cancer originates elsewhere in the body, such as the breast, lung, or prostate, and spreads to the bone. Knowing where the primary cancer began is important to determining the right treatment.

Treatments
We're dedicated to eliminating your cancer while preserving your quality of life.
Our MedStar Health cancer specialists have recognized expertise in treating cancers in the bone and soft tissues. With decades of experience focusing exclusively on sarcoma, our team is dedicated to eliminating your cancer while minimizing damage to the healthy structures of your body. We do this by involving several specialists with expertise in pathology, radiology, surgery, reconstruction, radiation, medicine, rehabilitation, and more. Together, we collaboratively plan personalized bone cancer treatment that considers all of your best options, including clinical trials that are hard to find elsewhere.
Surgery
Surgery is typically the primary treatment for bone cancer. Our goal is to remove every trace of cancer and minimize the risk your cancer will return. This means your surgeon will remove the tumor and the tissue directly surrounding it, allowing a specialized pathologist to determine whether any cancer cells may have been left behind.
Your musculoskeletal system is a complex system of diverse tissues, cartilage, and tendons. This means the surgical techniques we use will depend on the location of your tumor and the condition of surrounding organs, tissue, and bone. Because these tumors are rare, it's important to seek care from an experienced team like ours who has decades of experience in treating a wide variety of these types of cancers. Our surgeries are performed by orthopedic oncologists who:
Are internationally recognized for their expertise with complex sarcoma surgery—treating patients referred from across the country and the world
Help patients who received initial surgery elsewhere and now need additional care
Use advanced techniques on arm and leg tumors to preserve as much function as possible, often sparing the whole limb
Repair surgical areas (when needed) with sophisticated bone grafts or special implants, many of which can expand with younger patients as they grow
We offer top follow-up care, too, with a comprehensive rehabilitation program—often a crucial part of making treatment a success.
Chemotherapy
Chemotherapy drugs are swallowed or injected, and then travel through the bloodstream to kill cancer cells. They are used to shrink sarcomas before surgery or given afterward to make sure the cancer does not return or spread. In some cases, chemotherapy is given by itself to treat a tumor.
The type of chemotherapy depends on the type of tumor, its stage, and whether cancer is newly diagnosed or has returned. Drugs are typically given together, and we are studying new medications, new combinations, and more effective delivery methods.
While we always try to minimize the side effects of chemotherapy, we are especially committed to limiting toxic exposure as much as possible for children who are still growing.

Immunotherapy and targeted therapy
Targeted therapy represents a new front in attacking cancer—drugs and other substances aimed at specific molecules that help tumors grow, progress, and spread. The idea is to target a tumor's unique characteristics, including genes, proteins, supporting blood vessels, or host tissue, while limiting damage to healthy cells.
Targeted therapies, including immunotherapy, may replace current sarcoma treatments, or complement them. We are studying several new targets and approaches, such as:
Growth Factor Receptors: Block proteins on some cancer cells that cause them to grow
Monoclonal Antibody: Replicates a natural antibody, then targets certain substances on cancer cells—either alone or with a drug, toxin, or radioactive material to kill the cells, block their growth, or keep them from spreading
Kinase Inhibitor: Blocks a protein that cancer cells need for division
Immune Modulators: Boost the body's own immune system to fight cancer

Radiation therapy
Radiation therapy is commonly used to treat soft tissue sarcomas, but it is not frequently used to treat bone tumors in adults. Our radiation oncologists participate in the multidisciplinary team evaluating and planning your treatment, and there are certain situations where they may recommend this type of therapy as part of your care. For example, it may be used to alleviate pain or treat secondary bone cancers that develop when other cancers spread to the bone. If your care team thinks you would benefit from radiation, we have access to all of the most advanced radiation technologies to deliver it effectively while limiting exposure to healthy tissue.
Looking for expert cancer care?
With multiple locations throughout the region, patients have access to many of the nation's renowned cancer specialists offering high quality care, second opinions and a chance for better outcomes close to where they live and work. Georgetown Lombardi Comprehensive Cancer Center, one of the nation's comprehensive cancer centers designated by the National Cancer Institute (NCI), serves as the research engine allowing patients access to clinical trials that often lead to breakthroughs in cancer care.
Our locations
Distance from Change locationEnter your location
9103 Franklin Square Dr. The Harry and Jeanette Weinberg Cancer Institute Suite 220 Baltimore, MD 21237
110 Irving Street, NW Washington, D.C., 20010
3800 Reservoir Rd. NW Washington, DC 20007
Why choose us
Our well-known bone cancer experts have decades of combined experience with specialized training in treating these types of cancers. Our experts in bone tumors include a team of pathologists, diagnostic and interventional radiologists, surgeons, medical oncologists, and radiation oncologists who all have subspecialized training in orthopedics and the musculoskeletal system. Many of them are nationally- and internationally-recognized experts who lecture worldwide, serve on the editorial boards of prestigious publications, and hold leadership positions in subspecialty organizations.
We use the latest research, technology, and techniques to provide the most advanced care with compassion. With experts in different fields, we all stay up-to-date on the latest developments in our respective specialties. And, we're leading many of these findings too. Our research has been instrumental in establishing new surgical techniques including limb preservation, expandable implants for pediatric patients, and others. Our combined expertise ensures we consider all of your treatment options, including emerging clinical trials.
Our collaborative, multidisciplinary approach ensures you are evaluated, diagnosed, and treated quickly under the same roof. Our patients have access to advanced academic medicine and an NCI-affiliated location, and a large network allowing you to see your specialists close to your home or work in Baltimore or Washington, D.C. Because our world-class doctors work together under one roof, new patients can frequently see all of their care team in one day. This helps you avoid multiple trips and more quickly receive your diagnosis and treatment. In addition, your care team includes experienced physician assistants, nurse practitioners, and other advanced clinicians who can serve as your primary point of contact to help you navigate your care.
Our services focus on building strength, resilience, and hope—giving patients the skills to take control of their lives. Your care team may also include a genetic counselor and team of highly trained social workers, dietitians, physical and occupational therapists, and/or chaplains. These individuals work closely with patients, family members, and loved ones to make sure they have access to the resources they need during the cancer journey—whether they are physical, educational, financial, emotional, or spiritual.
Clinical trials and research
Clinical trials
Bone cancers can be complex to treat. Often, a clinical trial can provide a new option when other treatment options aren't the best solution for you. When you participate in a trial you can access treatments years before they are available to the public. By participating in a clinical study at MedStar Health, you can play an active role in your cancer treatment and possibly help others with these cancers in the future.
Research
Through The MedStar Health Research Institute and our partnership with Georgetown Lombardi Comprehensive Cancer Center, we regularly conduct clinical investigations to improve how bone tumors are diagnosed and treated. These studies help to inform doctors and scientists about new and emerging cancer therapies, how they should be used, and which patients will benefit the most from these approaches.

Support services
The cancer experience is life-changing for patients and their loved ones. Cancer patients need support before, during, and after their treatment. Our goal is to provide compassionate and professional care to individuals affected by cancer, promote the healing process, and treat the whole person.

Genetic counseling
Many patients who have a family history of cancer are now considering genetic testing. Our certified genetic counselors work with patients to determine if they are candidates for genetic testing and help them cope with any medical, psychological, financial, or other issues that may result. Patients who test positive for an inherited cancer gene are offered options in medical management, including screening and risk reduction.

Personalized rehabilitation
Rehabilitation can improve the quality of life for anyone who is currently undergoing cancer treatment or has completed treatment. Rehabilitation can improve strength, decrease pain, treat lymphedema, and much more. If you have an impairment or discomfort related to your cancer or cancer treatment, talk to your provider to see if rehabilitation could help you.

Survivorship
Our commitment to your health extends beyond your initial treatment. Many cancer survivors find the transition back to everyday medical care difficult after years spent under the care and guidance of cancer specialists. We work with you through this process and follow up with you regularly after the completion of treatment to ensure your long-term health.