Stroke Rehabilitation | MedStar Health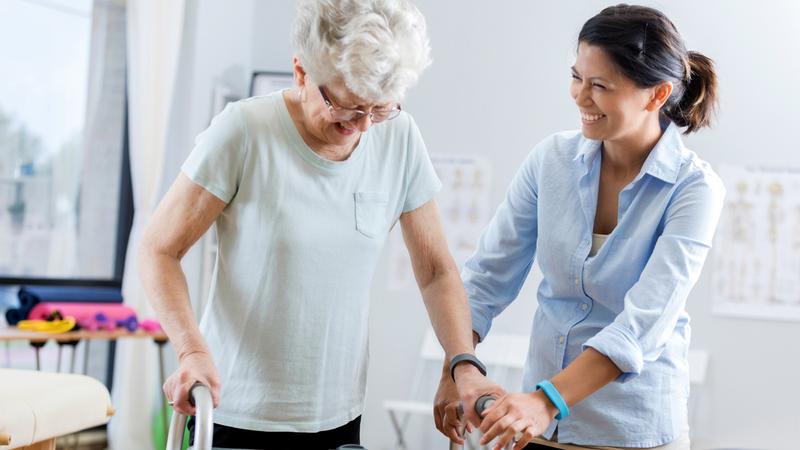 Quick intervention in a stroke can save a life, but long-term rehabilitation can give patients back their quality of life as well. At MedStar Health, we offer comprehensive inpatient and outpatient stroke rehabilitation services to help patients maximize recovery from the effects of a stroke or other cerebrovascular accident (CVA), including:
Dysphagia, or difficulty swallowing

Sleep disorders

Spasticity

Visual/perceptual impairments

Weakness and paralysis
Our inpatient Stroke Recovery program is one of the largest in the country, one of the most advanced programs of its kind in the region, and is accredited as a Specialty Program by the Commission on Accreditation of Rehabilitation Facilities (CARF). By offering seamless, coordinated rehabilitation care in the hospital setting, patients benefit from an interdisciplinary therapy and 24/7 medical care from skilled stroke nurses—round-the-clock expertise that few facilities can match. Each treatment plan is individualized to the patient's unique needs with the goal of a safe discharge home. But care doesn't stop there. Stroke survivors can continue therapy after they leave the hospital at any one of more than 50 outpatient clinics throughout the region.
Inpatient rehabilitation
As one of the busiest stroke inpatient rehabilitation programs in the Washington, D.C., and Maryland region, we care for hundreds of adults recovering from stroke every year. The intensive recovery program involves at least three hours of physical therapy, occupational therapy, and/or speech therapy five days per week. Our goal is to help patients become as functionally independent as possible while addressing their physical, emotional, and cognitive needs.
Program highlights
Under the direction of a physical medicine and rehabilitation (PM&R) physician, our occupational therapists, physical therapists, speech therapists, nurses, psychologists, and case managers provide guidance and encouragement to help stroke patients "retrain the brain." Care begins with an evaluation of the patient's injury and impairments. Because stroke can affect different parts of the brain, each person's treatment plan is tailored to the patient's specific needs.
The stroke rehabilitation team also involves the patient and their caregivers as they collaborate to develop short- and long-term goals. The team works in an interdisciplinary fashion, with daily meetings to review and reexamine the progress of these goals, which may include improvement in walking, speech, memory, dressing, bathing, and other activities of daily living.
To help achieve these goals, our program offers*:
Individual and group therapy, providing patients the opportunity to practice skills in different environments and to share their experiences with others

The latest technologies and tools to safely help patients learn to walk again, including the ZeroG®—a robotic gait and balance training system—EKSO exoskeletons, electrical stimulation devices, and DIEGO, one of the most advanced upper extremity rehabilitation devices available

Focused training to help family members and caregivers understand the potential changes in their loved one's behavior, ambulation, communication, and ability to care for themselves

Holistic services, including spiritual care for all patients, families, and caregivers and psychological support from a neuropsychologist

24/7 medical care from nurses with specialty training in stroke care

Support groups for stroke survivors to connect with and encourage one another

Patient and family education on preventing recurrent stroke and addressing the challenges of life after stroke to help prepare caregivers for the patients' needs

Orthotics, braces, seating, mobility, and rehabilitation engineering services onsite

Opportunities for patients to participate in clinical trials offered at MedStar Health or through one of our research partners
*Services and technologies may vary by location
Preparing for discharge
Before a patient is discharged, their team will recommend services they might need to transition to the next level of care. If needed, we can arrange home care for the patient, which may include services offered through MedStar Health Home Care. Our job is to build a road map for your recovery—and to support you along the journey as you rebuild your life.
Program outcomes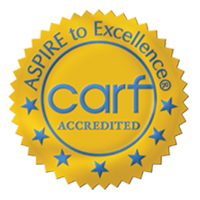 We offer our Stroke Recovery program at two inpatient facilities in the region. Both programs are CARF-accredited Specialty Programs, demonstrating our high-quality inpatient rehab for stroke patients.
Learn about our patient outcomes below.
Stroke Rehabilitation Program Outcomes at MedStar National Rehabilitation Hospital
Stroke Rehabilitation Program Outcomes at MedStar Good Samaritan Hospital
Outpatient rehabilitation
We offer outpatient rehabilitation services to continue helping stroke survivors reach their highest levels of independence after inpatient stroke rehabilitation. In other instances, patients who sustained a mild stroke may transition directly to home with the support of outpatient therapy.
With more than 50 outpatient facilities throughout Washington, D.C., Maryland, and Northern Virginia, patients won't have to travel far to continue receiving stroke support as they resume active roles within their families and communities.
Program highlights
Outpatient therapies are designed to help patients continue improving functional independence. Each person's treatment plan is individualized, but most patients will engage in several therapies, including:
Physical therapy to improve mobility and strength
Occupational therapy to help patients relearn the skills of daily living, such as dressing and bathing
Speech therapy to deal with any challenges with language, thinking, or swallowing
Our locations
Inpatient locations
Distance from Change locationEnter your location
102 Irving St. NW Washington, DC 20010
5601 Loch Raven Blvd. Main Hospital Building 5th Floor Baltimore, MD 21239
Additional information
Support groups
Stroke survivors and their families and friends are invited to attend our free support groups in Washington, D.C., and Maryland. Find an upcoming event at the location nearest you.
Stroke Support Group (Virtual) through MedStar Good Samaritan Hospital
Stroke Comeback Club at MedStar NRH Rehabilitation Network in Bel Air, MD
Stroke Comeback Club at MedStar NRH Rehabilitation Network, Mitchellville, MD
Stroke Comeback Club at MedStar NRH in Washington, D.C.
Stroke Survivors Support Group at MedStar St. Mary's Hospital
Research
We are one of few rehabilitation hospital networks in the country investing in cutting-edge research supported by federal, foundation, and philanthropic partners. Our physicians are leaders of the Stroke Capital Area Network for Research (SCANR) and designated by the National Institute for Neurological Diseases and Stroke as one of 27 StrokeNet sites in the U.S. Through this research, we offer patients the opportunity to participate in clinical trials that can improve stroke recovery beyond the standard treatments available today. For example, ongoing research at MedStar NRH is examining ways to boost neuroplasticity—the brain's ability to heal itself after injury. It's an exciting new field that is helping to improve rehabilitation for stroke and other brain injuries.
Patient resources
Videos
MedStar NRH Press publications
Helpful links