Transplant Rehabilitation | MedStar Health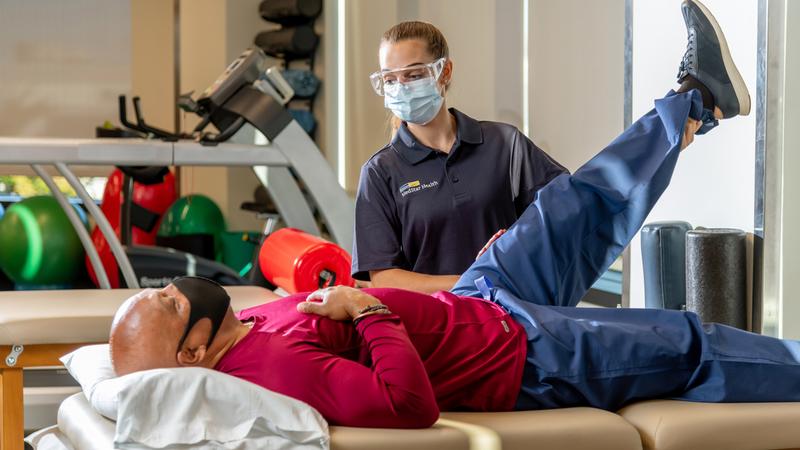 Physical activity is an important part of a healthy life no matter what you are going through, but it's especially important for people who are waiting for or recovering after an organ transplant. That's why we're here—to help you build your strength and get healthier.
Through a unique partnership between MedStar National Rehabilitation Hospital (MedStar NRH) and MedStar Georgetown University Hospital, we offer an innovative Transplant Rehabilitation program designed to boost recovery before and after an organ transplant surgery. Our collaboration provides people in need of a transplant with seamless access to the full spectrum of care. From pre-transplant physical therapy to cutting-edge transplant surgery and post-transplant therapy in a hospital and outpatient clinics, we can help you get back to living your life as quickly as possible.
We're one of the first fully-integrated transplant rehabilitation programs, and we remain one of the only places in the country that offers a continuum of care directly from the time of your transplant evaluation through surgery, hospitalization, and the entire recovery process. Current research has shown that transplant patients who receive physical therapy before transplant surgery recover better and have better survival rates than those who don't. This unique approach combined with the expertise of our highly-skilled teams are why our liver transplant outcomes are the highest in the region.
Inpatient rehabilitation
After transplantation, many patients now go directly to our rehabilitation hospital, MedStar NRH, to recover and rebuild their strength, rather than a skilled nursing facility or home. Early research shows that transplant patients who receive transplant rehabilitation in an inpatient rehabilitation facility have better survival rates at the one-year mark than those who do not. By offering immediate post-operative care in a rehabilitation hospital, we can more quickly improve functional abilities while addressing any possible complications associated with organ transplants.
After a liver transplant, our rehabilitation team will assess your condition and develop a personalized rehabilitation treatment plan designed to help:
Increase your strength and range of motion

Build exercise tolerance through low and moderate exercise and activities of daily living, including self-care
Program highlights
Your rehabilitation care team involves physicians trained in physical medicine and rehabilitation medicine, physical, occupational, and speech therapists, rehabilitation nurses, and others who work together to help you find your strength and maximize your quality of life.
Here, patients benefit from:
Top-rated, quality care from a nationally-ranked hospital that is fully-accredited by the Commission on Accreditation of Rehabilitation Facilities (CARF)

A hands-on, team approach involving specialists in physiatry, physical therapy, occupational therapy, and speech therapy

Around-the-clock access to a skilled medical team, including doctors and rehabilitation nurses

The most advanced rehabilitation technology, including the robotic ZeroG® support system that helps patients relearn to walk and rehabilitate from injury

A variety of support services designed to care for the whole person, including spiritual care, counseling services, pain management, and more

Rehabilitation engineering, which helps patients to live independently with the help of individualized assistive and adaptive devices

Unique therapy opportunities, including music therapy, therapeutic recreation, and others

Holistic care, with access to a neuropsychologist and case manager
After inpatient transplant rehabilitation, some people may continue their recovery and physical therapy at a skilled nursing facility before returning home. Others may go home and receive additional support through outpatient physical therapy or home care services.
Outpatient rehabilitation
By evaluating transplant recipients before surgery and developing an individualized plan to help them become as strong and healthy as possible before and after their transplant, we work to help our patients return to their best, healthiest selves in the shortest period of time.
Before transplant surgery, our physical therapists and occupational therapists use a variety of tests and measures to determine a patient's current fitness level and need for physical therapy. The results of these tests help our therapists determine where patients fall on the liver frailty scale, a calculation used to determine their physical status. Their score places them in one of three categories:
Robust: You are strong in all three categories and should keep doing what you've been doing in terms of physical activity and building strength.

Pre-frail: You are weak in one to three categories and need to increase strength and endurance.

Frail: Liver disease has significantly affected your health and you need help becoming more physically active. People in the low pre-frail and frail scores usually need physical therapy before their transplant surgery.
By intervening early with strengthening, energy conservation, and other outpatient therapy services, patients are better prepared to face surgery and effectively return to their activities after recovery.
Program highlights
For patients who will benefit from pre-transplant rehabilitation, we'll design a personalized plan to help them attain goals related to improving outcomes and boosting recovery after surgery.
Before surgery, our physical therapists can help patients:
Improve cardiovascular endurance and muscle strength

Maximize their functional endurance, or their ability to perform daily tasks

Learn about exercise and build good habits that will help them during recovery after their transplant

Build an independent home exercise program to help continue the progress made during therapy sessions
Following a liver transplant surgery, many patients benefit from intensive rehabilitation services in our acute inpatient rehabilitation hospital, MedStar NRH. Other patients can return home and recover with the support of our physical and occupational therapists through outpatient services in their community.
Our locations
Inpatient locations
Distance from Change locationEnter your location
102 Irving St. NW Washington, DC 20010
5601 Loch Raven Blvd. Main Hospital Building 5th Floor Baltimore, MD 21239