Liver Transplant Surgery | Evaluation and Process | MedStar Health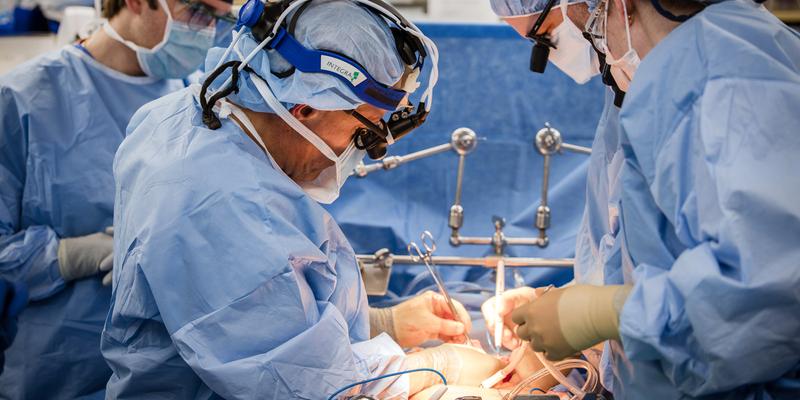 MedStar Georgetown Transplant Institute is one of the largest liver transplant centers in the region, with 120+ transplants a year. Our commitment to our patients translates to excellent outcomes that exceed the national average.
Meet the team (PDF)
What to expect during the liver transplant process
Your transplant coordinator is your main contact and will conduct the initial evaluation and provide you with information about the transplant process, waiting lists, and your role in the transplant process.
You'll receive care tailored to your needs from a multidisciplinary team of specialists who will guide you through each step of your diagnosis and treatment.
You'll have access to the latest technology for the diagnosis and treatment of liver disease, including non-invasive liver fibrosis measurement, endoscopic therapies, and cutting-edge surgical techniques, including minimally invasive and robotically-assisted surgery and living donor liver transplant.
Your team will include any additional specialists needed to treat your condition, including gastroenterologists, radiologists, oncologists, and pathologists, all in one place.
You'll have access to new treatments through the wide range of clinical trials.
Why choose MedStar Health for your surgery
Our liver transplant outcomes are the highest in the region.
Our team of hepatologists (liver specialists) and gastroenterologists help manage liver disease, at times prolonging or even eliminating the need for transplant

Our transplant surgeons apply the latest surgical techniques, including laparoscopic liver resection and transplant, cadaveric or split-liver transplantation, when appropriate

Wait times among the lowest in the country

Life-saving liver and kidney transplant care for U.S. veterans at MedStar Georgetown Transplant Institute. Covered through your VA insurance.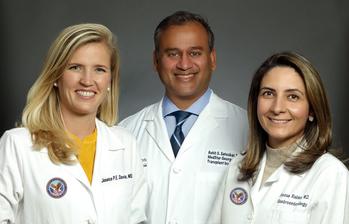 Veterans living anywhere in the U.S. who need a liver or kidney transplant can receive this care from the experienced transplant specialists at MedStar Georgetown Transplant Institute, one of the top transplant centers in the nation. The Veteran's Administration recently added the Institute to its network, giving veterans access to the expert, compassionate care provided by the multidisciplinary MedStar Georgetown transplant team.
This collaborative program allows veterans to continue receiving much of their care pre- and post-transplant at the VA, with the transplant procedure taking place at MedStar Georgetown University Hospital. The MedStar Georgetown team of transplant specialists provide care tailored to the needs of each patient, using the latest surgical techniques and technology, including minimally invasive and robotically-assisted surgery and living donor transplant to treat end-stage kidney and liver disease.
And as long as you have your evaluation with your local VA, everything is covered by your VA insurance.
To learn more about the VA-MedStar Georgetown Transplant Institute program, click here.
Liver disease
MedStar Health provides premiere liver disease diagnosis and treatment for patients suffering from a variety of liver disorders, including:
Autoimmune hepatitis

Fatty liver disease (NASH)
Different types of liver disease are treated in different ways. Critical to managing liver disease and perhaps even regenerating new, healthy liver cells, is a healthy diet that supports healthy liver function. However, if your liver is damaged to the point where regeneration is not an option, the best treatment for some types of end-stage liver disease is transplantation.
Liver transplant evaluation
The goal of the evaluation process is to make sure your health is optimal and that you will benefit from liver transplantation. During the evaluation you will be seen by multiple members of our team.
The evaluation includes a physical exam and several tests and assessments, many of which can be completed at a location near your home:
General health exam
Lab tests to measure the condition of your organs
Imaging tests to assess the extent of your liver disease
Heart tests
Psychological evaluation
Addiction counseling, if needed
Physical therapy to help you maintain strength and endurance so that the process of surgery and recovery goes as smoothly as possible
The health information we gather is used to create your profile and determine where you'll be placed on the national transplant waiting list if transplant is an option for you.
After the evaluation, the team will meet to determine our recommended best treatment option for you and then work with you to follow the treatment path. While you're waiting for an organ, our team will be in constant communication with you and care for you so you're in the best health possible when it comes time for your transplant.
Liver Transplant Surgery
When liver function becomes severely compromised, a liver transplant may be necessary.
Liver transplant surgery process
If the team determines that a liver transplant is the best option for you, you'll be added to the national waiting list for a deceased donor liver. The team may also suggest that you work to find a living liver donor. Living donation can shorten the time you wait for your transplant and improve your long-term outcome.
When a deceased donor liver becomes available, the team will evaluate the organ. If it's accepted by the transplant team, you'll come to the hospital, undergo a brief physical examination, be prepared for surgery, and will ultimately be taken to the operating room.
Liver transplant surgery is done using general anesthesia. The transplant surgeon accesses your liver through an incision across your abdomen. There are different approaches to liver transplant, so the location and length of your incision may be different from someone else's.
The surgeon removes your liver, puts the donor's liver in its place, and reattaches your blood vessels and bile ducts to the new liver.
Liver transplant surgery recovery
The expected length of stay in the hospital after a liver transplant averages around seven to ten days. The time between discharge from the hospital and the return to full-time work or school is generally four to six months.
After your liver transplant, you will:
Immediately receive anti-rejection medications that you will continue to take throughout your life. Your doctor will help you find ways to manage any medication-related side effects.
Stay in the intensive care unit for a few days. Doctors and nurses will monitor the function of your new liver and test your liver function frequently to confirm that the new liver is working optimally.
Spend one to two weeks in the hospital. Once you are stable, you will recuperate in a transplant recovery unit where everyone is specially trained to care for transplant patients.
Learn about post-transplant care from the nursing staff and prepare for discharge.
Have frequent checkups as you continue recovering after you leave the hospital. The first visit after transplant is within a few days of your discharge. You are then seen weekly, until your wound has healed and your labs have stabilized. You may undergo blood tests once a week at first, but these will become less frequent throughout the recovery process. With time, the number of visits will decrease and you will continue follow up with your primary care provider.
Becoming a living donor
Give the gift of life. A living donor transplant can eliminate a long wait for a donor organ, and it provides the best quality organ possible.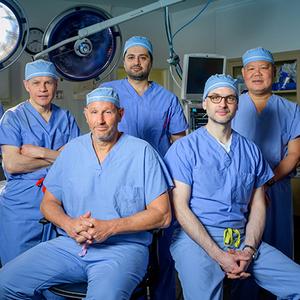 Expert transplant care
Getting the care you need starts with seeing one of our transplant specialists.
Additional information
Understanding the liver transplant process

The MedStar Georgetown Transplant Institute Liver Team discusses liver disease, liver transplant and transplant options.

Liver transplantation: ask Dr. Thomas Fishbein

Dr. Thomas Fishbein answers commonly asked questions about liver transplantation, including the different liver transplants that can be performed.

Pediatric liver transplant: Serena's liver transplant journey

About eight weeks after she was born, Serena was diagnosed with biliary atresia. The conclusion was that she was going to need a life saving liver transplant. MedStar Georgetown determined that Serena's father, Miles, was a candidate for the liver donation. Dr. Thomas Fishbein, MedStar Georgetown Transplant Institute surgeon removed 13% of Miles' liver to replace Serena's entire liver.

Pre-teen avoids liver transplant, improves life for other children: Dvir's story

Dvir was 12 years old when he was rushed to MedStar Georgetown University Hospital with autoimmune hepatitis, a disease caused by an overactive immune system. Through medical treatment, transplant specialists helped him avoid needing a new liver. Now, Dvir gives back by fundraising for other pediatric transplant patients

The Michael H. and Diana Y. Yeh Liver Screening Program at the NBC4 Health and Fitness Expo

The MedStar Georgetown Transplant Institute's Michael H. and Diana Y. Yeh Liver Screening Program made its first appearance at the NBC4 Health and Fitness Expo. The program strives to provide free liver screening services to the community, in particular to those who do not have access to healthcare services. The free liver screening tests for hepatitis B, hepatitis C, and liver function. In just two days, 817 people were screened.

What you need to know about living donor liver transplant

The MedStar Georgetown Transplant Institute is one of the leading transplant centers in the United States in terms of volumes and outcomes. In terms of liver transplantation, we are one of the largest in the region. Learn about the liver transplantation process and how to become a living liver donor.
Patient Resources
For patient-friendly frequently asked questions, informative videos, our accessible locations, and more, click on the following links.
Research and clinical trials
Research is a critical part of what we do at MedStar Health. Learn more about our research on treating and managing advanced disease and transplantation surgery.