Pancreas and Liver Diseases Program | MedStar Health

A new era in pancreaticobiliary care
MedStar Health has launched the only fully integrated, comprehensive Pancreas and Liver Diseases Program in the region, with the complete spectrum of disciplines for the best results.
MedStar Health's Pancreas and Liver Diseases Program treats adult and pediatric patients with complex conditions of the liver, pancreas, and biliary tract. Learn how the experts of the Pancreas and Liver Diseases Program can help you to a better life through comprehensive and compassionate care.
Innovative, state-of-the-art approach for pancreatic and liver diseases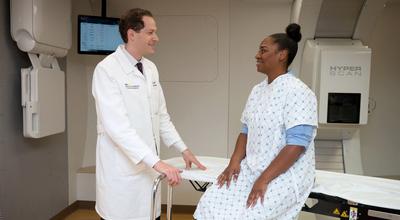 The program embraces a multidisciplinary approach to assure the most timely and accurate diagnoses, most effective therapies, and highest possible outcomes for even the most complex cases. We offer cutting-edge diagnostics and treatments and are leaders in advanced pancreaticobiliary endoscopy. We treat more pancreatic patients and perform more pancreaticoduodenectomy procedures, than any other center in the Washington, D.C., area. We perform every sophisticated approach available today, ranging from robotic and other minimally invasive surgeries to complex vascular reconstructions to highly advanced procedures.
Pancreatic Cyst and Surveillance Clinic

If you have a condition of the pancreas, such as pancreatic cysts or pancreatitis, our team will meet with you to evaluate your disease progression. We'll perform a multidisciplinary evaluation, offer insights into possible treatments, and continue to monitor your pancreatic health.

High-risk Screening Clinic for Pancreatic Cancer

Your best defense against pancreatic cancer is early detection. That's why we launched a clinic devoted to patients with elevated risk for pancreatic cancer. These include germline mutations and a strong family history of pancreas or other related cancers. We'll monitor your pancreas for signs and symptoms of disease, with the goal of finding any lesions in the premalignant stage or at least early in the disease process. This clinic involves a team approach and includes gastroenterology, cancer geneticists, pancreatic surgeons, and radiologists.

Growths in your liver can be harmless, or they can be cancerous. It's not always easy to tell the difference until a thorough evaluation is completed. We've assembled physicians with expertise in liver tumors from a variety of disciplines to review your condition and determine the best treatments for you.

Second Opinion and Imaging Clinic

We're here to help you make the best decision about your pancreas, liver, or bile duct condition. If you have concerns about a recent diagnosis, we'll provide a multidisciplinary evaluation for additional peace of mind. We review images, collaborate on care, and meet with you to determine the next steps.
Our gastroenterology team has expertise in advanced pancreaticobiliary endoscopy, critical to the precise diagnosis and tumor profiling that leads to better outcomes for complex pancreaticobiliary diseases. We specialize in advanced endoscopic techniques for adults and children.

Center for Liver and Pancreas Surgery

The MedStar Health Center for Liver and Pancreas Surgery is the only program in the region specializing in minimally invasive procedures including robotic, laparoscopic, and hybrid approaches in addition to open surgical techniques.

Our team of board-certified, fellowship-trained radiologists has a subspecialty in abdominal body imaging. By structuring the best treatment plan for each patient, we are promoting optimal treatments and outcomes. Utilizing unique protocols and advanced technology, our team performs the highest number of abdominal MRIs in the area. With our high volumes and specialized expertise, patients can expect accurate diagnosis and staging of nuanced disease.

One of the largest centers in the nation, the Division of Interventional Radiology offers both cutting-edge diagnostic and treatment options for patients with pancreaticobiliary diseases and certain cancers. Each year, our specialists perform hundreds of chemoembolization and radioembolization treatments for primary and metastatic liver cancer. We also routinely perform adjunctive treatments for surgical resection, including portal vein embolization.

The Georgetown Lombardi Comprehensive Cancer Center is the only National Cancer Institute (NCI)-designated Comprehensive Cancer Center in Washington, D.C. With the area's largest and most experienced team of medical oncologists dedicated specifically to GI cancers, we offer the full range of current FDA-approved pharmacotherapies and other promising new options available through clinical trials. The Otto J. Ruesch Center for the Cure of Gastrointestinal Cancers—a shared Lombardi/MedStar Georgetown program combines expertise in molecular medicine and translational research toward exploring individualized cures for liver and pancreas disease.


MedStar Georgetown is the first and most experienced facility in the Washington, D.C., metropolitan area to offer proton therapy with HYPERSCAN™ — an established treatment for liver tumors. We were also among the first hospitals in the country to treat pancreatic cancer diseases with CyberKnife®. Altogether, a full range of radiation therapy options are available, some of which may obviate the need for surgery or be aimed at preventing recurrence.

View useful program information including Frequently Asked Questions (FAQs) and our video gallery.
Our commitment to pancreaticobiliary research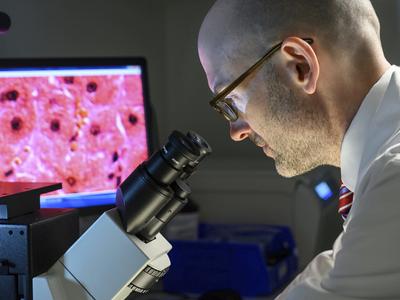 We are committed to the future of pancreaticobiliary care through research. As part of a major academic medical center, the Pancreas and Liver Diseases Program is actively involved in basic, clinical, and translational research to improve current care and advance knowledge, practice, and technique. Additionally, the Center for Translational Transplant Medicine, part of the MedStar Georgetown Transplant Institute, brings together disease groups and specialists, laboratory scientists, and transplant physicians to develop innovative responses to current clinical problems.
We are working to create a positive change in the future of pancreaticobiliary care, by providing access to promising therapeutic options only available through clinical trials. Current areas of exploration include:
Relative efficacy of new chemoembolization devices for hepatocellular carcinoma
Comparison of irreversible electroporation and intra-arterial chemoinfusion for primary pancreatic cancer
Understanding liver cancer and its mimics the role of the pancreatic tumor microbiome
Direct radiologic-pathologic correlation of colorectal liver metastases with
MR-compatible sectioning and localization device
Innovative methods to deliver chemotherapy and radiation therapy
Advanced approaches to surgery for hepatopancreaticobiliary disease
Evaluation and treatment of rare pediatric liver disorders
Learn more about
clinical research
at MedStar Health.
Nationally known leaders with world-class expertise
The MedStar Health Pancreas and Liver Diseases Program is home to some of the most experienced specialists in the field. Make an appointment and you'll benefit from the incredible talent and expertise of a team committed to treating diseases of the pancreas, liver, and biliary tract. Behind the scenes, doctors from all our core disciplines meet each week in conference to discuss the best approaches to your unique pancreas or liver condition, providing you with input from all specialties. In addition:
We treat more pancreatic patients and perform more pancreaticoduodenectomy procedures than any other center in the Washington, D.C., area. Our team is comprised of clinical leaders who have pioneered and perfected practices that are now common standards of care.
We offer state-of-the-art treatment modalities including advanced pancreaticobiliary endoscopy and robotic surgery as well as minimally invasive surgeries and complex vascular reconstruction.
Our active research program aims to evolve scientific understanding of pancreaticobiliary disease continuously to the next level. On an individual basis, your patients have access to many clinical trials for promising new treatments.
We have been one of only 30 approved National Pancreas Foundation Centers in the United States since the award's inception.
Pancreas and Liver Disease Program Directors
Show Next

8

of
Show All Pancreas and Liver Disease Program Directors
Conditions and Treatments
Conditions
---
Treatments
Expert care for children with pancreas and liver diseases
As the only fully integrated, multidisciplinary program of its type within the Washington region, the Pancreas and Liver Disease Program provides experienced care to patients of all ages with complex conditions of the liver, pancreas and biliary tract—including children from infancy to age 18.
We offer the full spectrum of medical and surgical pediatric care available, including:
Evaluation and medical management of rare pediatric liver disorders
Cutting-edge pediatric hepatobiliary surgery for hepatoblastomas, angiosarcomas, pancreatic neuroendocrine tumors, and choledochal cysts
Advanced pediatric endoscopic techniques
Transplant for young patients with serious liver or small bowel disease.
Care is delivered by a multidisciplinary, subspecialty team of nationally and internationally known pediatricians, pediatric specialists, and pediatric surgeons who embrace a family-centered philosophy. Altogether, the team consists of:
Pediatric hepatologists and transplant specialists
Fellowship-trained surgeons in the Center for Liver and Pancreas Surgery
Pediatric anesthesiologists
Pediatric nurses and nurse practitioners
Nutritionists
Child life specialists
Social workers
A dedicated Pediatric Sedation Unit and a Pediatric Intensive Care Unit further assure the most specialized, compassionate, and age-appropriate care and services available. Lastly, our child-friendly setting features a play area for recreational and therapeutic activities to ease anxiety.