Organ Donation | Living Donor | MedStar Health
A living donor transplant can decrease the time a patient will wait to be transplanted and it can provide a better-quality organ.
Living donor options include:
Becoming a living donor through MedStar Georgetown Transplant Institute requires several steps: evaluation, surgery, and recovery. If you have questions about donating a kidney please call 202-444-3714. For questions about donating a liver please call 202-444-1360.
Area's only hospital offering donor protections.
MedStar Georgetown Transplant Institute is the area's only National Kidney Registry Donor Shield Program, providing a range of donor protections that are otherwise not offered in the region. This program provides a safety net for living kidney donors through a range of protections.
Become a living kidney donor.
To become a living kidney donor, you will complete a comprehensive medical evaluation which includes: completing a donor questionnaire, lab work, evaluation with the living kidney donor team and diagnostic testing. If you are approved as a donor you may go on to donate your kidney. There are multiple pathways for kidney donation.
Living donor options include:
Direct Donation: A donor who donates his or her kidney directly to their intended recipient
Paired Kidney Exchange: A donor who donates his or kidney to another person and their intended recipient receives a kidney from another donor.
There are several types of transplant procedures:
ABO and HLA-Compatible Kidney Transplantation: The donor and recipient have the same or compatible blood type, and the recipient's immune system is compatible with the donor.

ABO or HLA Incompatible Kidney Transplant: The donor and recipient have different or incompatible blood types or the recipient has antibodies against the donor, meaning the patient's body would reject the donated kidney. In some cases, the recipient can be treated before and after the kidney transplant with medication or a treatment called plasmapheresis. Plasmapheresis removes antibodies in the recipient that would cause rejection of the kidney once transplanted.

Kidney Transplantation with Highly Sensitized Recipients are done for people with a high antibody load, mostly from past transplants, pregnancies, or blood transfusions. Patients can receive a kidney through paired exchange, desensitization procedures, or a combination of both.

Paired Kidney Exchange: For donors and recipients who are not blood type or HLA compatible, the paired exchange program provides a method to still be transplanted. Compatible pairs can also join the exchange for other benefits.
MedStar Health is a national leader in kidney exchange and the management of recipients and donors who are incompatible. Only a handful of transplant centers in the United States offer this option to their patients.
Why trust the most important decision of your life to anyone else?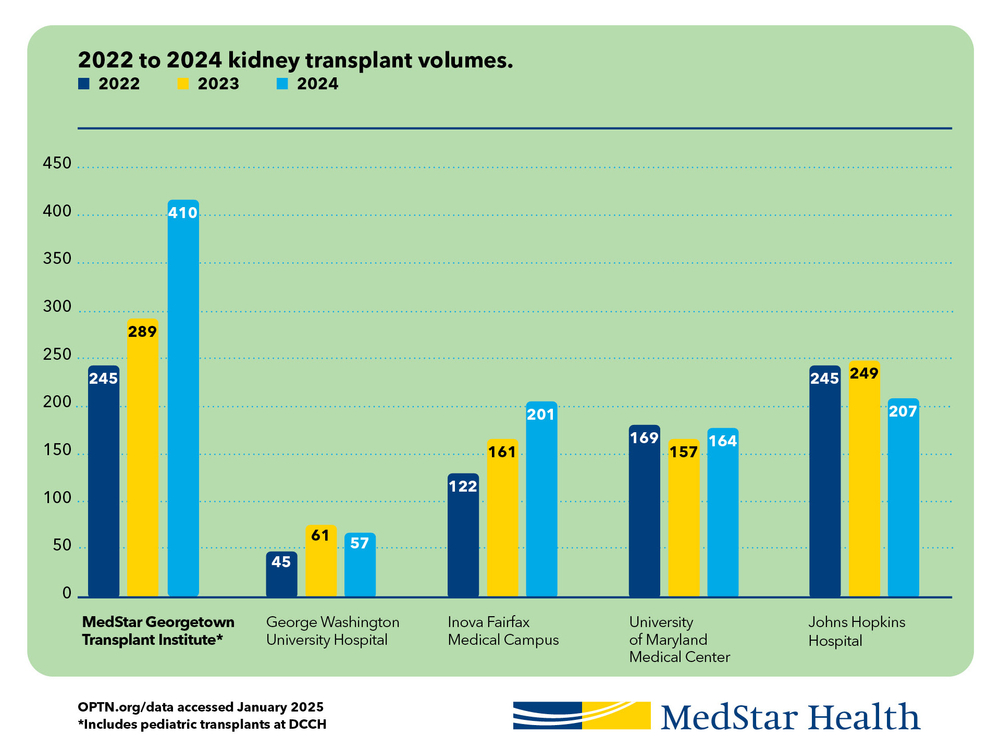 The kidney will usually work immediately after surgery and the patient will experience fewer episodes of rejection. Living donor transplantation can allow a recipient suffering from kidney failure to get a kidney transplant before starting dialysis, which can result in improved outcomes for the recipient.
Patient's stories of living kidney donation 
A double gift of life: Dr. Neil Kaye and Dr. Susan Donnelly share their kidney donation experience

Dr. Neil Kaye and Dr. Susan Donnelly each decided to donate their kidney at MedStar Georgetown Transplant Institute as non-directed and anonymous living donors which started a chain of donations to save many lives across the country. As physicians, they chose the Institute because they were impressed with the high volume of transplants and the expertise of our transplant surgeons and their care team.

A kidney transplant with an added benefit: Courtney Howard's story

Courtney Howard was diagnosed with polycystic kidney disease and needed a kidney transplant. Her sister, Shannon, gave her the gift of life by selflessly donating one of her kidneys. And because Shannon was a match, they entered into a clinical trial that is allowing Courtney to hopefully be free of immunosuppressants.

Former NFL player gives the gift of life to his brother

A heartwarming display of true brotherly love. Josh Morgan, a retired NFL player, donates his kidney to save his brother Daniel's life.

Non-directed kidney donation: Miriam Godwin's gift of life

Miriam Godwin works at the National Kidney Foundation advocating for patients in need of a kidney transplant. She made the decision to donate one of her kidneys as a non-directed donor and gave the gift of life. The power to save a life is within you.
Any healthy person can be a kidney donor. The donor does not need to be a family member. The donor can be a friend, an acquaintance, spouse, in-law, or even a stranger.

The donor must be:

At least 18 years old

Appropriate candidate for general surgery

Meet medical, social, and psychological criteria set by UNOS

Able to give informed consent

How long is the surgery, and how long will I be in the hospital?

Each surgery, one for the donor and one for the recipient, lasts approximately three - five hours. The donor is in the hospital for one to three days.

What is the long-term risk of being a donor?

There is very little risk to being a kidney donor, either short-term or long-term. Short-term, the risk of dying from the surgery is about 0.03% (3 in 10,000). Major complications are unusual. In the long term, having been a donor does not influence the risk of kidney failure, high blood pressure or diabetes. Recent studies show that kidney donors have longer life expectancy than predicted.

How will I live with one kidney?

It is safe to live with one kidney and you will be able to resume all of your regular activities after surgery. Your remaining kidney will grow slightly larger to compensate for the donation of the other kidney. You will have scheduled follow-up visits with the transplant team to monitor your kidney function after surgery and will have lab work done 6 months, 1 year, and 2 years after your donation.
Kidney donor protections
Donors who undergo surgery at MedStar Health will qualify for the following protections through the National Kidney Registry:
Lost wage reimbursement up to six weeks for donors who will have a loss of income during their recovery period.
Travel and lodging reimbursement of up to $3,000. This includes expenses associated with the evaluation and surgery. Driving expenses are reimbursed at the IRS mileage rate and lodging covers a hotel near MedStar Georgetown Transplant Institute.
Donation life insurance with a $500,000 principal sum, covering a period of one year post-surgery.
Donation disability insurance with a $1,500 maximum weekly benefit, covering a period of one year post-surgery, with a 30-day waiting period.
Financial protection for complications that ensures donors are never asked to pay for a post-surgical complication that is a result of their kidney donation.
Legal representation should a donor's employment or health insurance be negatively affected by living donation.
To learn more, speak with a living donor social worker at 202-444-0537.
What is the paired kidney exchange program?
Paired kidney exchange (PKE) is a program that assists donor and recipient pairs who are incompatible or poorly matched with each other to find another donor and recipient pair or pairs with whom they can exchange kidneys to allow a more favorable compatibility and allow a transplant take place.
All medically and psychosocially eligible donor and recipient pairs are able to participate in the PKE program. Although pairs will usually participate because the donor and the recipient are incompatible because of blood type or tissue type, the program is not limited to incompatible pairs. Compatible pairs may participate and are encouraged to consider PKE as well. While compatible pairs may benefit from paired exchange exchange by identifying a younger or better matched donor. Importantly, compatible pair participation in the paired kidney exchange pool allows other incompatible pairs to be transplanted who may not otherwise receive a kidney transplant.
What happens when you enter the Paired Kidney Exchange Program?
Donor and recipient medical data is entered into the PKE database. The database allows for a computer matching program to find compatible donor and recipient pairs. The goal of the matching program is to find as many compatible pairs as possible and maximize the donation of one kidney from a living donor to allow as many kidney transplants as possible.

In order to find a compatible kidney, the PKE database requires your name (Georgetown will make up an alias for the donor and recipient to protect your identities), age, blood type, tissue type, avoidable tissue (HLA) antigens for the recipient, kidney function labs, serologies and donor anatomy.

The goal of the PKE program is to find the best outcome for all pairs involved.

If a potential exchange pair is found, the match will be reviewed by the transplant surgeon, transplant nephrologist, and program staff. If the match is favorable, a crossmatch will be performed to confirm compatibility. A crossmatch is the mixing of blood between the donor and recipient to find out if they are compatible. Transplant centers will exchange donor charts to review records and confirm the donor is an appropriate for the potential recipient.

Further donor evaluation or testing may be requested by the recipient center. Once all centers accept the donor/recipient matches and the crossmatches are acceptable, the transplants can be scheduled. The donor and recipient surgeries are usually scheduled on the same day.

Donor and recipients will remain in the databases as long as each pair is medically and psychosocially acceptable and willing to participate.

Yearly evaluation updates are required to maintain your active status in the database.
When would the donor and recipient surgeries not happen on the same day?
If the number of pairs in the swap is very large it might be necessary to schedule the surgeries over multiple days. The surgeries may happen out of sequence which means the donor surgery can happen before the recipient surgery.
When kidney exchanges involve a non-directed donor (a person willing to donate a kidney, who does not have an intended recipient), a kidney swap chain often begins. When kidney exchanges involve a non-directed donor (NDD), the swap becomes an open-ended chain, which often results in an end-of-chain donor without an immediately paired recipient. This donor is referred to as a bridge donor and will be informed of this prior to the beginning of the transplant chain. A bridge donor will then begin a new chain and the surgery can happen a few days to a few weeks later. Although you may withdraw from the program at any time, we do strongly urge bridge donors fulfill their commitment to the program and start a chain at a future date.
Advanced Donation Program
MedStar Georgetown Transplant Institute is among the top transplant programs in the nation. The Institute partners with the National Kidney Registry (NKR) and participates in its Advanced Donation Program (ADP).
ADP is a paired exchange program that allows a donor to donate on a specific date even if the intended paired recipient is not ready for transplant. The intended recipient then will be prioritized for transplantation using another donated kidney when he or she needs transplant surgery.
There are four types of ADP cases:
Short-term cases, where the intended recipient is on dialysis or needs a kidney transplant soon
Short-Term Swap Saver, where the paired donor proceeds with donation to keep the rest of a paired kidney exchange chain swap on schedule but the recipient remains in need of a kidney transplant now
Voucher cases, where the intended recipient is currently not in need of a kidney transplant or may not need one for a long time or ever
Voucher Swap Save, where the paired donor proceeds with donation to keep the rest of a swap on schedule after their intended recipient is transplanted by a different donor or received a deceased donor transplant, which means that patient no longer needs of kidney transplant
Reasons to consider ADP.
Intended recipient not ready for transplant, but donor may not be able to donate in the future
Donor would like to schedule donation to accommodate work, leave time, or other life events
Logistical issues for donor
Remote donation
Remote donation allows someone who wants to donate a kidney to a friend or family member in a distant center without requiring the donor to travel to the recipient's transplant center. Remote donation uses logistics pioneered by the NKR to safely transport kidneys from the donor's local hospital to the recipient's transplant center.
In living donor liver transplantation, a piece of liver is removed from a living donor and transplanted into a recipient.
The liver's unique ability to regenerate itself combined with the expertise of our physicians and staff allow for more people with liver failure to obtain a liver transplant.
If you donate part of your liver through the MedStar Health's Liver Transplant program, both the transplanted piece and the piece that remains will grow to pre-surgery size. The donor liver typically regenerates to its original size in 30 days, on average.
The number of patients waiting for organ transplants far exceed the number of organs donated, which has significantly increased awareness about living donor transplantation.
Living Liver Donor Transplants Save Lives
With more than 14,000 people on the waiting list for a liver transplant in the U.S. and a shortage of donated organs, the wait can be long. Unfortunately, this means that 25 to 30% of patients on the waitlist never receive the transplant they need because they become too sick for transplant or die.
Living liver donation is a life-saving alternative. With living donation, patients can receive the liver transplant they need much more quickly. A living liver donor transplant has many advantages:
Quicker access to a transplant, before patients become too sick
Healthier recipients have a lower risk of complications during and after transplant surgery
Great option for patients with lower MELD scores or liver cancer who will most likely remain on the waitlist for a long time
Higher quality of liver from living donors who undergo extensive testing
Surgery can be scheduled when the recipient is healthiest and when it's convenient for the donor
Videos about living liver donation
What you need to know about living donor liver transplant

The MedStar Georgetown Transplant Institute is one of the leading transplant centers in the United States in terms of volumes and outcomes. In terms of liver transplantation, we are one of the largest in the region. Learn about the liver transplantation process and how to become a living liver donor.

Living liver organ transplant: the story of baby Brandon Simonds, Jr.

Brandon Simonds, Jr., was in liver failure and in need of a liver transplant. A stranger donated his liver to baby Brandon and saved his life. Watch as they meet virtually during the COVID-19 pandemic.

Understanding the liver transplant process

The MedStar Georgetown Transplant Institute Liver Team discusses liver disease, liver transplant and transplant options.
Living liver donor FAQs
Who can be a liver donor?
To meet living donor criteria, an individual must:
Be physically fit and in good general health

Have a compatible blood type with the recipient

Be free from uncontrolled high blood pressure, diabetes, cancer, liver disease and heart disease
Spouses, friends, and individuals unrelated to the recipient can become living donors.
What are the benefits of living liver donation?
Living donor liver transplantation offers immediate organ availability. Patients who receive transplants from living donors can better prepare for their surgery, knowing well in advance when the transplant will take place.
What can I expect during a liver transplant?
Evaluation (Donor): the transplant program coordinates with the local and national transplant lists to find a donor organ. Organ allocation is based on medical urgency, time on the waiting list and blood type compatibility. Living donors also must undergo evaluation, and must have compatible blood types.
Surgery: the transplant surgeon removes the donor organ (or portion of healthy liver for a living donor), removes the recipient's damaged liver and then attaches the donor liver.
Recovery: living liver donors spend about one week in the hospital.
Recovery: living liver donors spend about one week in the hospital.
Additional information
Resources