Becoming a Patient/Transplant Evaluation Information | Kidney & Liver | MedStar Health
Becoming a patient at MedStar Health requires several important steps.
A referral by another physician, self, or other medical professional

Pre-transplant evaluation, including interviews

Cleared for transplant
The pre-transplant evaluation is conducted to determine if your overall health and existing medical conditions are such that you are eligible for transplant surgery. This evaluation includes the following:
Our multidisciplinary team will review your medical history, conduct a physician exam, and psychosocial evaluation. Our team is available to answer any questions you have related to transplantation.

A financial counselor will answer your questions and work with you to minimize your costs post-transplant.

Thanks to new technology and innovative approaches, we are able to test your blood for tissue typing and antibody screening.

We will meet with your potential living donors and conduct health checks and blood tests to ensure the best match.

You will have access to a variety of our clinical experts specialized in transplantation.

Your case will be presented to a multidisciplinary pre-transplant committee to determine the best suitability for your transplant.
Additional testing may be required, depending on your individual needs.
Evaluation clinics
We're making it easier for you to get the care you need. While all transplant surgeries are performed at MedStar Georgetown University Hospital, our experienced transplant team is located throughout the Washington, D.C., metropolitan region. Find a location near you.
Transplant waiting list
Following the evaluation, the team meets to determine your eligibility to be placed on the transplant waiting list. You are quickly notified of the decision. While you wait for a transplant, it is important to manage your condition.
The allocation of organs on the waiting list is based on a point system. When a donor becomes available anywhere in the country, the blood type and tissue type of the donor is determined. That information is compared to the tissue typing of all patients waiting for a transplant with that blood type.
A computerized list is generated through The United Network for Organ Sharing (UNOS) in Richmond, Virginia. This list shows if there are any perfect matches for this particular donor in the country. If so, patients who are a perfect match are given the most priority for that particular donor. After the perfect matches are determined, then the rest of the patients with that blood type are listed according to how many points they have. The point system is based on several factors, including the match, how long the patient has been waiting, and the immune status of the patient.
Every patient receives a comprehensive packet of information, describing the entire process and giving important information for the transplantation process.
Managing your condition before transplantation
Once you have been listed with the United Network for Organ Sharing, the wait for a donor organ to become available can be as short as several months to several years.
Waiting for a transplant can be a difficult process for you and your family. The MedStar Georgetown Transplant Institute team will do all they can to help you during this waiting period and encourage you to follow these guidelines:
Have your PRA (Percent Reactive Antibody) taken at least once a month. This measures the amount of antibodies in your blood that may reject a transplanted organ. You must have this measured once a month, because if a donor organ becomes available, a final cross-match will be performed immediately before surgery to minimize the chance that the donor organ will fail.

Try to stay as healthy as possible and take your medications as prescribed.

Follow dietary and exercise guidelines. Weight management is very important while waiting for a transplant.

Remain as active as your condition will allow.
You should let us know if any of the following occur:
Infection, illness, or hospitalization

Any change in your health

Traveling out of town: we will need all phone numbers in case we need to reach you

Contact information: if any of your contact numbers change, please let us know
Communicate updates every two to three months, even if no changes occur.
Video
"Anybody that has any hesitation, I'll tell them to come here because they did everything they said they were going to do. It's just a breath of fresh air to come here and have the great experience I did with MedStar Georgetown Transplant Institute."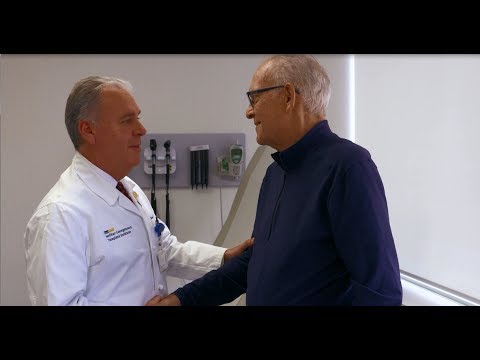 Michael, from Detroit, was turned down by 12 hospitals because his case was too complex. He had already been through three kidney transplants before coming to MedStar Georgetown Transplant Institute. Then, one day, his nephrologist suggested MedStar Georgetown Transplant Institute. It was here that he finally heard the news he had been hoping for. The institute could perform his complex kidney transplant.
Additional information
Research and clinical trials
Research is a critical part of what we do at MedStar Georgetown University Hospital. Learn more about our research on treating and managing advanced disease and transplantation surgery.