MedStar Health Orioles Pitching Lab | MedStar Health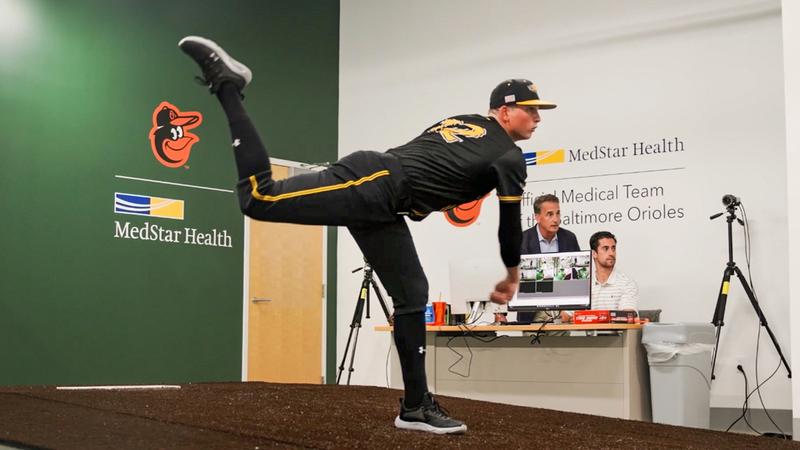 Our professional-level pitching lab was designed in partnership with the Baltimore Orioles to provide a 3D motion analysis for professional pitchers and other high-level baseball and softball throwers. Located in Bel Air, Maryland, our lab provides a comprehensive pitching assessment which includes a full biomechanical analysis to improve your speed, accuracy, skill, and reduce risk of future injury.
Orioles partnership
Since 2015, MedStar Health has exclusively provided medical care for the Baltimore Orioles. More than ten MedStar Health physicians work as team doctors, providing primary care, orthopedics, sports cardiology, and more.
Our MedStar Health at Bel Air facility is already home to several Orioles Team Physicians and our world-class MedStar Health Physical Therapy location. The pitching lab will provide the Orioles organization with a one-stop shop for elite sports medicine care in their own backyard, with proximity to their major league and several minor league teams.
Pitching assessment
Our four-part comprehensive pitching assessment costs $500 self-pay and includes the following: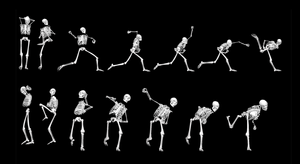 Physical assessment: physical evaluation by a sports medicine specialist at the pitching lab or another designated MedStar Health Physical Therapy location close to you. This includes postural evaluation, functional movement assessment, range of motion, and strength measurements of the upper and lower extremities.
3D biomechanical analysis: evaluation using the MedStar Health Orioles Pitching Lab. The pitching lab includes ten video angles for every pitch, in-depth biomechanics metrics, and a 3D skeletal model.
Comprehensive report: In approximately one week, you will receive an interactive Qualisys web report that integrates biomechanical data from the pitching lab analysis with the sports medicine specialist's assessment. Includes individualized key elements of your throwing biomechanics and pitching checkpoints from each pitcher based on results. Also provides positions to strive for during pitching delivery based on academic and clinical research for improved delivery and/or reduced risk of injury
In-person or virtual consultation: Individualized, one-time follow-up with a sports medicine specialist to review the report and discuss your strengths, areas of weakness, and identify potential risk areas of injury.
Additional follow-up sessions with a specialty-trained clinician may be purchased, if desired. Our baseball specialists will work with you based on your pitching lab results and improvement plan. We have several specialists located in the Baltimore and Washington DC areas. These sessions are self-pay and not covered by insurance. Ask about pricing.
Partnership opportunities and group rates are available. Email us at pitchinglab@medstar.net for more information.
Our facility
Our newly installed pitching lab is located in Bel Air, MD. It offers best-in-class equipment including a major league pitching tunnel featuring ten Qualisys motion capture cameras, three AMTI force plates embedded in a Perfect Mound, and a TrackMan unit for ball flight data. This technology allows us to provide you with a top-level assessment backed by empirical data points. The motion capture system collects biomechanics data from a full 360 degrees. Additionally, force plate technology shows ground reaction vectors that can precisely measure and quantify where and how the thrower loads, leaves, and reloads the ground surface.
This location also features a state-of-the art physical therapy clinic and is home to several Baltimore Orioles team physicians, including Sean Curtin, MD and Christopher Looze, MD, who provide medical leadership for the lab.
Our address:
MedStar Health Physical Therapy at Bel Air
12 MedStar Blvd., Ste. 325
Bel Air, MD 21015
Get directions
Joey Mylott played division 3 baseball at Rochester Institute of Technology where he received his bachelor's degree in biomedical engineering. Joey then went on to complete his master's degree in biomedical engineering at the Wake Forest School of Medicine. Joey worked and conducted research in the Wake Forest Pitching Lab during his graduate studies. Joey also served as a graduate assistant and a member of the baseball analytics team with the Demon Deacon baseball team. Joey works for the Baltimore Orioles in their Player Development department as their Biomechanist where he works with both pitchers and hitters.

Steve Luca attended the University of Maryland, College Park, where he received his bachelor's degree in kinesiological sciences and his master's degree in physical therapy from Old Dominion. Steve is a certified athletic trainer.

Tom Sutton, PhD, DPT, CSCS

Tom graduated from the University of Southern California with a clinical doctorate in biomechanics and physical therapy. Tom is a Certified Strength and Conditioning Specialist. Tom treats overhead athletes, runners, golfers, sports medicine, and performance enhancement restoration.
Frequently asked questions
Who is a good candidate for this?

Athletic gear with strong color contrast between top and bottom. Most participants prefer turf shoes (turf mound), but you may also bring cleats for options. Bring anything else that you would typically wear during game.

How long will I be at the MedStar Health Orioles Pitching Lab?

Plan on approximately one hour for your visit.

Does a catcher need to come?

It is preferred that your catcher attends with you. Please let us know if a catcher is unavailable and we may be able to arrange one for you.

Does my insurance cover this?

The pitching assessment is not covered by insurance. This is a self-pay service of $500.

The assessment is designed for 13 years old and older who can throw at full velocity and game-like intensity. Please call for age exceptions.

Is this assessment for baseball players only?

This assessment is designed for overhead throwing, primarily baseball pitchers. Other overhead baseball and softball position players can be assessed, but it is not for underhand softball pitching at this time.

How many pitches would I need to throw?

You will be expected to throw four of every pitch type in your arsenal for a total of up to 20 pitches at high intensity.
Videos