Georgetown University Hospital Residency Program in Radiation Oncology | MedStar Health
The MedStar Health—Georgetown University Hospital Residency Program in Radiation Oncology
Our residency program, which was established in 1982, is fully accredited by the Accreditation Council for Graduate Medical Education (ACGME) for six residents.
We strongly value resident wellness and provide residents with individualized learning and research opportunities to meet their long-term career goals.
Read a letter from the Program Director
Radiation Oncology Residency Program at MedStar Georgetown University Hospital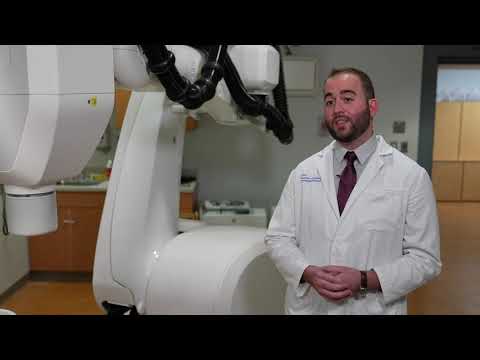 Rotations and conferences
Clinical rotations, which occur in three-month blocks, offer the resident an opportunity to follow the same patient from initial consultation through simulation, treatment planning, treatment delivery, and initial follow-up.
Residents will take each MedStar Georgetown rotation at least once, and generally take the Clinton and the MedStar Washington Hospital Center rotations twice, during the course of their residency.
All residents take a radiobiology course through the Georgetown University Graduate School during the fall of their PGY-2 academic year.
Residents will be eligible to participate in 6-12 months of dedicated, continuous research during their PGY-4 academic year.
An intensive one-month course in physics and dosimetry is offered during the first month of resident's PGY-2 academic year.
Didactics include weekly lectures in physics and disease specific sub-sites throughout the year.
Away rotations are supported by the department.
The department supports travel to national conferences.
Medical student rotations
We are currently accepting students for in-person (4 weeks) and virtual (2 weeks) rotations. Applications for both will be accepted through the Visiting Students Learning Opportunities (VSLO) website. Electives will give students the opportunity to:
Attend all departmental conferences.
Work one-on-one with faculty and residents.
Attend multi-disciplinary case conferences.
Participate in new patient visits and follow-up visits with attending and resident physicians. For virtual rotators these will be conducted through MedStar Georgetown University Hospital's online HIPAA platform.
Present a disease specific topic at the end of the rotation.
For more information please contact Senit Hailemariam, program coordinator at: Senit.T.Hailemariam@gunet.georgetown.edu.
Underrepresented in Medicine (URiM) Scholarship Opportunity:
In order to offload the burden of visiting rotations and to encourage a diverse resident cohort, partnering with Georgetown School of Medicine, MedStar Health offers support for students who are under-represented in medicine. Please follow the link below where you can find more information regarding this opportunity along with the scholarship application.
https://som.georgetown.edu/medicaleducation/visiting-students-program/
Virtual Elective
We are offering a 1–2-week Virtual Radiation Oncology Rotation between Aug-Oct for candidates interested in applying to Radiation Oncology. During this virtual rotation, which has flexible and customizable scheduling, you will work with faculty and residents, attend tumor boards, didactic lectures, and learn about our residency program.

Note: this rotation is not offered for credit and participants will function as observers during patient encounters.

Our radiation oncology residency program offers an excellent clinical training, including exposure to various treatment modalities, the ability to practice with diverse patient populations, and extensive research opportunities at Washington DC's only NCI designated comprehensive cancer center. We will be participating in the Match process in 2024 and encourage potential applicants to consider one of the rotations that we offer.
Our affiliates
Residents will rotate through three centers in the Washington, D.C., metropolitan area, with the majority of their rotations located at our main site in the Department of Radiation Medicine at MedStar Georgetown University Hospital. Our other sites include the Radiation Oncology Department at MedStar Washington Hospital Center and the MedStar Radiation Treatment Center at Southern Maryland Hospital in Clinton, Maryland. All of the sites are managed by MedStar Health a non-profit healthcare organization serving the Washington, D.C., and Maryland region. Between these three sites, residents will be exposed to both academic and private practices with suburban, urban and rural patient populations along with participating in various institutional and collaborative group research protocols.
MedStar Georgetown University Hospital
Our main site for the Residency program is MedStar Georgetown University Hospital (MGUH), a member hospital of MedStar Health, with over 600 beds located in the historic Georgetown neighborhood of Washington, D.C., MGUH is an academic partner with Georgetown University Medical Center (GUMC) and the Georgetown University School of Medicine. GUMC receives over $100 million in annual research funding and is home to numerous world class cancer researchers. The Radiation Oncology Department is part of the Lombardi Comprehensive Cancer Center (LCCC), a National Cancer Institute designated Comprehensive Cancer Center since 1974, and Washington, D.C.,'s only comprehensive cancer center. MGUH is the primary training site and residents spend the majority of their training at this location. A new medical and surgical pavilion is currently being built.

MedStar Washington Hospital Center
Residents will also rotate with the Radiation Oncology Department at MedStar Washington Hospital Center (MWHC), located less than five miles from MedStar Georgetown. MedStar Washington Hospital Center is a 900-bed academic medical center and member hospital of MedStar Health. MWHC is Washington's largest and busiest hospital. The Department of Radiation Oncology at MWHC is part of the Washington Cancer Institute. The department is staffed by faculty members that are part of a private practice. MedStar Washington Hospital Center is also an active participant in the Radiation Therapy Oncology Group (RTOG).

MedStar Southern Maryland Hospital
The MedStar Radiation Treatment Center in Clinton, Maryland, is staffed by MedStar Georgetown attending physicians who spend part of their week at this facility. The center is located adjacent to Southern Maryland Hospital, and it is located 18 miles (40 minutes by car) away from Georgetown. The practice is the only integrated cancer center in southern Maryland. Residents are given the opportunity at this site to work in a community-based setting with faculty members from Georgetown University Hospital.
Technology
Residents will graduate with experience in a wide range of technologies, including:
Mevion S250I Proton Therapy system
Cyberknife Radiosurgery system
Zap-X Radiosurgery system
Varian systems including Halcyon and EDGE
HDR and LDR brachytherapy
Dual energy CT simulator
Treatment planning in Raystation, MIM, Varian Eclipse and Accuray Precision
Breast and Pancreatic Intraoperative Radiation Therapy (IORT)
Research
The Department of Radiation Medicine includes the divisions of radiation physics and radiation biology, whose faculty are engaged in funded research and graduate teaching. All residents are eligible to complete 6-12 months of continuous protected research during their PGY-4 academic year. Resident research may be conducted with mentorship from these faculty members or in partnership with one an affiliated research group or institution. Among others, the Lombardi Comprehensive Cancer Center, the Institute for Health Care Research and Policy, and the Center for Bioethics.
Recent graduates have worked on collaborative projects with the National Institute of Standards and technology (NIST), rotated abroad at Heidelberg Ion Therapy Center in Germany, and conducted research within the Georgetown Radiation Biology laboratory.
A resident's salary during the research months will be covered by the Graduate Medical Education Office, and additional funds can be obtained through a combination of grants, departmental funds and laboratory funds. The core facilities that are available include animals, biostatistics and bioinformatics, clinical data management, microscopy, tissue culture, proteomics and metabolomics, histopathology, flow cytometry, clinical and molecular epidemiology, and a cancer registry.
Living in DC
The Washington, D.C., metropolitan area has many attractions including museums, parks, performing arts venues as well as an active nightlife. The Georgetown neighborhood is particularly known for its restaurants and shops both on M Street and on the waterfront. Washington, D.C., is located between the Blue Ridge Mountains and the Chesapeake Bay, and it offers diverse opportunities for outdoor recreation. Ranked by U.S.News and World Report as the #1 best city to find a job, it is an important center for health care where crucial policy decisions are debated. Also, the Washington metropolitan area has many major healthcare institutions including the National Institutes of Health, National Cancer Institute and the Walter Reed Army Medical Center that all contribute to the area's reputation as a biomedical center.
Contact us
Please contact our residency coordinator, program director, or associate program director for any additional information.
Senit Hailemariam
Residency Program Coordinator
202-444-3786
senit.t.hailemariam@gunet.georgetown.edu
Keith Unger, MD
Residency Program Director
Sonali Rudra, MD
Associate Program Director