Faculty Development Programs | Medical Education | MedStar Health
Essential support for learners and medical educators
MedStar Health believes that developing physicians as leaders is essential for our current and future workforce and care delivery. We offer a variety of career enhancing opportunities for our residents, fellows, faculty, and associates.
No matter what your involvement in the MedStar Health system, you will find resources and information to enhance your skills.
MedStar Health teaching scholars program
Summary
The MedStar Health Teaching Scholars program is a two-year longitudinal program leading to Medical Education Research Certification (MERC) and Leadership Education and Development (LEAD) certification.
The program is led by MedStar Health Academic Affairs and MedStar Health Research Institute, in conjunction with the Association of American Medical Colleges. Our Teaching Scholars program has been in place since 2009.
Details
The heart of the program is teaching clinician educators from across MedStar Health how to:
Apply research principles to medical education

Become informed consumers of the medical education research literature

Be effective collaborators in medical education research

Develop as a leader in academic medicine
Now Accepting Applications
Interested candidates should submit an online application, Please note that Department Chairs and the hospital VPMA must provide written support for all applicants ensuring that they will be able to attend all sessions and be provided time to work on scholarly projects outside of the course time (emails preferred).
Complete an Online Application
Commitment
This program is a rigorous 2-year longitudinal program aimed at enhancing educational scholarship. Participants are expected to attend all sessions and work groups, in addition to work on individual research projects.
In 2021, funding was secured to support 20% of scholars' salaries (up to $100K/year) to ensure they have the dedicated time to focus on their research/academic endeavors. This dedicated time will result in an actual amendment to their employment agreement. Review program expectations here.
Course Requirements
The course requires each participant to complete a hypothesis-driven scholarly project by the end of the program. The initial months of the program are focused on developing your project topic and intervention.
Course Schedule
Overnight Sessions: Overnight accommodations are provided and sessions are scheduled all day, with evening group activities. Participants are expected to attend all scheduled activities.
Monthly Sessions: Monthly sessions include didactic lectures, journal club, group activities and independent work time, with on-site consultation and support. Sessions are generally the third Thursday of each month, 8 a.m. – 5 p.m. For the overnight sessions, the arrival time is by 4 p.m. on Wednesday ending around 4 p.m. on Friday.
If you have any questions or if you would like to discuss the details of the program, please feel free to contact Allison Selman-Lovell.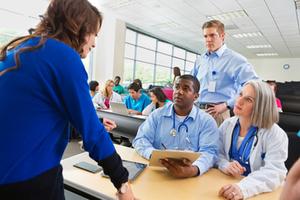 Innovative partnerships in medical education
Teaching Scholars graduates have successfully implemented incredible partnerships with MedStar Health's academic partner, Georgetown University's School of Medicine:
Medical Education Research Track: Designed as a formal track within the School of Medicine curriculum for students interested in academic medicine and education scholarship. The track entails a comprehensive, longitudinal curriculum in medical education research.
Summer Research Scholarship Program: Designed for rising second-year medical students at Georgetown University School of Medicine. Interns work with an experienced investigator in a research project that will contribute to a better understanding or treatment of mental health and, ultimately, lead to advancing health care through research.
View the Application for the Medical Education Research Scholar Track/Summer Research here
MedStar Health research scholars
Summary
The Research Scholars program is a two-year longitudinal program. It supports the development of our clinicians who seek careers with an important focus on clinical and translational research. The program is designed to address critical needs for research mentorship and critical feedback in project design, analysis, and presentation.
Ideal Research Scholar applicants are early career MedStar Health clinicians seeking to develop significant personal scholarship in clinical or translational research, but with limited past research experience, or with research experience in another field, who now seek to become independent, extramurally supported clinical investigators.
Enrollment is limited to a small cohort each year. Residents are not eligible to join the program.
Details
The cornerstone of the program is a commitment to conducting mentored clinical or translational research with the ultimate goal of progressing to scholarly independence.
Year one
The first year focuses primarily on the design, conduct, and publication of a research project. Some participants with more research experience may focus on design, preparation, and submission of a major grant application.

Work on the research projects will be complemented by practical, interactive, and highly individualized activities.
Year two
The second year continues work on research, publications, and grant applications.

Participants will still be expected to participate in all monthly sessions, and will assume progressive responsibility, including peer-mentorship of junior faculty colleagues and of medical students engaged in clinical and translational research.
CENTILE
The Center for Innovation and Leadership in Education (CENTILE) is an interprofessional community of educators that drives innovation, excellence, and scholarship in education at Georgetown University Medical Center.
The goal of CENTILE is to serve as a central, facility-wide venue for fostering faculty collaboration, learning, and professional development in biomedical and health profession education.
Dr. Aviad Haramati is the founding director of CENTILE.
To learn about upcoming events, our teaching certificate program, and travel awards, contact CENTILE: centile@georgetown.edu
CENTILE: Center for Innovation and Leadership in Education
MedStar Health Research Institute programs
MedStar Health Research Institute offers in-person and online educational opportunities to enhance the research knowledge and practices of our investigators and associates. Our programs include:
MedStar Investigators Orientation

Intensive One-Week Investigator's Workshop

Clinical Research Coordinators Workshop

KL2 Post-Doctoral Scholarship Awards

Masters in Clinical and Translational Research

Research Grand Rounds

Georgetown-Howard University's Center for Clinical and Translational Science Research Events
For more information, please contact research@medstar.net
Georgetown University Medical Center programs
Programs and events at Georgetown University Medical Center are open to all faculty, fellows, and trainees unless stated otherwise.
Faculty appointments
Interested in becoming a faculty member at Georgetown University Medical Center?