Oral Cancer | Types | MedStar Health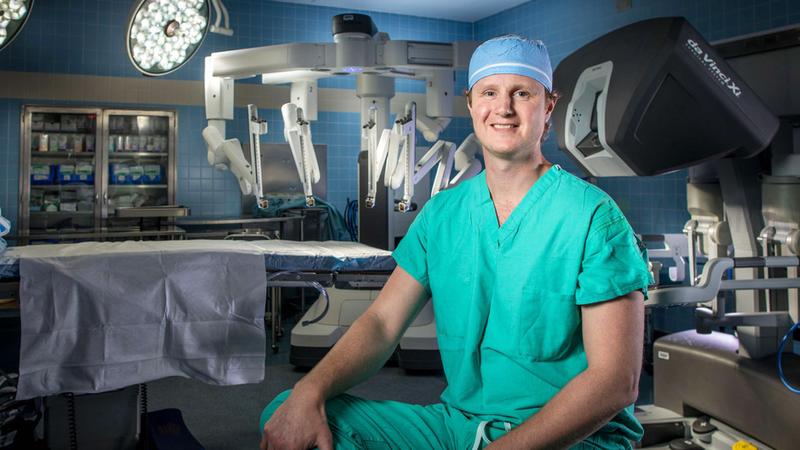 What is oral cancer?
Oral cancer is any malignant (cancerous) growth found in the oral cavity or lips. These cancers typically begin on the tongue, cheek, or bottom of the mouth and are the most common head and neck cancers. Also commonly known as oral cavity cancer or mouth cancer, this type of cancer is highly treatable if caught early. In addition, cancer can also develop nearby in the salivary glands or the throat (oropharyngeal cancers), which may require a different treatment approach.
At MedStar Health, our cancer experts treat a high number of patients with mouth cancer, making us some of the most experienced in the region. Here, our team includes experts in otolaryngology, head and neck surgery and reconstruction, medical oncology, radiation oncology, and other specialties, allowing us to offer comprehensive treatment options backed by the latest research. Speech therapists, dietitians, occupational therapists, and other healthcare providers are also critical to delivering personalized care focused on your quality of life during and after treatment.
Cancer Overview
General overview of cancer and how it develops in the human body.
Symptoms and risk factors
What are the signs of mouth cancer?
Mouth cancer may look and feel different for each individual. However, symptoms of oral cancer may include:
White or red patches in your mouth
Mouth sores that will not heal
Bleeding in the mouth or tongue
Mouth or lip numbness
Pain while chewing or swallowing
A lump in your neck
Swelling or lump in your mouth
Persistent earaches
Constant coughing
Persistent sore throat or hoarse voice
Loose teeth or dentures that no longer fit
Other conditions can also cause these symptoms, so it's important to see a doctor right away. Keep in mind that oral cancers caused by HPV infection are often harder to detect than tobacco-related cancers because the symptoms are often subtle and painless. If you notice anything abnormal for you, talk to your doctor.
Who is at risk for developing oral cancer?
We don't always know why this cancer develops. However, your risk of mouth cancer may be higher based on your:
Age (older than 40)
Gender (males have a higher risk)
History of smoking, chewing tobacco, or heavy alcohol use
Family history of head and neck cancer
Sun exposure on the lips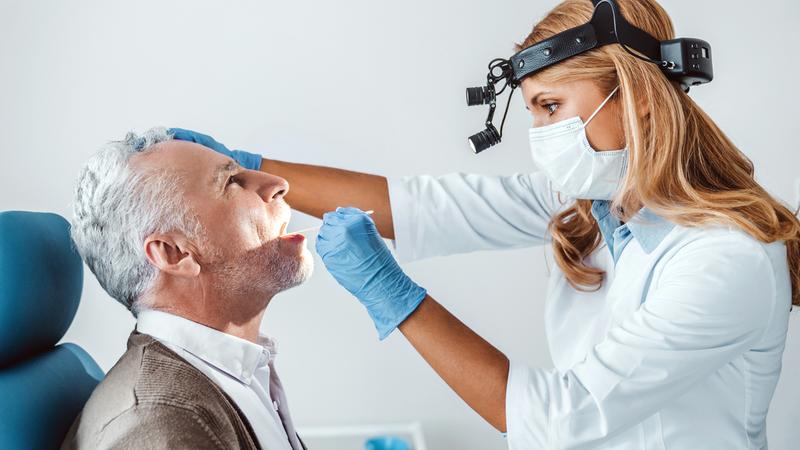 Screening and prevention
Can I prevent mouth cancer?
Not every case of this cancer is preventable. Fortunately, it is possible to greatly lower your risk of developing mouth cancer by modifying certain risk factors, including the following:
Avoid smoking, chewing tobacco, and heavy alcohol use. It's never too late to quit smoking, and we're here to help. Find a smoking cessation program near you.

Get vaccinated against HPV to protect yourself from the infection. These vaccines effectively lower your risk of cervical cancer, but they may also reduce your chances of developing other HPV-related cancers, such as oral cancer.

Protect your lips from the sun by wearing sun protection, such as wide-brimmed hats and lip balm with SPF.

Get regular medical and dental checkups. There are no general screening guidelines for this type of cancer. However, staying on top of routine medical and dental care can increase your chances of catching something early when it is more easily treatable.
Diagnosis
How is mouth cancer diagnosed?
To make a diagnosis, our doctors:
Take a full medical history, including questions about related risk factors
Perform a complete head and neck exam
Possibly remove a small amount of the tumor during a biopsy, for further study by pathologists specializing in evaluating head and neck cancers
Potentially run lab and diagnostic imaging tests, including:

X-ray
MRI
CT (CAT) scan
PET scan
These exams and tests help your cancer doctors determine:
The type of cancer and its stage
How aggressive it is
Whether it has spread
How best to treat it
Types of cancer
What is the most common type of oral cancer?
Cancer can develop in different cell types found in the mouth, but squamous cell carcinoma (cancer) is the most common type of mouth cancer. Your treatment depends on the exact location of cancer within the oral cavity, as cancerous cells can begin in the following areas:
Inner cheek
Floor of the mouth under the tongue
Gums
Hard palate, or roof of the mouth
Lips
Tongue
What are the stages of oral cancer?
Cancer stage describes how advanced your disease is, which can impact treatment options. The stages of mouth cancer range from zero to four, including:
Stage CIS: The earliest, precancerous stage is called carcinoma in situ (CIS). This stage describes abnormal cells that may become cancerous in the future.
Stage 1: This very early stage describes tumors smaller than two centimeters contained to the oral cavity.
Stage 2: These tumors are bigger than two centimeters but smaller than four and still contained to the oral cavity.
Stage 3: These cancers may be larger than four centimeters or spreading to a lymph node in the neck.
Stage 4: Considered advanced mouth cancer, this stage can be any size that spreads to nearby or distant lymph nodes, tissues, or organs.
Treatments
What are the best oral cancer treatments?
Treatment options for oral cancer depend on:
The cancer's stage
The tumor's size and location
The possible impact on your appearance and ability to talk and eat
Your age and overall health
If you have cancer in the oral cavity, your doctors will work together to review your best treatment options and help you understand the pros and cons of each. We're committed to delivering personalized, comprehensive care that considers both treatment effectiveness and your quality of life.
Early-stage oral tumors usually get treated with surgery or radiation, or a combination of the two (sometimes lymph nodes also need radiation). Removing smaller tumors from the back of the tongue is often done with a minimally invasive approach, through robotic-assisted surgery. Learn more about our head and neck surgery, or our robot surgery.
More advanced cancers may receive a similar approach, or we may recommend a clinical trial, including chemotherapy, before or after surgery or chemotherapy with radiation. We also have clinical trials for targeted therapy.
Surgery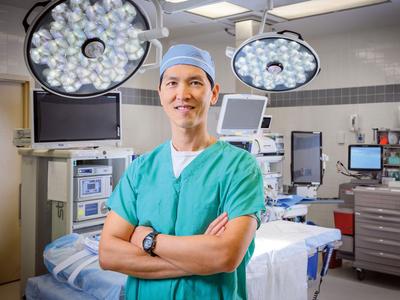 Surgery is one of the primary approaches to treating mouth cancer. Many oral tumors can be removed through the mouth but others require a more complex approach. Our head and neck surgeons are experts in both minimally invasive surgeries and complex reconstructive surgeries that require sophisticated microsurgical techniques to preserve and rebuild blood vessels, nerves, bones, and skin. These innovative techniques allow us to limit the impact of surgery on your ability to speak and swallow, whenever possible.
If surgery is part of your treatment, the procedure you undergo will vary based on the location and size of your tumor. Our head and neck surgeons and reconstructive experts will help you understand your surgical options so you can feel confident knowing what to expect.
Chemotherapy
Chemotherapy uses powerful medications to kill cancer cells. It may be used to treat oral cancer before or after surgery, alongside radiation, or alone, depending on the cancer's stage, your overall health, and other factors. It's typically given orally via a pill or intravenously through an infusion inserted into a vein. As part of your multidisciplinary team, a medical oncologist will help determine if this treatment option would be beneficial for you.
Immunotherapy and targeted therapy
Certain patients, such as those with oral tumors that come back after previous treatment, may benefit from newer, innovative therapies. For example, immunotherapy uses drugs that help the body's immune system to fight back against cancer cells, and targeted therapy drugs interfere with a cell's ability to grow and multiply. Your doctors will discuss whether or not you would benefit from these treatments, including those currently being studied in clinical trials.
Learn More About Immunotherapy
Learn More About Targeted Therapy
Radiation therapy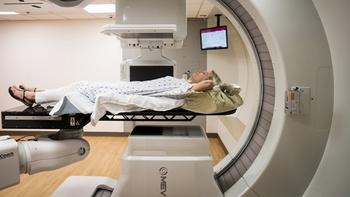 Radiation therapy is an advanced treatment option that may be used after surgery or in place of surgery, depending on various factors. There are many different forms of radiation therapy, and our radiation oncologists are experts in customizing the right type, dose, and frequency for each patient. At MedStar Health, we offer access to the full range of radiation technologies that allow us to pinpoint radiation while limiting its effect on nearby healthy tissue, including proton beam therapy.
Why choose us
When you're diagnosed with cancer, it's important to seek care from doctors who have expertise in your type of cancer. That's what you'll find at MedStar Health. Patients come to us for oral cancer care because:
Our head and neck surgeons work closely with medical and radiation oncologists to deliver personalized, comprehensive treatment.

We believe it's in your best interest to know all of your treatment options. That's why our head and neck cancer experts meet regularly in multidisciplinary tumor boards that allow specialists in surgery, medical oncologist, radiation oncology, and others to review your case and determine the right treatment approach, balancing the goal of a cure with your quality of life. Sub-specialized pathologists, radiologists, speech therapists, and others also round out your cancer team to ensure your best possible outcomes.

We work hard to protect your mouth's natural appearance and abilities.

Oral cancer treatment can sometimes impact speech, swallowing, and/or range of motion in your jaw. Our doctors and healthcare providers are committed to preserving your ability to speak, chew, and swallow. With expertise in reconstructive surgery and an emphasis on personalized speech therapy and rehabilitation following treatment, we strive to effectively eliminate your cancer with the least amount of impact on your body.

Our comprehensive approach involves ongoing research, including clinical trials.

Our doctors and scientists continue investigating new ways to detect, diagnose, and treat these cancers. You may be eligible to participate in a clinical trial that may provide access to emerging treatments before they become the standard of care. This offers a direct benefit for you as well as the future or oral cancer care.
Clinical trials and research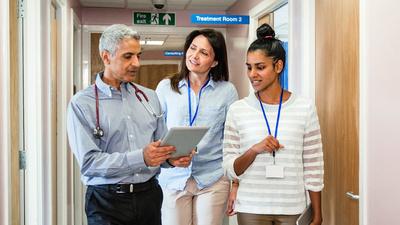 Clinical trials
Clinical trials may provide access to new, innovative therapies or therapy combinations that may offer safer or more effective treatments for patients with oral cancer. If you have recurring mouth cancer, your doctors can help you understand your treatment options, including those that may only be available in clinical trials.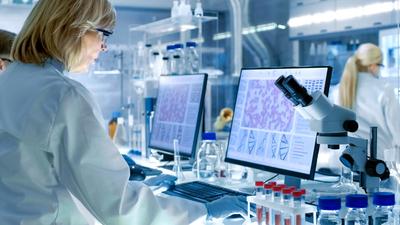 Research
The only comprehensive cancer center in the region designated by the National Cancer Institute, Georgetown Lombardi Comprehensive Cancer Center, is our research engine behind investigations into new ways to detect, diagnose, and treat these cancers.
Support services
At MedStar Health, our healthcare providers and specialized support staff are honored to support and encourage you as you navigate your journey with cancer. From counseling and peer-to-peer support to specialized rehabilitation services and a comprehensive survivorship program, we're here to help with any need that arises.
Learn More About Cancer Support Services
Genetic counseling
Most oral cancers are not hereditary. However, if you have a personal or family history of head and neck cancers, our board-certified genetic counselors can help you understand whether or not you would benefit from genetic testing or tailored risk reduction strategies.
Learn More About Genetic Counseling
Personalized rehabilitation
Rehabilitation plays an important part of recovery. With experts in voice and swallowing, our speech therapists will help to minimize and manage any chances in your speech, oral range of motion, swallowing, and voice.
Learn More About Cancer Rehabilitation
Survivorship
Patients who have had oral cancer are at risk of developing a second head or neck cancer, and our doctors also want to catch any original cancer that might return. After treatment, they will ask you to come in for regular check-ups, as part of your personalized survivorship plan.
Patient resources
Blog articles