Types of Throat Cancer | MedStar Health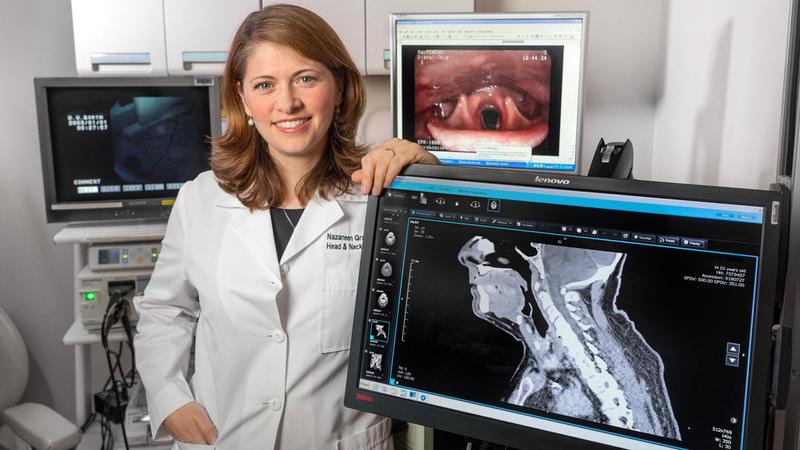 What is throat cancer?
Throat cancer develops when abnormal cells multiply uncontrollably in one of three structures within the pharynx (throat):
Nasopharyngeal cancers are rare, malignant (cancerous) growths in the nasopharynx, the upper part of the throat behind the nose.
Oropharyngeal cancers are malignant growths found in the oropharynx, the middle part of the throat that connects to the mouth and includes the tonsils.
Hypopharyngeal cancers are malignant growths found in the hypopharynx, the bottom of the throat where it connects to the esophagus.
Glottic cancers are malignant growths of the voice box, or area surrounding the vocal cords.
When caught early, many of these head and neck cancers are highly treatable. As a result, seeking care as soon as possible is critical to improving your chances of a cure with minimal impact on your appearance and natural ability to speak and swallow. If you're diagnosed with throat cancer, you'll benefit from the advantages of multidisciplinary cancer care at MedStar Health. By combining the expertise of specialists in minimally invasive surgery, state-of-the-art radiation therapies, and breakthrough immunotherapies and targeted therapies, you'll have access to the latest treatment options available today, personalized to your needs.
Symptoms and risk factors
What are the first signs of throat cancer?
Symptoms of throat cancer will vary based on the location of the tumor and may include:
Lumps in the mouth or neck
Sore throat
Changes in your voice or breathing
Difficulty swallowing
Depending on where your tumor is located, it's also possible to experience the following:
Ear pain
Bleeding sores in the mouth
Bad breath
Nasal obstruction
Other conditions can also cause these symptoms, so it's important to see a doctor right away. Keep in mind that oropharyngeal cancers caused by HPV infection are often harder to detect than tobacco-related cancers because the symptoms are often subtle and painless.
Who is at risk for developing this cancer?
Tobacco use is one of the primary risk factors for developing throat cancer. In addition, smoking or chewing tobacco in combination with excessive alcohol consumption can elevate the risk even more.
Even those who don't smoke may still be at risk for developing certain throat cancers. For example, oropharyngeal cancer is closely linked to certain strains of the human papillomavirus (HPV), a sexually-transmitted infection. Not everyone infected with HPV will develop cancer, but knowing if you have an HPV-positive cancer is vital for determining treatment options. Please keep in mind that:
There is no cure for HPV, but most people with infections from the particularly troublesome strains do not develop cancer.
While the HPV vaccine cannot help patients already diagnosed with oral or oropharyngeal cancer, it can help lower the risk of this disease. Parents are encouraged to vaccinate their children at age 11 or 12, though men and women can get the shots as late as 26.
Oral and oropharyngeal cancers are tested for HPV, and those that are positive often respond well to treatment, with expected cure rates significantly higher than cancers caused by smoking.
We are particularly knowledgeable about HPV-related head and neck cancers—one of our pathologists developed the vaccine and continues to research the diseases. That helps us appreciate the nuances of these cancers and the best treatment approach.
Other factors that could increase your risk of nasopharyngeal cancer include:
Having Asian ancestry
Exposure to the Epstein-Barr virus (EBV), a herpes virus that normally causes mild symptoms and is transmitted through bodily fluids like saliva, sex, blood transfusions, and organ transplants
Screening and prevention
Can I prevent these cancers?
Not all instances of these cancers are preventable. However, you can lower your risk of developing head and neck cancers by:
Quitting tobacco use
Avoiding excessive alcohol consumption
At MedStar Health, we offer individualized smoking cessation programs and support throughout the region. Find a program nearby.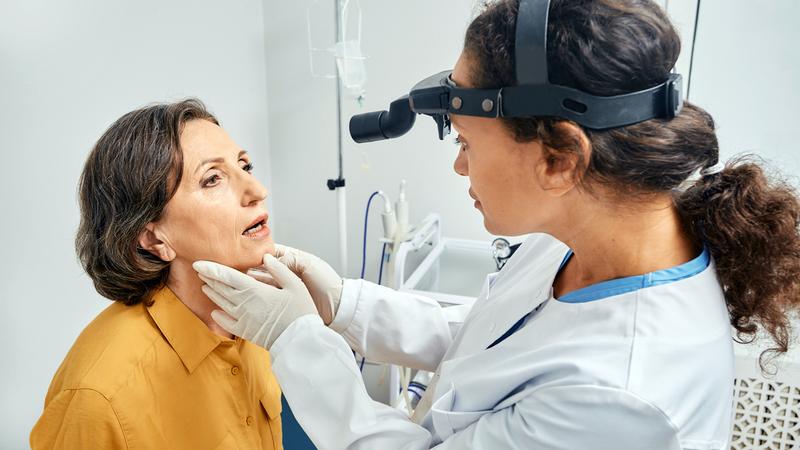 Diagnosis
How is throat cancer diagnosed?
To make a complete and accurate diagnosis, your doctor may perform the following:
Medical history
Physical examination
Complete exam on your mouth, nose, head, and face to determine the type and nature of the growth
Remove a small tissue sample for biopsy, which will help determine the kind of cancer, how aggressive it is, and the best way to treat it
Different diagnostic studies may be ordered, including imaging studies, lab tests, and detailed physical examinations. These exams and tests help the doctor determine the type of cancer and its stage, how aggressive it is, and whether it has spread. These may include:
Nasal endoscopy is used by your doctor to view the upper airways and inside the nostrils, the throat, and vocal cords. This is normally done by inserting a scope with a light and camera down the nose and throat.
Panendoscopy includes direct laryngoscopy (look at voice box), esophagoscopy (esophagus), and bronchoscopy (bronchial tubes and lungs) to stage the tumor and look for additional tumors within these areas.
Other imaging tests, such as X-ray, MRI, CT, or PET scans, may be used to evaluate other suspicious areas in the body and determine the extent of disease (stage).
Types of throat cancers
Most of these cancers form in the lining of the throat in squamous cells, which is why squamous cell carcinoma (cancer) is the most common type of throat cancer. However, throat cancers are also classified by the exact location where they begin in the throat, including:
The Pharynx (Pharyngeal cancer)
The pharynx is a thin tube that passes air and food from the back of the nose and mouth to the trachea (windpipe). It consists of three sections:
Nasopharynx: Nasopharyngeal cancer develops in the upper part of the throat connected to the mouth and nose
Oropharynx: Oropharyngeal cancer begins in the middle part of the throat connected to the mouth
Hypopharynx: Hypopharyngeal cancer starts at the bottom part of the throat connected to the windpipe
The Larynx (Laryngeal cancer)
Commonly known as the voice box, the larynx protects our airway and allows us to speak. It's located between the base of the tongue and the windpipe and also divided into three parts:
Supraglottis: The upper area of the larynx
Glottis: The middle area of the larynx
Subglottis: The bottom area of the larynx
Treatments
What are my throat cancer treatment options?
Treatment  for throat cancer depends on when and where the cancer is found, as well as the type and grade of the tumor and your overall health. Your treatment will be discussed and planned by a team of multidisciplinary specialists with expertise in different medical fields. Working together, we can more effectively personalize a treatment plan that will offer the best possible outcome for you, considering all of the available treatment options.
Surgery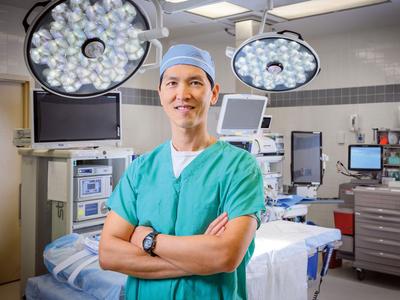 When surgery is recommended as part of your treatment, you can expect our head and neck surgeons to offer the latest surgical options using advanced technology that allows us to precisely plan and execute your surgery. We're skilled in performing all of the latest surgical techniques in both open surgery and minimally invasive procedures, balancing the goal of a cure with preservation of your appearance and throat function.
Whenever possible, our ENT and reconstructive surgeons prioritize less invasive approaches, such as Transoral Robotic Surgery (TORS). This allows us to operate through the mouth, eliminating the need for external incisions. As a result, many patients benefit from shorter hospital stays, faster recoveries, and less impact on swallowing and speech. Your surgeons will help determine whether these options are right for you.
For other patients, traditional open surgery may be the best option. Our head and neck surgeons are also experts in performing advanced procedures, including complex surgeries that may not be offered elsewhere. In addition, they work closely with reconstructive surgeons to rebuild parts of the throat and mouth affected by throat cancer. Our goal is always to preserve your quality of life, so we also work closely with speech pathologists and other rehabilitation experts to restore your natural ability to eat and speak to the best extent possible.
Chemotherapy
Chemotherapy may be used in combination with radiation therapy or surgery for certain patients with throat cancer. This type of therapy uses powerful medications to kill cancer cells throughout the body. As part of your multidisciplinary team, a medical oncologist will help determine if this treatment option is right for you.
Immunotherapy and targeted therapy
For others with advanced cancer, targeted therapy or immunotherapy may offer innovative options for slowing cancer growth and boosting the immune system's response to the cancer. Many of these newer treatments are being studied in clinical trials, and your doctors will determine whether or not they may offer an effective option for treating your cancer.
Learn More About Immunotherapy
Learn More About Targeted Therapy
Radiation therapy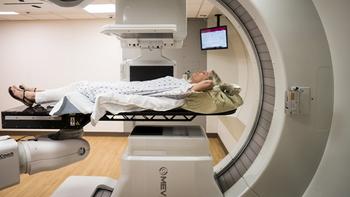 Your treatment team includes a radiation oncologist, who will determine if you would benefit from radiation therapy. This type of therapy uses high-energy waves or particles to destroy cancer cells. At MedStar Health, we offer the latest advances in radiation technology to more precisely pinpoint cancer cells while limiting the amount of radiation exposure to healthy tissue. For example, we were the first in the world to use proton beam therapy using HYPERSCANTM, making our doctors some of the most experienced in the region in treating patients with throat cancer using this cutting-edge therapy.
Looking for expert care?
With multiple locations throughout the region, patients have access to many of the nation's renowned cancer specialists offering high quality care, second opinions and a chance for better outcomes close to where they live and work. Georgetown University's Lombardi Comprehensive Cancer Center, one of the nation's comprehensive cancer centers designated by the National Cancer Institute (NCI), serves as the research engine allowing patients access to clinical trials that often lead to breakthroughs in cancer care.
Our locations
Distance from Change locationEnter your location
106 Irving St., NW Physicians Office Building Ste. 2700 North Washington, DC 20010
3800 Reservoir Rd. 1st Fl. Gorman Building Washington, D.C., 20007
Why choose us
Patients come to MedStar Health for throat cancer care because:
Our cancer experts include doctors and other healthcare providers with expertise in different medical fields, all working together to deliver the best possible care for you.

Your treatment is discussed in a multidisciplinary tumor board that allows experts in various specialties to collectively determine the approach that will be best for you. Many of these experts focus exclusively on caring for patients with throat cancers, making us some of the most experienced in diagnosing and treating these cancers in the region. These specialists may include:

Ear, nose, and throat (ENT) doctors
ENT reconstructive surgeons
Radiation oncologists
Medical oncologists
Pathologists
Radiologists
Physical medicine & rehabilitation (PM&R) physicians
Speech and language pathologists
Occupational and physical therapists
Dietitians
Social workers
And others

We offer the full range of throat cancer treatments, backed by the latest research.

As leaders in head and neck cancer care, our doctors are pioneers in treating these cancers using several different approaches. From expertise in minimally invasive surgeries that protect your ability to breathe, speak, and swallow naturally to state-of-the-art radiation and medical therapies that improve cure rates and quality of life, you'll gain access to all of the most advanced treatment options available today, including those only accessible through clinical trials.

We take a comprehensive approach to caring for all your needs, working closely with rehabilitation experts to help you live life to the fullest.

As a patient at MedStar Health, you'll also gain access to renowned rehabilitation specialists who specialize in helping men and women with throat cancer reclaim their independence after cancer treatment. We involve speech and occupational therapists early in your care to help minimize and overcome any issues with voice, swallowing, or hearing during and after treatment.
Clinical trials and research
Clinical trials
Clinical trials are carefully controlled research studies that allow us to offer emerging treatment options for patients with throat tumors. We participate in many of these studies that may offer promising options not yet widely available.
Research
Our head and neck cancer experts are dedicated to finding new and better ways to treat patients affected by throat cancer. Through our research engine and the only comprehensive cancer center in the region designated by the National Cancer Institute, Georgetown Lombardi Comprehensive Cancer Center, we continue advancing how these cancers are detected, diagnosed, and treated.
Support services
At MedStar Health, our patient-centered care involves services focused on treating all of you, not just your disease. As a patient, you'll have access to a variety of support services and programs that can help you cope with your diagnosis, navigate the impacts of treatment, and minimize your risk of cancer recurrence.
Learn More About Cancer Support Services
Genetic counseling
Although these cancer types are not frequently associated with inherited conditions, some patients with strong family history of cancer may benefit from meeting with a genetic counselor. These experts guide patients and their families in understanding and managing any potential hereditary cancer risks.
Learn More About Genetic Counseling
Personalized rehabilitation
Rehabilitation experts are key members of your care team. Speech and swallowing therapists, physical therapists, and occupational therapists, may help you regain strength, independence, and quality of life during and after treatment.
Learn More About Cancer Rehabilitation
Survivorship
After treatment, your doctor will want to monitor you closely to make sure the cancer has not recurred. The visits may be as frequently as once a month for the first year following treatment. These visits will typically consist of a physical examination, flexible endoscopy, a discussion of how you are feeling, and any diagnostic tests needed to determine your health. We'll also help to monitor and manage any late effects of treatment as you navigate life after cancer.
Frequently asked questions
What does throat cancer look like?

Throat cancer is not always visible, as many tumors are quite small or located deep within the throat. However, when it can be seen, it may look like:

Red or white patches
Swollen lesions or areas
Asymmetrical changes

What causes throat cancer?

Cancer develops when cells in the throat begin to grow uncontrollably. These changes can be caused by several different factors. Many times it's related to exposure to tobacco, alcohol, or certain viruses, such as the human papillomavirus (HPV).

Can oral sex cause throat cancer?

Oral sex doesn't cause this type of cancer directly. However, because many of these cancers are linked to HPV infections, it's important to know that HPV can be spread through oral sex, which could lead to throat cancer, especially oropharyngeal cancer.

Can vaping cause throat cancer?

We're still evaluating the effects of vaping on cancer risk. However, these cancers are closely linked to tobacco use associated with smoking cigarettes and chewing tobacco.

What is the most common type of throat cancer?

Pharyngeal cancer is more common than laryngeal cancer, according to the American Cancer Society. Of all the locations in the throat, it's most common for cancer to develop in the oropharynx, making oropharyngeal cancer the most common type of throat cancer.

Is throat cancer curable? What are the survival rates of throat cancer?

Many times, throat cancer can be curable when caught early. However, survival rates vary based on the exact location where the cancer develops and its stage when diagnosed. Because survival rates differ by tumor sites, talk to your doctor about current survival rates for each type of throat cancer at their various stages.
Patient resources
Blog articles