Urology Cancer Treatment | MedStar Health

MedStar Health is home to cancer specialists with recognized expertise in the treatment of prostate, kidney, bladder, and other urologic cancers. Our team, with decades of experience and fellowship-trained robotics surgeons, is dedicated to eliminating your cancer while minimizing the effects of treatment on your general health and lifestyle.
Treatments
Our experts specialize in tailored-to-you combinations of the latest cancer-fighting techniques, including:
The most advanced medical oncology and radiation oncology available

Surgical treatments

Support services including nurse navigators, nutritionists, psychologists, and more

Palliative services to help those with complex cases find relief from the symptoms and stress, improving quality of life for patients and families
MedStar Health patients experience the best of both worlds: access to advanced academic medicine and an NCI-affiliated location, and an expansive network allowing you to see a specialist close to your home or work.
Surgical treatments
MedStar Health offers both traditional open surgeries and advanced robotic programs for all the malignancies: kidney, bladder, prostate, urethral, testicular. These cutting-edge procedures help reduce time in the hospital and in recovery. Some of our procedures include:
Radical cystectomy and neobladder

Minimally invasive robotic-assisted laparoscopic surgery

Robotic partial nephrectomy

Prostatectomy

IMRT, image-guided radiation therapy and LDR brachytherapy

High-intensity focused ultrasound

Microwave therapy for renal masses

CyberKnife® and stereotactic
Combined therapies team approach
Because we provide coordinated, multidisciplinary care, we can make targeted decisions that smaller hospitals and systems might not be able to support. This means better outcomes.
Your treatment team extends beyond your surgeon or oncologist. Your MedStar team also includes peer expert surgeons and oncologists, nurses who understand your cancer, physical therapists, genetic counselors, enterostomal therapists, clinical researchers, medical and radiation oncologists, palliative care, and more. A physician assistant might also help to coordinate your care.
You can feel confident in the knowledge that our full team of experts meet to discuss your unique case. Our singular goal is to treat your cancer, which means we bring in experts from other specialties to help build the best plan for you. We will also bring in experts to help maximize your success, whether that means boosting your nutrition or genetic counseling due to your unique family history.
Treating unique patient populations
MedStar Health is committed to treating the most unique and diverse populations, which means we are prepared to treat patients with very specific physical, religious, and ethical needs.
We offer bloodless surgery for patients who refuse transfusions by helping to physically prepare them to eliminate the risk of transfusion. We also accommodate obese patients using robotic surgery, complementary nutritional treatments, larger beds, and longer equipment.
Another unique group we serve are patients with autosomal dominant polycystic kidney disease or massively enlarged kidneys. Many of these patients end up on dialysis and have a higher risk of kidney cancer. We provide an easier path to transplant by removing the affected kidney. We track this problem closer than many hospitals and health systems, including genetic profiling for children of patients with the disease.
Genetic counseling
Family history of urologic cancer is a known risk factor for patients, but newer research has even connected breast cancer in the family as a risk factor for prostate cancer. Genetic counseling can help assess your risk of urologic cancers based on your family medical history of urologic and other cancers with known correlations to urologic cancers.
Our geneticists will work with you to review your family history, looking for factors that increase your likelihood of developing cancer. We will assist you in developing strategies to manage your unique cancer risk.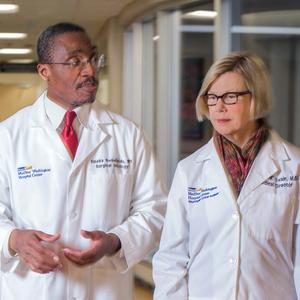 Expert oncology care
Getting the care you need starts with seeing one of our oncologists.
Additional information
Clinical trials
We provide access to many drugs and therapies before they are released to the general public. This allows patients who have failed standard therapies new options.