da Vinci® Surgical Robot | MedStar Health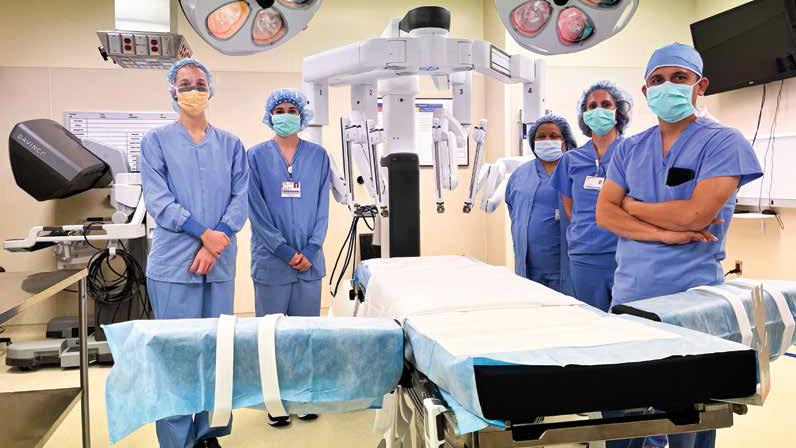 We have decades of combined experience using the most advanced robotic surgical platform available.
With decades of combined experience, our surgeons perform a variety of procedures robotically using the da Vinci surgical system. The da Vinci is a sophisticated robotic system designed to enhance our skilled surgeons' capabilities. It overcomes the limitations of both traditional open surgery and conventional minimally invasive surgery by allowing for greater operational precision than the human hand could perform alone.
Our surgeons who operate using robotic assistance have additional training and experience in using robotic technology to perform surgery, so you can expect the best possible outcome.
The da Vinci robot allows us to improve clinical outcomes by simplifying complex surgical procedures, including:
If you or a loved one has been diagnosed with a condition that may require surgery, you owe it to yourself to learn about all of your medical options, including one of the most effective, least invasive surgical treatments, robotic surgery.
Advantages of using the da Vinci robot compared to traditional surgery
The system is a state-of-the-art technology designed by Intuitive Surgical, an American corporation that develops robotics designed to improve clinical outcomes. When we use the da Vinci system, our patients benefit from:
Less pain after surgery
Smaller incisions and less scarring
Less risk of complications, including infection and blood loss
Shorter hospital stays
Quicker recoveries
As good or better operational success
How it works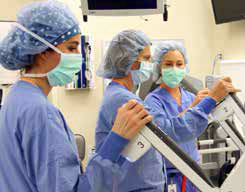 First, the surgeon makes tiny incisions in the body and then inserts miniaturized instruments and a high-definition three-dimensional camera. Then, the surgeon operates using a nearby console to manipulate the instruments. Like a video game that translates the player's movements into real-time movement on the screen, the da Vinci robotic surgery system responds to the physician's input.
The system includes the following equipment, designed to make the robotic surgery as precise as possible:
Patient cart with four interactive robotic arms: The robotic arms include surgical instruments and a high-definition camera. Your surgeon will place the instruments and camera inside the surgery site in order to operate.
Surgeon's console: This is where your surgeon sits to direct the surgery. It is in the same room that you are in, a few feet away from the operating table. Inside the console is a screen that provides enhanced, real-time 3-D images of the operating site. From a seated position at the console, your surgeon can position their eyes and hands in alignment with the robotic system's camera and instruments to operate with extreme precision. This allows your surgeon to see the operating field even better than if they were standing over you. Your physician is 100 percent in control of the robotic surgical system the entire time.
EndoWrist instruments: During the procedure, your surgeon directs dime-sized instruments to perform the surgery. The instruments inside your body respond precisely to your surgeon's movements inside the console.
It's important to understand that the system allows the surgeon to make precise, delicate motions while controlling the machine. The robot is not making decisions or performing incisions. Instead, the surgeon is telling the robot what to do. The robot allows for greater precision than the human hand on its own.
Planning and recovery
If you need surgery, experts will discuss your best options with you. Not everyone is a good candidate for robotic surgery using the da Vinci system. Your care team will recommend treatment options that work best for you based on your condition and medical history. If you are a good candidate for da Vinci surgery, we'll give you specific instructions for preparing for your surgery, including:
Confirming insurance coverage
What to wear
What to bring
How to prepare beforehand (e.g., food, medications, preoperative physical therapy, etc.)
Every individual is different, and your recovery will vary based on the type of surgery being performed with the da Vinci system. In general, you can expect a shorter hospital stay and faster recovery than if you were undergoing traditional surgery. To understand what to expect following surgery, consider asking your surgeon the following questions:
How will I manage my pain after surgery?
What kind of follow-up care will I need?
What activity restrictions will I have?
Are there food or drink limitations?
When can I resume regular activities, work, and exercise?
Patient stories
Greg's story: Back to work in two weeks vs. six after prostate cancer surgery

When an elevated PSA level led to a prostate cancer diagnosis, Gregory Trotta thought his work and family life would be drastically interrupted. When his care team offered da Vinci surgery, he knew it was the right choice.
Featured news
Athelia's story: Ready to return to the NFL after a robotic colon resection thanks to robotic technology at a community hospital
Athelia Doggette endured a long and painful battle with diverticulitis before undergoing surgery. The da Vinci robotic machine allowed her surgeon to perform the procedure in the least invasive way possible.