The Center for Liver and Pancreas Surgery
Why Choose Us
We treat more patients and perform more procedures
MedStar Health's Center for Liver and Pancreas Surgery takes care of more inpatients with pancreatic, liver, and bile duct diseases than all other centers in the greater Washington, D.C., area combined. With deep expertise and experience, technology, and techniques, we offer hepatopancreaticobiliary patients of any age their best chance at living longer and better lives.
With 50 years of combined surgical experience in pancreatic cancer, we are the largest pancreatic disease center in the Washington, D.C., area, with the highest annual volume of both patients and pancreaticoduodenectomy procedures.
The Center is also part of the MedStar Georgetown Transplant Institute— one of the largest and most successful abdominal transplant programs in the nation.
We Lead Our Field with World Class Expertise

MedStar Health's Center for Liver and Pancreas Surgery is home to some of the most experienced specialists to be found—anywhere—in the field today. The team is also known for its expertise in pancreatic and liver vascular reconstruction.

The team is skilled in every sophisticated method available for adults and children, including highly advanced procedures unavailable elsewhere. Our surgeons are innovators who have developed new surgical techniques for liver, pancreas, and bile duct disease, based upon methods originally used in transplantation. The team has achieved high success rates with even the most complex tumors and other abnormalities, as well as with transplantation.
We are one of only 30 approved National Pancreas Foundation Centers in the United States.
We are part of the Georgetown Lombardi Comprehensive Cancer Center—the area's only NCI-designated comprehensive cancer center.
Our islet cell transplant program for chronic pancreatitis is also one of only a handful in the United States.
We specialize in Whipple procedures with venous and arterial reconstructions and left pancreatectomies with celiac axis resections.

We Collaborate Across Disciplines for Exceptional Care

As part of the Pancreas and Liver Diseases program, we build upon our years of expertise, experience, and close collaboration in gastroenterology, surgery, diagnostic radiology, interventional radiology, gastrointestinal (GI) oncology, and radiation oncology for a multidisciplinary team approach.

Our program features tumor boards for liver, pancreatic, and GI-specific tumors. Other multidisciplinary clinics include:

High-risk Screening Clinic for Pancreatic Cancer
Pancreatic Cyst and Surveillance Clinic
Neuroendocrine Clinic
Liver Mass Clinic
Second Opinion and Imaging Clinic

We offer comprehensive genetic counseling and profiling—keys to prevention, diagnosis, and treatment.

We Care for All Ages - Including Children

MedStar Health offers the full spectrum of medical and surgical pediatric care—including the nation's second-largest pediatric transplant program.

Care is delivered by multidisciplinary, subspecialty teams of nationally and internationally known pediatricians, pediatric specialists, and pediatric surgeons who embrace a family-centered philosophy.
A dedicated Pediatric Sedation Unit and a Pediatric Intensive Care Unit further assure the most specialized, compassionate, and age-appropriate care and services available.
Conditions
Our board-certified, fellowship-trained hepatopancreatobiliary surgeons treat more patients and perform more pancreaticoduodenectomy procedures, annually, than any other center in the Washington, D.C., region. We'll work with a multidisciplinary team in the Pancreas and Liver Diseases Program to accurately identify your condition and find the right course of care for you.
Below are just some of the conditions we treat:
Focal nodular hyperplasia (FNH)

Hepatic adenoma and adenomatosis

Complex hepatic cysts

Hemangioma

Hepatocellular carcinoma
Intrahepatic cholangiocarcinoma
Hepatic sarcomas
Colorectal hepatic metastases
Non-colorectal hepatic metastases (breast, GIST, others)

Benign conditions of the gallbladder and bile duct

Choledochal cyst
Biliary strictures
Bile duct injury repair
Gallbladder polyps

Malignant conditions of the gallbladder and bile duct

Gallbladder cancer
Extrahepatic, hilar, and distal cholangiocarcinoma

Benign inflammatory pancreatic disease

Acute & chronic pancreatitis
Hereditary pancreatitis

Premalignant pancreas issues

Pancreatic cystic disease (IPMN, MCN)
High genetic risk patients and families (e.g. MEN, VHL, BRCA)

Pancreatic adenocarcinoma
Pancreatic neuroendocrine tumors (PNETS)
Solid pseudopapillary epithelial neoplasm (SPEN)
Metastatic lesions to the pancreas (e.g. renal cell)
Treatments
You are more than your liver or pancreas condition. That's why we collaborate with experts from many disciplines to determine the best course of treatment for you. If that plan includes surgery, we have the advanced skills and experience you need to get back to living your life.

For many procedures, we offer advanced laparoscopic and robotic surgical techniques with an improvement in postoperative pain, a shorter hospital stay, and a reduction in some types of complications compared to open surgery.

Explore the operations we perform for conditions in the pancreas, duodenum, liver, and bile duct.


Robotic surgery
We specialize in minimally invasive options, including robotic surgery

We're home to one of the most comprehensive minimally invasive robotic surgery programs in the nation, treating benign and malignant conditions of the liver, bile duct, and pancreas. During robotic surgery, we use a computer-controlled robot to assist in certain surgical procedures. These robotic "hands" have a high degree of dexterity, giving us the ability to operate in very tight spaces in the body that would otherwise only be accessible through open surgery.
The advantages of robotic surgery over traditional, open surgery include:
Shorter hospitalization
Reduced pain and discomfort
Faster recovery time and return to normal activities
Smaller incisions resulting in reduced risk of infection
Reduced blood loss and transfusions
Minimal scarring
As with all procedures performed at the Center for Liver and Pancreas Surgery, patients who undergo robotic surgery receive care from a multidisciplinary team, including radiologists, oncologists, and gastroenterologists as part of our Pancreas and Liver Diseases program.
Watch Cassandra Terry, PA, and Lauren Chapnick, NP, demonstrate how to take care of your post-surgical drain at home.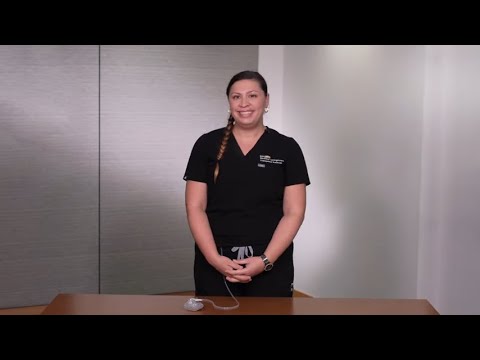 Research
We're constantly innovating through research
MedStar Health is changing the future of liver and pancreas surgical care while giving today's patients access to more promising new approaches through clinical trials.
Within the last five years, our Pancreas and Liver Diseases program physicians have been recipients of numerous grants from NIH, NCI, NIAID, NIDDK, and private and industry sources, resulting in more than 100 peer-reviewed publications and 75 national and international presentations.
We belong to a major academic medical center, granting us the capacity to improve current care and advance knowledge, practice, and techniques through basic, clinical, and translational research.
Through collaboration with disease groups, specialists, laboratory scientists, and transplant physicians, the Center for Translational Medicine (part of the MedStar Georgetown Transplant Institute) strives to innovate responses to current clinical problems.
Meet the team
Erin Meslar, PA-C

Hepatobiliary Surgery Physician Assistant

Jacqueline O'Rourke, PA-C

Hepatobiliary Surgery Physician Assistant

Tiffany Brown, MA

Administrator

Jessica Hsu, DNP

Hepatopancreaticobiliary Nurse Coordinator

Chevon Hudson

Hepatobiliary Patient Coordinator

Jeanne Lund

Executive Assistant
Our locations
MedStar Health Center for Liver and Pancreas Surgery offers multiple locations throughout the region for evaluation and ongoing care.
Distance from Change locationEnter your location
3800 Reservoir Rd., NW 2nd Floor, PHC Building Washington, DC 20007
106 Irving St., NW POB South, Suite 201 Washington, D.C., 20010
Follow Us
Stay up-to-date on the latest innovations and thought leadership from our liver and pancreas surgery experts. Follow HPBsurgeonsofGeorgetown (@HPBOf) on Twitter.