Palliative Care | MedStar Health
Pain relief and symptom management for patients with advanced heart failure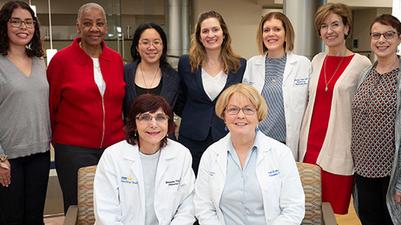 Palliative care is specialized team care for people living with a serious illness. This type of care is focused on providing relief from the symptoms and stress of a serious illness. The goal is to improve quality of life for both the patient and the family.
This care is available to people at any stage of serious illness and can be provided alongside curative treatment. Central to this care is the communication and coordination of treatment options to maximize quality of life, to care for the patient and family as a unit, and to provide treatment consistent with patient's values and beliefs. Further information about the palliative care specialty is available here.
Our team includes specialists from a range of fields, such as:
Chaplains
Doctors
Nurses
Pharmacists
Social workers
Palliative care often is confused with hospice care, but hospice care is available only at the end of life. Palliative care is available at any stage of a serious illness and can benefit you as your healthcare team works to treat the cause of the illness and save or prolong your life.
Palliative care at MedStar Health
The interdisciplinary palliative team includes physician, nursing, social work and pharmacy disciplines as well as volunteers. For each consultation, we partner closely with other members of the patient care team to provide an integrative and individualized approach to every person's care plan.
Our service is available to all adult patients admitted to MedStar Health. A consult is typically initiated by the primary medical team for a patient, but can be suggested by nursing, patients, families, or other staff members. Our services include:
Expert pain and symptom management
Guidance navigating difficult and complex treatment decisions

Advance Care Planning (see below)

Emotional and spiritual support for you and your family
Assistance coordinating transitions of care
Communication about what to expect during serious illness and resources to support patients and families in multiple care settings
What to expect
Patients with advanced heart failure often receive palliative care from the beginning of the treatment process. Your team will help you and your loved ones develop a customized plan for pain management, reducing stress and managing other concerns.
We'll discuss and help you address how your condition is affecting you and your family. We coordinate our care with the care you'll receive from your treatment team, which will continue to work to address the root causes of your condition and symptoms.
This care is an ongoing process, and we'll be by your side throughout the treatment process. We can provide referrals to community resources, and we will support you as you make important decisions about your care.
Additional information
Resources: Advance care planning resources
The District of Columbia Hospital Association has prepared and distributed an advance directive document for completing durable power of attorney for health care, living will, and other wishes
Resources to support advance care planning conversations
Available in English, Spanish, Chinese, Tagalog, Hindi, Russian, Urdu, and Vietnamese
Available in Chinese, English, French, German, Haitian Creole, Hebrew, Hindi, Japanese, Korean, Portuguese, Russian, Spanish, and Vietnamese
Palliative care for heart patients
Our teams partner with MedStar Heart & Vascular clinic to support patients and their families, help determine goals for care, and find ways to manage symptoms and implement comfort measures.
Partner with us
Have you or your loved one received support from the MedStar Health's palliative care team? Would you like to share your experience with us? We invite you to share your gratitude by telling us your story. If you wish to share your experience with our team or make a philanthropic gift in support of our services, please click the below button.
Information for MedStar Palliative Care Fellowship applicants


The MedStar Health system is proud to offer an interdisciplinary palliative medicine fellowship, based at MedStar Washington Hospital Center.
Advance care planning
The Palliative Care Team is available to help patients and caregivers consider and formalize decisions about the types of treatment they would (or would not) want in specific medical scenarios. Click here for additional information about advance care planning, including a link for the District of Columbia Hospital Association Advance Care Planning document and other resources to support advance care planning discussions.