Penile Cancer | Diagnosis and Treatment | MedStar Health
Cancer of the penis is relatively rare and usually occurs in men between the ages of 50 and 70. It may present with change in the skin color of the penis, or thickening of the skin of an area of the penis. This may lead to a growth or sore on the penis, especially on the head (glans) or foreskin, but sometimes also on the shaft. The growth may progress to become a flat, bluish-brown, or a small red area like a rash, with crusty "bumps." Other non-cancerous conditions can also cause similar changes.
The exact cause is unknown but it does appear to be less common in men who are circumcised (foreskin has been removed soon after birth).
Diagnosis
A diagnosis can usually be identified with a medical history and physical examination, but will likely require a biopsy for confirmation. Further investigation (CT scan, bone scan, lymph node biopsy) may be necessary to see if the cancer has spread.
Treatments
Treatments depend on the stage of the penile cancer and may include topical treatments (ointment), laser therapy, circumcision, chemotherapy, radiation, or removal of part or whole penis. As with all of our cancer patients, we employ a multidisciplinary approach, with urologists, medical oncologists, radiation oncologists, pathologists, radiologists, and clinical trial specialists to determine the full spectrum of treatment options available and most suitable for an individual patient.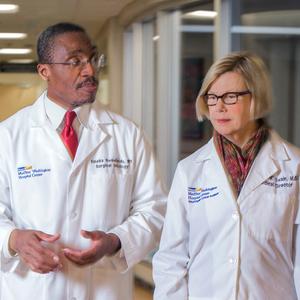 Expert oncology care
Getting the care you need starts with seeing one of our oncologists.