Pharmacy Medstar National Rehab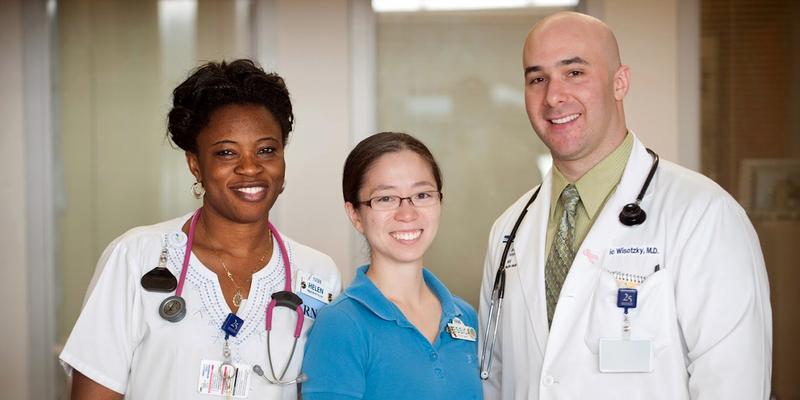 Pharmacy Residency Program at MedStar National Rehabilitation Hospital
The PGY-1 Pharmacy Residency Program at MedStar National Rehabilitation Hospital (MNRH) is designed to produce a well-rounded pharmacy healthcare professional through exposure to multiple acute care experiences in various settings that expand upon fundamental knowledge for general inpatient pharmacy services. The purpose of the program is to prepare new pharmacists for patient care positions in a healthcare system environment, academia, or PGY-2 training in their area of choice.
Program Description
Number of Positions: 1
Residency Period: 12 months, starting July
Estimated Stipend: $54,500
Benefits
Full benefits package (health, dental, vision)
20 paid time off days, 1 personal day per six months, and 4 paid holidays
Full reimbursement for major pharmacy conferences
On-Site Parking
Submit all application information electronically via PhORCAS
Application Deadline: January 1
Why train here
MedStar National Rehabilitation Hospital (MNRH) is the region's largest acute rehabilitation hospital, and a proud part of the MedStar Health system. Our founding credo is "Adding Life to Years®" with the goal and foundation of our clinical work to make sure that patients achieve their maximum level of function and independence in order to get back to home, work, and life. That goal guides who we are and what we do.
The department of pharmacy is well-integrated into each interdisciplinary medical team, and the overall pharmacy culture is highly progressive. As a result, residents' learning experiences become more enriched, because pharmacists are constantly relied upon by each medical team to ensure appropriate medication use and patient safety.
Program Highlights
Variety of clinical specialties tailored toward the residents' interests
Continuing Education Grand Rounds Presentations
Local and system-level Pharmacy and Therapeutics (P&T) committee participation
On-site/off-site elective opportunities available in pharmacogenomics, infectious disease, medication safety, anticoagulation management, and advanced cardiac ICU at MedStar Georgetown University Hospital (MGUH) and MedStar Washington Hospital Center (MWHC)
Longitudinal research experience
Teaching certificate through Washington Metropolitan Society of Health-System Pharmacists (WMSHP)
Lean Management/ Process Improvement (PI) project
Curriculum
Learning Experiences:
6 core rotations
3 elective rotations
2 longitudinal rotations
First month
During the first month of the program (July), residents go through orientation to MNRH and Department of Pharmacy Services.
Residents learn about the institution, its mission and philosophy, as well as become familiar with the scope of our pharmacy services—distribution process and clinical pharmacy services.
Next 11 months
The following eleven months will comprise clinical and practice management related rotations. The schedule will be developed by the resident and the residency program administrative director during the orientation period but can always be subject to change.
Rotations
Core Rotations:
Residency Orientation
Pharmacy Management and Administration
Internal Medicine 1
Internal Medicine 2
Anticoagulation Management
Medication Safety
Longitudinal Rotations:
Pharmacy Staffing and Distribution
Research and Drug Information
Elective Rotations:
Pharmacogenomics - MedStar Georgetown University Hospital (MGUH)
Transplant (MGUH)
Infectious Disease (MGUH)
Advanced Heart Failure -MedStar Washington Hospital Center (MWHC)
Cardiology Intermediate Care Unit (MWHC)
Cardiology Rehab (MNRH)
Neurology, Traumatic Brain Injury & Stroke Rehab (MNRH)
Additional Requirements and Activities
To complement their learning, residents must also participate in the following aspects of our program:
Staffing and Drug Distribution

One weeknight per week
One weekend per three weeks
Two holidays per year

Preceptorship of PharmD students from affiliated schools of pharmacy
Preparation of drug monograph for presentation at local/ system Pharmacy and Therapeutics Committee
Medication Utilization Evaluation (MUE)
Accreditation Council for Pharmacy Education (ACPE) Continuing Education presentation
Research project with manuscript submission
Participation in two conferences with presentations at each
Our people
Current Resident
Helen Fita, PharmD
Helen was born and raised in Ethiopia. She graduated with a Doctor of Pharmacy from the University of Maryland, Baltimore. Her areas of interest are cardiology, antimicrobial stewardship, and academia. Helen plans to begin practicing as a clinical pharmacy specialist at a teaching hospital where there are opportunities to get involved in the education of pharmacy students and residents. In the long term, she wishes to pursue opportunities to get involved in academia. Besides pharmacy, she likes puzzle games, hiking, and cooking.
Lubna Kousa, PharmD, M.A.

Clinical Pharmacy Manager

Director, PGY1 Pharmacy Residency Program
PharmD: University of Findlay, College to Pharmacy
PGY1 Community-based Pharmacy Residency: Johns Hopkins, Baltimore, MD

Eric Pitts, PharmD, MBA, CPHQ

Director, Pharmacy Services

PharmD: Duquesne University, School Of Pharmacy
MBA/ MHA: University of Maryland Global Campus

Vidhi Gandhi, PharmD, DPLA

Coordinator of Quality Improvement and Regulatory Compliance

PharmD: University of the Sciences in Philadelphia, Philadelphia College of Pharmacy
PGY1 Pharmacy Practice Residency: MedStar Georgetown University Hospital, Washington, DC
PGY2 Health-System Pharmacy Administration and Leadership: MedStar Health, Columbia, MD

Clinical Pharmacist

PharmD: University of Health Sciences and Pharmacy in St. Louis,
St. Louis College of Pharmacy
PGY1 Pharmacy Practice Residency: Cardinal Health/Cass Regional Medical Center, Harrisonville, MO

Clinical Pharmacist

PharmD: Howard University, College of Pharmacy

Clinical Pharmacist

PharmD: University of Maryland, Baltimore School of Pharmacy
Application information
All applicants must meet the following criteria and submit all requested materials:
Pre-requisites: Graduated from ACPE-accredited College of Pharmacy and eligible for D.C. licensure

Licensure must be obtained by October 1 of the residency year

Cover letter
Curriculum vitae
Three professional letters of recommendation
Official academic transcripts
Submit all application information electronically via PhORCAS
Application Deadline: January 1