MedStar Medical Group | Physicians | MedStar Health
An Innovative, Clinician-Focused Medical Group With Top-Rated Physicians and Other Caregivers
Highly regarded
MedStar Medical Group is the provider organization for MedStar Health, the region's largest healthcare network with locations throughout Maryland and the Washington, D.C., region. Our medical, surgical, and specialty providers together comprise one of the largest medical groups in the country, practicing patient-centered care at more than 280 locations, including hospitals, community-based healthcare centers, home care, and online through telehealth.
MedStar Medical Group at a glance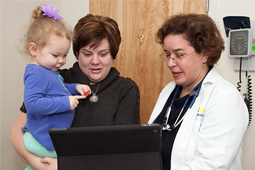 As the provider organization for MedStar Health, we support, both clinically and operationally, our collective vision to be the trusted leader in caring for people and advancing health — a vision that can only be achieved by an unwavering commitment to quality and patient safety. Our aim is to engage all clinicians, and the teams who work with them, in making our clinical practices as effective and efficient as possible, taking advantage of best practices and shared experiences in care delivery and operations.
From regular checkups with primary care providers to complex procedures performed by leading specialists, our experts offer patients convenient, seamless access to the ongoing medical care and counseling they need to lead healthier lives. Through our extensive network of providers, we treat more than three million patients each year, offering the highest quality, safest, and most advanced care — close to where they live and work.

Click to enlarge graphic
MedStar Medical Group is committed to building the optimal environment for physicians and advanced practice clinicians to maximize growth professionally and personally, from physician well-being, to career growth and research.
alt=""

One of the largest medical groups in the country

alt=""

More than 280 Sites of Care covering more than 85 zip codes

alt=""

3.1 million patient visits each year

alt=""

More than 400 physicians engaged in research

alt=""

More than 300 physicians from throughout the system involved in governing MedStar Medical Group

alt=""

Approximately 8,000 non-provider associates

alt=""

More than 1,100 residents and fellows
Additional information
Commitment to quality care
Expert leadership
Join our team
Patient resources