Bariatric Surgery Center at Baltimore | 21237 | MedStar Health
Welcome to the Bariatric Surgery Center at MedStar Franklin Square Medical Center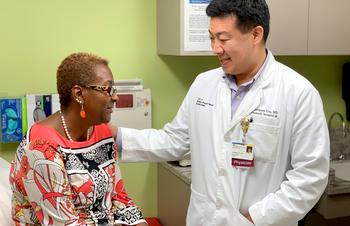 The Bariatric Surgery Center at MedStar Franklin Square Medical Center provides a complete weight loss program based on your unique needs. Our team includes bariatric surgeons, gastroenterologists, registered dietitians, exercise physiologist/physical therapist, mental health professionals, and a bariatric coordinator.
MedStar Franklin Square Medical Center is fully accredited through the Metabolic and Bariatric Surgery Accreditation and Quality Improvement Program (MBSAQIP) for providing the safest most effective weight loss surgery procedures. MBSAQIP works to advance safe, high-quality care for bariatric surgical patients through the accreditation of bariatric surgical centers.
Services we offer
Our Bariatric and Weight Loss Management Program offers:
Educational seminar - This is a mandatory education seminar to determine if you are a candidate for bariatric surgery.
Preoperative weight management program - A three to six month monitored weight loss program.
Bariatric Surgery - Our program offers safe and effective weight loss surgery and top bariatric surgeons trained in the latest technologies.
Free Monthly Support Group - A solid support system for long-term weight loss success. Monthly meetings include open discussions about weight loss information and activities to promote a healthy lifestyle.
Facebook Support Group - This private Facebook group is for current and prospective patients to have an avenue to share their progress and have an opportunity to connect with others who are on this same journey. Visit our Medstar Franklin Square Medical Center Bariatric Facebook Support Group
Take the first step in the right direction and begin your weight loss journey today. Complete the online seminar now to get answers to your questions about bariatric surgery.
Christopher You, MD, serves as the medical director of bariatric surgery and is co-medical director of the comprehensive Robotic Surgery Program at MedStar Franklin Square Medical Center. He advocates for the benefits of robotic and minimally-invasive surgery to help streamline the process of surgical care and recovery for patients. Dr. You is passionate about helping patients realize they have the power to take control of their own health. Their success is what makes his day.

Alain Abdo, MD, is a bariatric and minimally-invasive surgeon who performs primary and revisional weight loss procedures. Dr. Abdo is committed to fighting the obesity pandemic. He is passionate about being part of our bariatric services team and helping patients resolve stubborn weight-related challenges.

Jasmine Booth serves as a nurse practitioner who works closely with the bariatric surgeons and other team members to help prepare individuals for weight loss surgery as well as ongoing follow-up care. Jasmine is passionate about being part of our bariatric services team because she loves making a sustainable difference in quality of life for all of her patients through weight loss.

Ashley Roberts is a registered dietitian who serves as the bariatric program coordinator. She helps ensure our program maintains accreditation, coordinates resources within the bariatric program, and provides support and education for patients both before and following surgery. She is passionate about being part of our bariatric team because of the opportunities it provides to help patients achieve optimal health and reach their personal goals.

Dina Coleman-Reed is the bariatric team's lead medical assistant and surgical scheduling coordinator. She is a military veteran and a former educator who brings a plethora of teaching and medical experience to our practice. Her goal is to provide excellent care and experiences while treating patients as if they are family. She is currently pursuing a nursing degree.

Nick Fischer is a registered dietitian who is responsible for providing nutrition education for bariatric patients. Nick is passionate about being part of our bariatric services team because he likes helping patients come up with simple solutions for meals that taste good and are also healthy.

Kristen Chagnon serves as the class coordinator for the bariatric team. In this role, she is responsible for class and program operations. Kristen is passionate about being part of our bariatric services team because she likes to learn new things and new processes.