NICU and Follow Up Clinic Reunion
NICU Reunion and Family Fun Day
Thank you for attending the 2021 Virtual NICU Reunion and Family Fun Day on Sept. 11, 2021. It was great to see everyone's virtual smiling faces!
Please mark your calendars for Sept. 10, 2022, for the next NICU Reunion. We are crossing our fingers we will be able to see everyone in person!
For those who missed the 2021 event, please see the archives for the recording.
About MedStar Georgetown University Hospital's annual NICU Reunion & Family Fun Day
MedStar Georgetown's annual NICU Reunion is a cherished tradition that reunites caregivers with the babies and families they cared for at their most fragile and vulnerable times. Held each year (either in-person or virtually) on a Saturday in September, the event draws hundreds of families to celebrate the special bond they all share in a fun, family-centered atmosphere.
Some of the in-person attractions have included a moon bounce, children's' obstacle course, photo booth, face painting stations, ice cream and balloons, as well as a picnic lunch with cake. The event also includes presentations of special awards, speeches from thriving NICU graduates, a raffle prize draw of sports memorabilia donated by local sports teams, and group photos.
Many participating families have returned year after year. This event is special because families are surrounded by other families who have similarly navigated the trying experience of having a baby in the NICU. Every year on the day of the NICU Reunion, families can relax in a supportive environment, reconnect with their favorite doctors and nurses, and enjoy how far they have all come.
Photos generously provided by photographer and NICU Parent Stu Hubbard.
2021 NICU Reunion Recording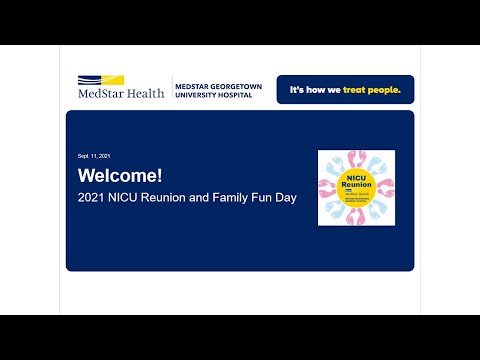 2020 NICU Reunion Recording