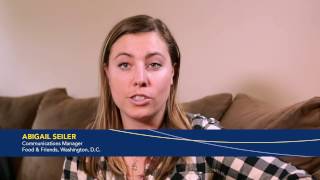 MedStar Washington Hospital Center, MedStar Georgetown University Hospital, MedStar Good Samaritan Hospital, MedStar Union Memorial Hospital
The link between nutrition and health is clear. In an attempt to improve patients' health outcomes, MedStar Health has developed partnerships with food delivery organizations such as Moveable Feast and Food & Friends across the Baltimore and Washington, D.C., region.
Moveable Feast delivers medically tailored meals to people living with chronic and life-threatening illnesses in Maryland, serving more than 5,000 clients each year. They couple their food services—which are delivered right to people's homes—with medical nutrition therapy services provided by a team of registered dietitians, all at no cost.
"I am so excited about our collaboration with MedStar to help people stay healthy through nutrition," says Sara Zisow-McClean, director of program services at Moveable Feast. "Together, we have the potential to really impact the quality of life and health outcomes for clients."
Chronic disease is the primary cause of death and disability in the Maryland / Washington, D.C., region. At least 80 percent of heart disease, stroke and type 2 diabetes and 40 percent of some cancers are preventable through proper nutrition, daily physical activity, and smoking cessation.
Source: World Health Organization, 2011
Food & Friends also sees its relationship with a large health system like MedStar Health as an important and significant way to reach those in need of nutritious meals.
"Our clients aren't often well enough to prepare food on their own, and many of them also have complex dietary needs due to their health condition," explains Carrie Stoltzfus, director of program services at Food & Friends. "Malnourished patients have longer and more frequent hospital stays—but so far, 67 percent of our clients report fewer hospitalizations after accessing our program."
Food & Friends has been serving the Washington, D.C., area for 28 years, providing more than 18 million meals to more than 26,000 individuals. Currently, about 13 percent of their referrals come directly from MedStar hospitals.
Please visit Food & Friends' and Moveable Feast's websites to learn more about the types of services they offer to the community.
If you are experiencing a medical emergency, please call 911 or seek care at an emergency room.