Recovering from a Sports Injury: Isis' Story | MedStar Health
It All About Teamwork: Orthopedic Surgeon Daniel Hampton, MD, and 15 year-old patient Isis Belcher, work together with her supportive dad and an encouraging physical therapist
MedStar Orthopaedic Institute Surgeon, Daniel Hampton, MD, knows a thing or two about teamwork. He watches it in action every time the elite soccer team hits the field. He also practices it with his fellow physicians, collaborating on cases and sharing ideas. But it's the teamwork he experiences with his patients that really brings him the most reward, when he is able to repair a sports injury through surgery, with the patient diligently following their prescribed post-surgery treatment plan to great success.
He has found the perfect motivated team member in patient Isis Belcher. Isis tore her anterior cruciate ligament (ACL) during her final tumbling pass of the day at a gymnastics practice last fall. The energetic 15 year-old said she felt a twinge in her knee after landing, and could no longer stand up. She visited MedStar Southern Maryland Hospital Center for an MRI, where she learned she had torn ligaments in her right knee, and where she was referred to Dr. Hampton for surgery.
A student who excels in science and technology classes at Oxon Hill High School, as well as in sports and singing, Isis took it upon herself to do some homework and research her new doctor. "Dr. Hampton had an excellent resume," said Isis. "And now, I feel like this is going to be a speedy recovery."
The ACL that Isis tore is one of the main ligaments, or connective tissues, that hold together joints in the human knee. Tearing the ACL is not uncommon, especially during sports, and females are at a higher risk, says Dr. Hampton. Repairing a torn ACL involves using regenerative ligament tissue from another part of the body or from a donor, and refastening the tissue. It is typically an outpatient procedure followed by using a series of knee braces as it heals, and following through with a rehab plan to strengthen the joint.
"Most surgeries have a rehab component, and we develop a protocol for what each individual's rehab will look like as they heal," said Dr. Hampton. "Isis is a great patient. She's motivated and working hard. The patient is a huge part of the treatment. When they put in the work, there is a much better outcome."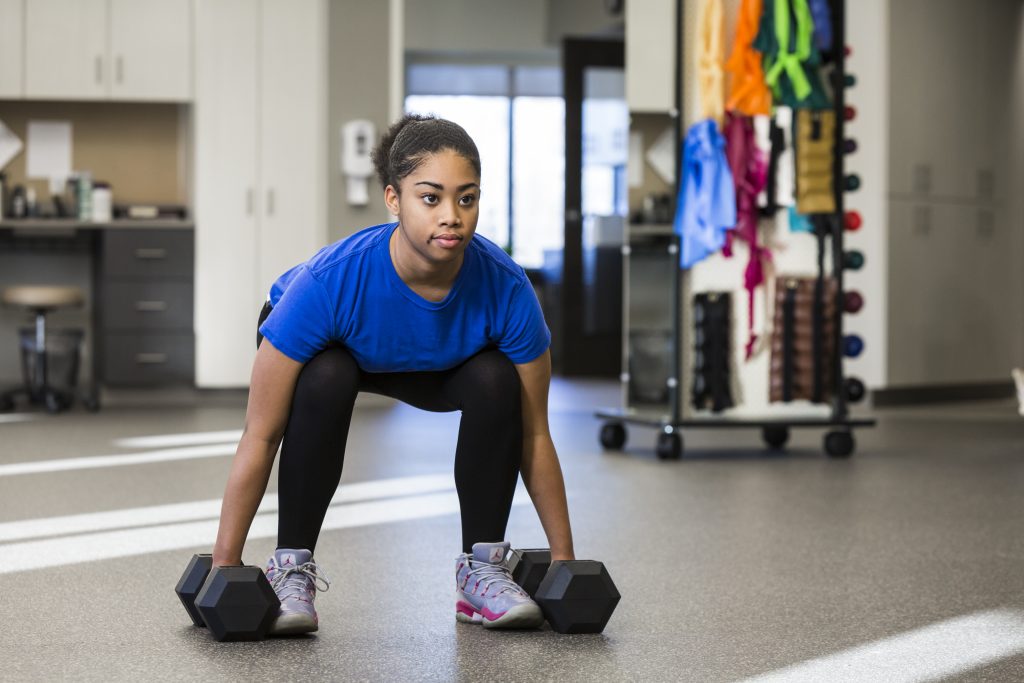 Isis currently goes to rehab twice per week, working with Physical Therapist Jeff Fairman at the MedStar National Rehabilitation Network location at Brandywine. At each session, she spends over an hour performing a circuit of exercises, like walking backwards on a treadmill, enduring balancing exercises and lifting weights, while she listens to music and jokes with Fairman. "She is coming along ahead of schedule," says Fairman.
"I try to challenge her more and make fun changes to her exercise routine to keep it interesting. ACL rehab is a long process and we want to meet the criteria for her to return to sports." Isis is now only a couple of months away from a return to gymnastics, and she and her dad are grateful for Dr. Hampton and the whole MedStar team.
"As a parent, I appreciate Dr. Hampton's courtesy calls to ask how she's doing," said Wiziri Belcher, Isis's dad. "I tell him so far, so good. We've seen such good results and the credit goes to Isis as well. She's working through this and of course, at the end of this process, I want her to be happy and healthy."
Isis will meet with Dr. Hampton again before she is cleared to return to gymnastics, but thus far, all members of the team—Isis, her dad, her physical therapist and Dr. Hampton—are confident of a bright, active future for this ambitious, young student. For more information about the MedStar Orthopaedic Institute, visit MedStarSouthernMaryland.org/Sports or call 301-782-2220.