Diabetes Boot Camp Mixes High-tech and High-touch to Help Patients Take Control of Their Disease | MedStar Health
Columbia, MD – As a facilities manager for Washington, D.C.,'s largest hospital, MedStar Washington Hospital Center, Curtis Reece has the workshop and the teams he needs to fix just about anything to keep the facility running smoothly. So, when his body needed repair because his diabetes was out of control, he knew he needed tools of a different kind to get his health in working order.
Diabetes out of control
Reece, of Bowie, Maryland says he had been "doing pretty well" managing his diabetes when he got the diagnosis in 1995.  He was in his 30's. He watched his diet.  He was careful about his weight. 
"Then I got complacent and started falling off checking my numbers and I went back to my old eating habits by about 2006," says Reece. He walks five miles a day supervising facilities crews but that wasn't enough to keep his blood sugar under control.
"I'm from Trinidad & Tobago where I'm used to eating a lot of rice and starchy vegetables.  These are the staples of our diet, which aren't good for my blood sugar.  My doctor said, 'if you keep this up, you'll have to go on insulin.'"
And he did.
At the end of 2018, blood work showed that Reece's hemoglobin A1C, a number that shows your average blood sugar level for the past two to three months, hit 9.1, an indication that his blood sugars were not in a healthy range. "I was on a roller coaster," Reece recalls.
"If blood sugar levels are not within target range, the person with diabetes is at increased risk for both short and long-term diabetes complications," says Michelle Magee, MD, director of the MedStar Diabetes Institute.  In the short-term, high blood sugars make you feel tired and you might lose weight, have blurred vision, increased thirst and urination and be at risk of infections.  Long-term complications include heart attack, stroke, blindness, leg amputation and kidney failure resulting in dialysis.
Diabetes Bootcamp
At the beginning of 2019 Reece's endocrinologist referred him to the Diabetes Boot Camp offered by MedStar Health. "For the first two appointments in the Diabetes Boot Camp, participants come in person," says Gretchen Youssef, RD, CDE a registered dietitian and diabetes care and education specialist for Diabetes Boot Camp. "We learn about their barriers to self-care, assess their food plan and how they're taking their medications.  We then work with them to design a diabetes plan that they can live with, helps them feel better and improves their overall health."
"People with diabetes spend less than one percent of their time with their healthcare providers and need these skills and knowledge to effectively manage their diabetes," says Dr. Magee.
"At MedStar Health we knew there was a way to reach people with diabetes in a way that can really make a difference in their health, using the latest technology as well as human interaction," says Stephen R.T. Evans, MD executive vice president of Medical Affairs and chief medical officer for MedStar Health.  "We think insurers will see the value in this approach and consider adopting this or similar programs."
High-tech glucose monitoring, tracking and a phone call
At the first boot camp visit, participants learn how to use a cellular-enabled blood glucose meter that sends their blood glucose readings to a boot camp dashboard which is monitored by diabetes nurse practitioners and diabetes educators.  When Reece's glucose level was too low or too high, he got a call from the boot camp team to troubleshot with him why his blood sugar was out of range and how he could take action to improve.
"After the second in-person visit, the participants graduate to our remote diabetes clinic.  They are contacted by phone, email or text a minimum of once a week for 10-12 weeks," says Youssef.  "We wrap our arms around our participants and work with them to achieve their health goals."
In Reece's case, Youssef adjusted his medication.  They talked about his diet. He checked his numbers regularly, logged his food and prioritized exercise.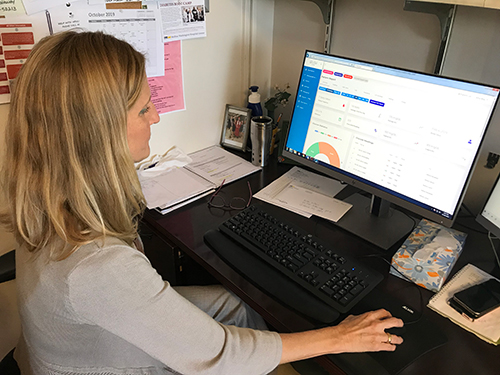 On average, a program participant lowers their A1C by 3 points or about 25 to 30 %.  
"It's a combination of talking to a dietitian, calorie counting and keeping track of your starches and sugars," Reece says. "I've eliminated 75 percent of the starches from my meals and I stay away from fried foods. And when I go on vacation, I know my diabetes doesn't take a holiday, so I'm careful."
"The MedStar Diabetes Boot Camp has changed the way we work with our patients with type 2 diabetes who are having a difficult time getting their blood sugar within their own target range," says Dr. Magee. "Diabetes education is recommended when someone is first diagnosed with diabetes and at any time their blood sugars are poorly controlled."
Success!
At the end of his 12 weeks in the program Reece's A1C went from 9.1 to 7.3.  He wants to get it even lower, to around 6. He also lost 20 pounds.
"I liked the hands-on contact with the group, the high-tech tracking and the ongoing communication," says Reece.
The team now contacts him once a month in continued follow-up.  
"I just started back fishing three times a week and when I get home from work in the evenings I take a walk with my wife and daughter. In the warmer months I will go back to playing golf, says Reece." 
What would Reece tell others?
"If you're ready to make a lifestyle change, because you must be ready, this is a life-changing program. I wanted the change. You're going to have some good days and some bad days.  I'm always a work in progress, but I can say at this moment, it's a success.  The success or failure depends on you because you have to be ready to work. The program is you."
So far, 1400 patients have been through the Diabetes Boot Camp and the data are encouraging; an average of a 3.1-point reduction in their A1C, hospitalizations have decreased at 30 and 90 days by 78% and 77% respectively, and patients like the program.  
How to sign up for Diabetes Boot Camp
The program is available within MedStar Health for those with type 2 diabetes and an A1C of 9 or higher. "I think this is one of the most successful programs I've seen at helping diabetics turn their lives around," says Youssef.  "The human touch makes all the difference."
To learn more about Diabetes Boot Camp in both the Washington, D.C., and Baltimore areas, call 202-877-5403 or visit us to find out more about our endocrinology and diabetes locations.