MiniMedical School: A Lesson in Donning and Doffing | MedStar Health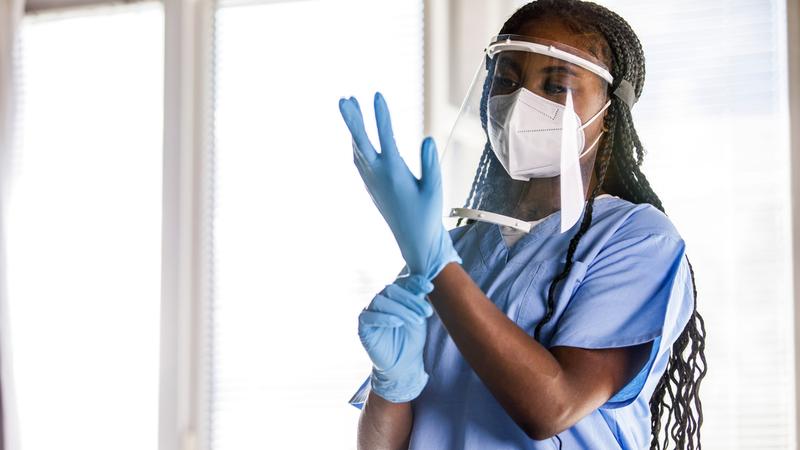 Being doused with chocolate syrup is not often included in a high school lesson plan, but it was all in a day's work at MedStar Southern Maryland Hospital Center's MiniMedical School. In partnership with the Academy of Health & Biosciences at Dr. Henry Wise High School in Upper Marlboro, Maryland, the MiniMedical School program uses lively, interactive presentations to pique students' interest in healthcare careers. 
Tom Masterson, MD, chair of the department of medicine and director of the MedStar Georgetown Hospitalist group at MedStar Southern Maryland Hospital Center, led a recent workshop on infectious diseases. The workshop included a presentation on infectious diseases and a video demonstrating the hazards of donning and doffing gear designed to protect health workers from Ebola disease. Then it was the students' turn to gets some hands on experience donning and doffing some of the safety gear needed when caring for Ebola patients.
Using the buddy system, they donned medical gloves, masks, hats, and gowns, which were splashed with sticky chocolate syrup to simulate being contaminated with Ebola infectious waste. Using CDC protocol, all 60 students then tried to take the gowns off without getting syrup on their skin or clothes—and passed with flying colors. When they started taking selfies with their phones, "we knew we had captured their imaginations," Dr. Masterson says. "The demo showed them firsthand the risks and precautions health workers must take when treating infectious patients."
Now in its second year, MiniMedical School was created by the hospital along with teachers Tanya Adkinsson, Dr. Portia Barnes, and coordinator Pamela Davis. For more information, call our community relations department at 301-877-5700 or email Cheryl.Richardson@MedStar.net.