MedStar Washington Hospital Center First in D.C. to Use Mobile Intraoperative CT Scanner for Neurosurgery | MedStar Health
New Facility Unlocks New Model of Care and Patient Experience
Washington, D.C., June 14, 2016 – The first dedicated heart and vascular hospital in the nation's capital is opening on the campus of MedStar Washington Hospital Center. The Nancy and Harold Zirkin Heart & Vascular Hospital is a 164-bed state-of-the-art facility, which will be the cornerstone of the MedStar Heart & Vascular Institute and will advance cardiovascular care for patients throughout the Washington and mid-Atlantic regions.
"This is an extraordinary milestone for our patients," said Stuart F. Seides, MD, physician executive director, MedStar Heart & Vascular Institute. "The new heart and vascular hospital, its construction, its design, its philosophy, was designed with patients' needs in mind, coupled with our long-standing commitment to providing the most advanced heart and vascular care."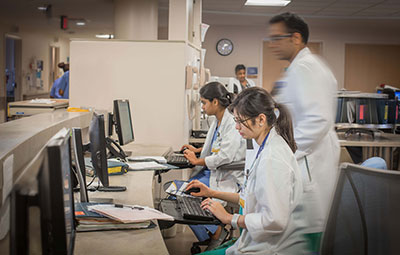 As one of the highest-volume and nationally recognized heart and vascular surgery programs in the nation, MedStar Washington Hospital Center is the founding member of MedStar Heart & Vascular Institute, which has cared for patients with highly complex cardiovascular disorders for nearly 60 years. It has been at the forefront of innovative new treatments and prevention of heart and vascular disease.
The four-story, 160,000-square-foot facility centralized all cardiovascular services in the Hospital Center's North Addition. The new space ushers in a new model of care and patient experience. Patients with similar medical conditions are cared for on designated specialty-care units that have dedicated teams of cardiologists, cardiac and vascular surgeons, nurse practitioners and nurses, to collaboratively deliver the highest quality cardiovascular care and achieve the best patient outcomes.
"We want to make the overall experience for the patients and their families as good as it can be," added Dr. Seides. "Every team member who works at the heart and vascular hospital takes great pride in their work. As a team, we are all focused on patients getting the best clinical care possible. And the only way to safely provide that kind of highly advanced care is through highly coordinated teamwork."
Increased critical care capacity was an important linchpin in the new design of the heart and vascular hospital. The 44-bed cardiac intensive care unit on the second floor was built to meet the increasingly complex needs of patients from all over the region. The ICU rooms are much larger, with wider doorways facilitating access for team members and advanced equipment to the bedside. Each ICU room is equipped with ceiling-mounted booms carrying medical gases, and electric and data outlets, offering greater flexibility and providing clinicians unrestricted access to the patient from all four sides of the bed.
"The booms give us 360-degree access to patients. Beds pushed up against walls limit our ability to perform certain procedures in patient rooms. Opening the space in this way allows us to position patients, ourselves, and needed equipment for optimal care," concluded Dr. Seides.
Construction of the Nancy and Harold Zirkin Heart & Vascular Hospital took three years to complete and was divided into four phases. In January 2015, a 60-bed inpatient unit opened to patients on the fourth floor of the hospital, followed by the third floor inpatient unit. The first floor, with a separate entrance and lobby, opened in December and is solely dedicated to outpatient care. The second floor cardiac ICU, the final phase of construction, is scheduled to open in July.
The Nancy and Harold Zirkin Heart & Vascular Hospital was named to recognize long-time Washingtonians Nancy and Harold Zirkin for their generosity and extraordinary philanthropic support to the heart and vascular hospital. Their $10 million leadership gift is the largest single contribution in the history of MedStar Washington Hospital Center and MedStar Health.
###
*A dedication ceremony for the Nancy and Harold Zirkin Heart & Vascular Hospital will be held on Thursday, June 16, starting at 6 p.m.  View the Media Advisory here.
B-roll footage and photos of the facility are available to download. Click here to access.
MedStar Heart & Vascular Institute, founded at MedStar Washington Hospital Center in Washington, D.C., is a national leader in the research, diagnosis and treatment of cardiovascular disease, and has been consistently recognized by U.S. News & World Report and The Society of Thoracic Surgeons as one of the top cardiovascular programs in the nation. In January 2013, MedStar Heart formed a first-of-its-kind clinical and research alliance with world-renowned Cleveland Clinic Sydell and Arnold Miller Family Heart & Vascular Institute, the #1 heart program in the country. Together, MedStar Heart and Cleveland Clinic have forged a relationship of shared expertise that is transforming cardiovascular care, enhancing quality, improving safety and increasing access to advanced heart and vascular services. MedStar Heart & Vascular Institute comprises more than 140 cardiovascular physician specialists throughout the mid-Atlantic region, as well as the nationally recognized heart care of all nine MedStar Health acute care hospitals and MedStar National Rehabilitation Network. For more information, visit MedStarHeartInstitute.org.
Washington, D.C., August 14, 2018 – MedStar Washington Hospital Center is the first hospital in Washington, D.C., to use the Brainlab Airo® Mobile Intraoperative CT, an advanced imaging scanner that gives surgeons a real-time look at the brain or spine during surgery in order to make immediate decisions when it counts the most.
Thirty patients have been treated so far at the Hospital Center using the system's synchronized imaging capabilities. The portable scanner produces high-quality CT images of the patient's brain or spine in the operating room, allowing surgeons to clearly see their exact position and make the most precise next steps. This eliminates the need to rely on images taken before surgery that might not be as accurate or wait to get images afterwards that could result in a second surgery.
"Our goal is to provide our patients with safe and precise treatments," said Edward F. Aulisi, MD, chairman of Neurosurgery at MedStar Washington Hospital Center. "With Airo, we have the ability to perform intraoperative CT imaging of a patient's anatomy while still in the OR, allowing us to make decisions rapidly and to change course if it's appropriate. This helps to both save time and, when combined with our image-guided surgery system, enable greater surgical accuracy."
Brittani R., a vibrant 32-year-old diagnosed with a benign pituitary tumor recently underwent image-guided transsphenoidal surgery performed through the nose and sinus, and will be able to get back to her busy everyday routine in a few weeks.
"I was trying to cope with extreme fatigue and constant thirst, but the idea of surgery, including incisions and possible scars, was very scary. The fact that Dr. Aulisi was able to use this new non-invasive technique gave me greater confidence and alleviated some of my fears. I am thrilled that my surgery was successful and I am starting to feel like myself again. I am building up my energy, happy to be working from home, and exercising with some light walking."
"Having the ability to confirm the surgical progress during procedure is critical," added Dr. Aulisi. "Verifying one's work intraoperatively may reduce re-operation rates and lead to improved patient outcomes. Intraoperative imaging can also offer patients the benefit of a less-invasive surgical procedure, reduced trauma and potentially faster recovery times."
Brainlab Airo can be used in a wide range of surgical procedures, including cranial, spinal, ear/nose/throat (ENT), head and neck trauma, orthopedic and general surgery.
---
About MedStar Washington Hospital Center:
MedStar Washington Hospital Center is a 912-bed, major teaching and research hospital. It is the largest private, not-for-profit hospital in the nation's capital, among the 100 largest hospitals in the nation and a major referral center for treating the most complex cases. Its cardiology program is highly acclaimed and its cardiac surgery program has consistently earned the highest national rating–three stars–from the Society of Thoracic Surgeons. It also is a respected top facility in the areas of cancer, diabetes & endocrinology, Ear, Nose & Throat, gastroenterology & GI surgery, geriatrics, gynecology, nephrology, pulmonology and urology. It operates MedSTAR, a nationally-verified level I trauma center with a state-of-the-art fleet of helicopters and ambulances, and also operates the region's only adult Burn Center.