MedStar NRH Punishers Wheelchair Rugby Team: Powering Forward | MedStar Health
Eight players aggressively move with speed across the court—four against four in a full contact sport that's not for the faint hearted. They move the ball toward the goal defending their teammates with quick moves in wheelchairs built like armored vehicles. Take the best of basketball, ice hockey and soccer and put them together. That's Wheelchair Rugby.
The MedStar NRH Punishers is one of the nation's best—a Division One team ranked third in the U.S. The 10-person team is made up of very competitive athletes who all share one thing in common: a combination of upper and lower body extremity impairment. Here's an inside look at three of the para-athletes involved with the team: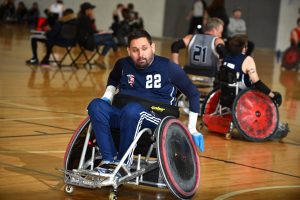 Mike Heron, Team Captain, Assistant Coach
Mike Heron's easy-going teenage life took a 180-degree turn in the summer of 1992 when he dove into shallow water and suffered a spinal cord injury. After a three-month inpatient stay at MedStar NRH and outpatient therapy, the then-17 year old faced his new normal with resolve, graduating high school and moving on to college.
Before his injury, Mike played soccer. While he understood that life in a wheelchair presented unique challenges, he wanted to stay active. He tried a variety of sports, but when he discovered Wheelchair Rugby two decades ago, he was hooked. In 2006, he helped found the MedStar NRH team—and today he serves as its captain.
"This is a fast moving, highly competitive sport," he says. "We're traveling across a 80 plus-foot court, tossing and dribbling the ball toward the goal, where you need to get two wheels across the line to score. It's not uncommon for players to topple over in their chairs," Mike adds.
"We compete all across the East Coast and we're dependent on the generosity of sponsors and donors." Mike is proud that the team has been at the top of its division for some time. "This year going to the nationals was a real treat. We fought hard playing five games and landing in third place—in my almost 20 years of playing, it's our team's greatest achievement to date."
The new season begins in the fall and Mike has high hopes for the team. "We practice twice a week during the season and work hard to keep our edge. We're a strong team and I know we're all looking forward to another successful year."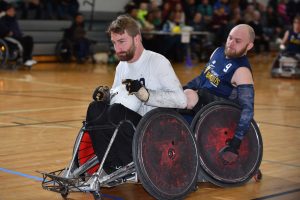 Kevin Crombie, Assistant Coach
At just 9-months old, Kevin Crombie was diagnosed with transverse myelitis—a rare inflammatory disease that causes damage to the spinal cord. "I was left with an incomplete spinal injury," he explains. "It's simply the way I always have been, and I have lived a normal life despite it," he says. An aerospace engineer with the Federal Aviation Administration, Kevin says he "helps make rockets get into space." It's a disarmingly simple way to describe a highly complex profession.
He approaches his work—and the rest of his life—with passion. His long-held fascination with flight led him to a pilot's license and his own plane. And when he discovered Wheelchair Rugby in 2003, he found a team in Virginia. "We beat the Punishers handedly," he says. Ultimately he joined the team that was once a competitor. Today he is an accomplished player who nearly won a spot on the 2016 U.S. Paralympic Team, and who serves as vice president of the United States Quad Rugby Association.
"I've been playing for 11 years," Kevin says. "Now I want to give other players a chance to try. I think of myself as a mentor, encouraging people with physical challenges to be active and not allow the fact that they use a wheelchair limit them. I've taken some people up in my plane and hope to take others early on in their rehab so they can see that nothing is out of reach. If I can fly, they can do whatever they want. After all, the sky's the limit."


Jimmy Ludwick
Twenty-one-year-old Jimmy Ludwick is the youngest member of the MedStar NRH Punishers. The college sophomore was just 18 when a summer swim ended in a spinal cord injury—and his new life on wheels. "It was Memorial Day when I dove into water and broke my neck. I was left with quadriplegia," he explains. "Initially I suffered total body paralysis. But I slowly gained some motion. I can clearly remember the day I was able to shrug my shoulders for the first time."
Ultimately Jimmy recovered his strength, and began his college career with the same tenacity he has on the rugby court. "I was introduced to the game while I was an outpatient at MedStar NRH. When I went to my first practice, they had to place me into position on the court. But I got stronger and stronger. Now I play defense and I love it."
For Jimmy, playing on the team satisfied his desire to participate in competitive sports—he had once been good enough to consider playing college lacrosse. "Rugby also has extremely beneficial physical effects," he says. "Using the rugby chair made me strong enough to transition to a manual chair day-to-day.
"The game has absolutely played a big part in my recovery. And being part of this team made me feel normal again," Jimmy says.
About MedStar National Rehabilitation Network
The MedStar National Rehabilitation Network is a regional system of rehabilitation care that offers inpatient, day treatment and outpatient services in Washington, D.C., Maryland and Northern Virginia.
The Network's interdisciplinary team of rehabilitation experts provides comprehensive services to help people recover as fully as possible following illness and injury. Rehabilitation medicine specialists, psychologists, physical and occupational therapists, and speech-language pathologists work hand-in-hand with other rehab professionals to design treatment plans tailored to each patient's unique needs. Rehabilitation plans feature a team approach and include the use of state-of-the-art technology and advanced medical treatment based on the latest rehabilitation research.
The Network provides comprehensive programs specifically designed to aid in the rehabilitation of adults and children recovering from neurologic and orthopedic conditions such as amputation, arthritis, back and neck pain, brain injury, cancer, cardiac conditions, concussion, fibromyalgia, foot and ankle disorders, hand and upper extremity problems, post-polio syndrome, stroke, spinal cord injury and disease, and sports and work-related injuries.
Inpatient and day treatment programs are provided at MedStar National Rehabilitation Hospital located in Northwest Washington, DC and at more than 50 outpatient sites conveniently located throughout the region. MedStar National Rehabilitation Network is fully accredited by The Joint Commission, the Commission on Accreditation of Rehabilitation Facilities (CARF), with CARF accredited specialty programs for Amputations, Brain Injury, Spinal Cord Injury and Stroke.
For more on MedStar National Rehabilitation Network and to find a location near you, log on to MedStarNRH.org.