New Cures for Hepatitis C Mean Avoiding Liver Transplant | MedStar Health
A Daily Pill Cures Hepatitis C in Months
"It's a hidden disease. A lot of people, me included, don't know they have hepatitis C until they have a blood test," says Duncan MacInnes, during a recent visit to the MedStar Georgetown Transplant Institute.
MacInnes, 69, was infected with hepatitis C while working overseas, when doctors used unclean needles to give injections in the 1970's. He didn't know about his condition until the 1990's. Hepatitis C damaged his liver by causing extreme scarring, called cirrhosis, a late stage of fibrosis that is now reversible with oral medications.
After five rounds of Interferon, which involves a year of injections three times each week and many side effects, doctors recently used new pills to treat MacInnes's hepatitis C. Simple oral drugs and the liver's ability to regenerate and heal itself cured his hepatitis C and helped him avoid a liver transplant.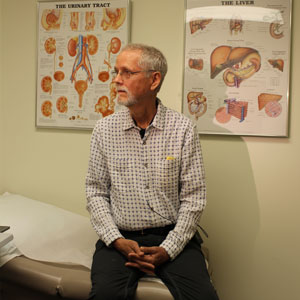 "When a patient is cured of hepatitis C, the patient they may be able to avoid or delay liver transplant," says Rohit Satoskar, MD and medical director of the Liver Screening Program at Liver Transplantation the MedStar Georgetown Transplant Institute. "More than 95 percent of patients with chronic hepatitis C can now be cured with well-tolerated oral medications today."
About 3.5 million people live with hepatitis C in the United States, according to The U.S. Centers for Disease Control and Prevention (CDC). Similar to MacInnes's experience, many people are living with hepatitis C and don't know it or know that there is a cure. MedStar Georgetown Transplant Institute offers liver screening tests and oral treatments, including a pill that can cure hepatitis C with no side effects in fewer than six months.
"Traditionally, hepatitis C has been a leading cause for liver transplant and liver cancer. Liver transplants for hepatitis C-related disease are falling, and it's likely happening because we are able to treat more people and prevent them from getting to that point," says Dr. Satoskar.
Testing for Hepatitis C
A simple blood test shows doctors if a person has hepatitis C. The MedStar Georgetown Transplant Institute provides free liver screening tests to help with early diagnosis of hepatitis C and other conditions, which prevents the progression to serious liver diseases, like liver cancer, and the eventual need for transplant. With two small tubes of blood, providers screen for hepatitis C and receive test results within seven days.
"The test is very simple, and now that there's a cure, there really is no reason not to get tested," says Maccines.
Curing Hepatitis C
"What we've seen with the progress against hepatitis C is truly revolutionary.  Since the 1980's we've gone from not knowing about the virus, to now being able to cure it," says Dr. Satoskar.
Physicians use the following oral medications from a range of 8 to 24 weeks to cure hepatitis C today:
Harvoni
Epclusa
Zepatier
Viekira
Daklinza and Sovaldi
"New Hepatitis C treatments are simple. Patients are now able to use pills that are side effect-free and for short durations of time to treat this disease. It's just so fantastically different compared to what it was back during out Interferon days in the 1990's," says Andrea Keller, physician assistant with the MedStar Georgetown Transplant Institute who has followed MacInnes's care for several years. "Mr. MacInnes is a very sweet man. His resilience and drive to treat this disease has been like no one else I've seen. He's really forthcoming with feedback and always ready to try the next treatment in hope of a cure. Finally, we had success."
A Hidden and 'Most Common' Disease
Hepatitis C is a viral infection which causes inflammation of the liver. The disease has short-term and long-term effects, but most people will not experience symptoms until problems arise due to liver damage.
A recent CDC report shows that cases of hepatitis C nearly tripled from 2010-2015. With an outstanding undiagnosed population, doctors say baby boomers or those a part of the current opioid epidemic should especially get tested for hepatitis C.
For more information about the liver screening program at MedStar Georgetown, please contact Chloe Shreve, liver program coordinator, at GUH-healthyliver@medstar.net and 703-639-0616.