Son Donates Kidney for Dad on His Own Busy Schedule, Thanks to New Program | MedStar Health
In Season of Giving, Family is Thankful for the Gift of Life
(Washington, D.C.,) A Virginia father has received a kidney transplant thanks to his son's organ donation five months earlier and a program that is reducing another barrier to living donation, time.
In March 2018, 48 year-old Ivan Jones was surprised to be diagnosed with end-stage kidney failure. He needed a transplant.
"I knew right away that I wanted to donate a kidney to my dad," says Amir Jones, 20.
But father and son's blood types were incompatible. If Amir wanted to donate to his dad, the next option was to participate in the paired kidney exchange program so Ivan could be matched with a compatible living donor. The schedule of testing and the intricate logistics of a paired kidney exchange made the date of his father's transplant unpredictable. Adding to the time pressure, the younger Jones had already been admitted to a prestigious research program at Princeton University which started in June. As a senior studying Global Affairs at George Mason University, this was an important chance for Amir to learn from experts in his field. And graduation was scheduled for December 2018.
"In March he was already set to go to Princeton," says Ivan Jones. "As his father, I didn't want to hold him back and I didn't want him to miss this important opportunity. I know he worked hard to get accepted to the program. But knowing my son, I knew he was going to figure something out so he could do both things. It's just who he is."
Fortunately for father and son, they were able to participate in the Advanced Donation Program through the National Kidney Registry which would allow Amir Jones to do both. Amir could donate a kidney on his father's behalf by scheduling his surgery at his own convenience. His father could then receive a voucher for a living organ in the future.
"Because living donation is the best option for recipients, transplant programs are trying to use this option in every possible way," says Seyed Ghasemian, MD, transplant surgeon and director of Transplant Urology at the MedStar Georgetown Transplant Institute. "This NKR program is making it possible for Amir to continue his education and continue with his plans, and for his father to receive a kidney from a living donor. We expect nothing but long term success for both of them."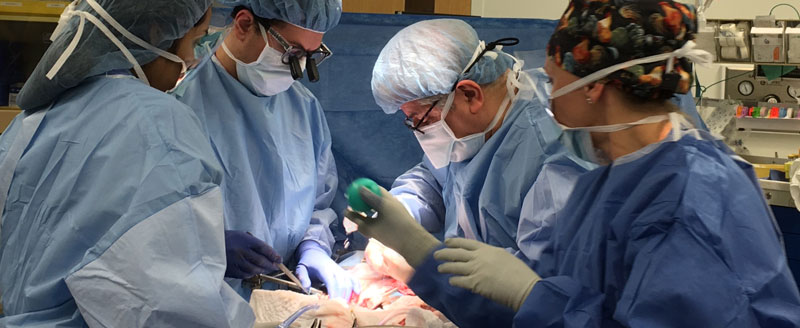 "As one of the largest paired kidney exchange programs in the country, we're very fortunate to have a dedicated living donor team to make these types of innovative donations and transplant opportunities happen for our patients," says Matthew Cooper, MD, director of Kidney and Pancreas Transplantation at the MGTI."
In late May 2018, Amir had surgery to donate his kidney to someone in the Washington, D.C., area.
Ivan Jones spent the summer getting worked up for his transplant. Then in October, a living donor match in San Diego was offered to Ivan through the NKR. On November 14, about five and a half months after Amir's donation, Ivan Jones had his kidney transplant.
Dr. Ghasemian performed both Amir's kidney donation as well as his dad's kidney transplant.
"At first I was frustrated that I couldn't be a direct donor to my dad," says Amir. "But after realizing that I could help not only him, but someone else, was a real moment of gratitude for me. Two weeks after my surgery, I was packing up my car and driving off to New Jersey for my program," says Amir. "I'm just so grateful for this opportunity that allowed me to continue with my plans and for my dad to receive a kidney from a living donor."
"It's been overwhelming and amazing at the same time," says Amir's mother Pinky Jones. "With Amir being 20, I realized he wasn't asking me, he was telling me he was going to do this. And he was saving his dad's life so there wasn't much I could protest about that."
"It's been amazing that at there's a program like this," says Ivan. "I just had no idea. This is such a blessing. Amir is really big into helping others around the world. And now he's helped not only me, but someone else in need."
As part of his curriculum at George Mason, Amir has traveled around the world to study other cultures. He is vice president of George Mason's chapter of UNICEF and he works with a mentoring program that helps struggling high school students in Fairfax County.
Amir will be followed closely by physicians at the MGTI for a mandatory period of two years. After that Dr. Ghasemian recommends he visit his primary care provider for regular checkups.
"Very few transplant centers in the world have the resources or the experience with logistics and organization to be able to offer this to their potential donors and patients," says Dr. Cooper. "This shows MGTI's high level of investment and belief in paired kidney exchange as one critical way to offer creative transplant options. We also have significant living donor benefits not offered at most centers to support and protect donors who give the gift of life."
After graduation in December 2018, Amir plans to apply to law school with this experience behind him.
"I'm just so thankful for all that my dad, my family and I have been able to be part of this," says Amir.
More than 100,000 people are on the waiting list for a kidney transplant in the United States.