Treating People More Holistically- MedStar Health Integrates Software Platform in Electronic Health Record to Seamlessly Coordinate Medical and Social Health Needs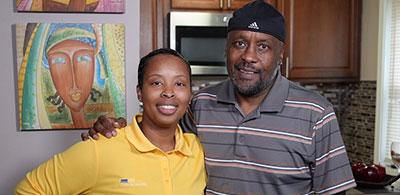 The Aunt Bertha Social Care Services Platform, integrated with MedStar Health's electronic health records, allows patients to connect with everything from groceries and transportation to health insurance, ID cards and diaper banks
Columbia, MD - MedStar Health is pleased to announce a new software integration that pairs the Aunt Bertha Social Care Services Platform with electronic health records to treat patients more holistically by connecting them with needed services like food and transportation.
Jeff Jones, 61, of Washington, D.C., thought he was having bad heartburn in March of 2021 but a trip to the emergency department at MedStar Washington Hospital Center revealed that he was having a heart attack.
Through the course of his treatment, Jones was screened for health-related social needs within his electronic medical record. He was then connected with MedStar Health Community Health Advocate Mia Afowerk who helped him access the Social Needs Tool powered by Aunt Bertha's platform. "The platform lists thousands of social care services, like food banks, rent assistance programs, and diaper banks, all located within the patient's neighboring community," said Afowerk. "I was able to connect Mr. Jones to services that could really make a positive difference in his health and well-being like groceries, transportation and D.C. Medicaid which he needed for his cardiac care. This platform has helped so many of our patients eliminate their biggest barriers to great health."
"Mia visited me and took right over," said Jones. "Because of this, they started delivering fresh groceries to my door every Friday. The first thing I did was throw out all my canned food that contained sodium which was bad for my heart. Now, my favorite thing to cook is fresh spinach with garlic and pepper and lean meats like chicken; I've turned into a chef and I feel great."
Since Jones doesn't drive, the platform also connected him with a ride share service to get to and from doctor appointments and Afowerk helped him apply for a D.C. identification card since he had recently moved to the area from Colorado.
"I can get where I need to go now and keep up with my health. It's so easy."
Jones has also quit smoking and his cholesterol is now under better control. He can get to the eye doctor and his cardiologist.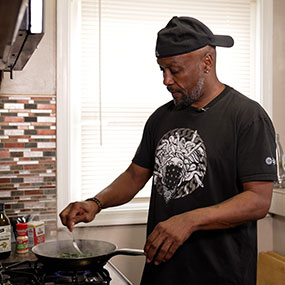 "It is well known that health-related social needs, such as food, housing, and transportation, significantly contribute to a patient's overall health and wellbeing," said Diana Quinn, senior director of Community Health for MedStar Health. "Bringing social care service information and referral capabilities right to a provider's fingertips in the electronic medical record is a powerful step towards providing more holistic, person-centered care. The ability to close the loop on those referrals, seeing what social interventions worked, and where there continue to be gaps can help providers to best support their patients and communities."
MedStar Health began its partnership with Aunt Bertha in 2016 with the launch of MedStar Health's public facing search tool, MedStar Health Social Needs. This tool allows anyone in the community to search for services of all kinds for themselves, or on behalf of neighbors, friends, or family members.
This new integration allows MedStar Health to support more than half a million patients and their families in Washington, D.C., and surrounding areas in Virginia and Maryland.
Data generated through this integration will also help MedStar Health understand how addressing social determinants of health impacts patients' overall health, where community need is the greatest, which community-based programs have the biggest impact, and where gaps exist in the social services network across the region. This information can help inform new community investments and partnerships while still maintaining the highest level of patient privacy.
"I've been happy about this whole process," said Jones. "This has just been amazing for me and my family. I'm so grateful to get this second chance with my health."