Washington Capitals' Alex Ovechkin Serves Up Surprise Breakfast Treat for Young Patients | MedStar Health
Washington, D.C., – For kids who spend time in the pediatric hematology clinic at MedStar Georgetown University Hospital, it's not uncommon to see Washington Capitals decorations, art projects, giveaways or even players hoping to help in their recoveries. But a Caps-themed breakfast treat? This was something new.
"I actually had my appointment here today, and it was a surprise!" said 10-year-old patient Nathan Job.
Breakfast of Champions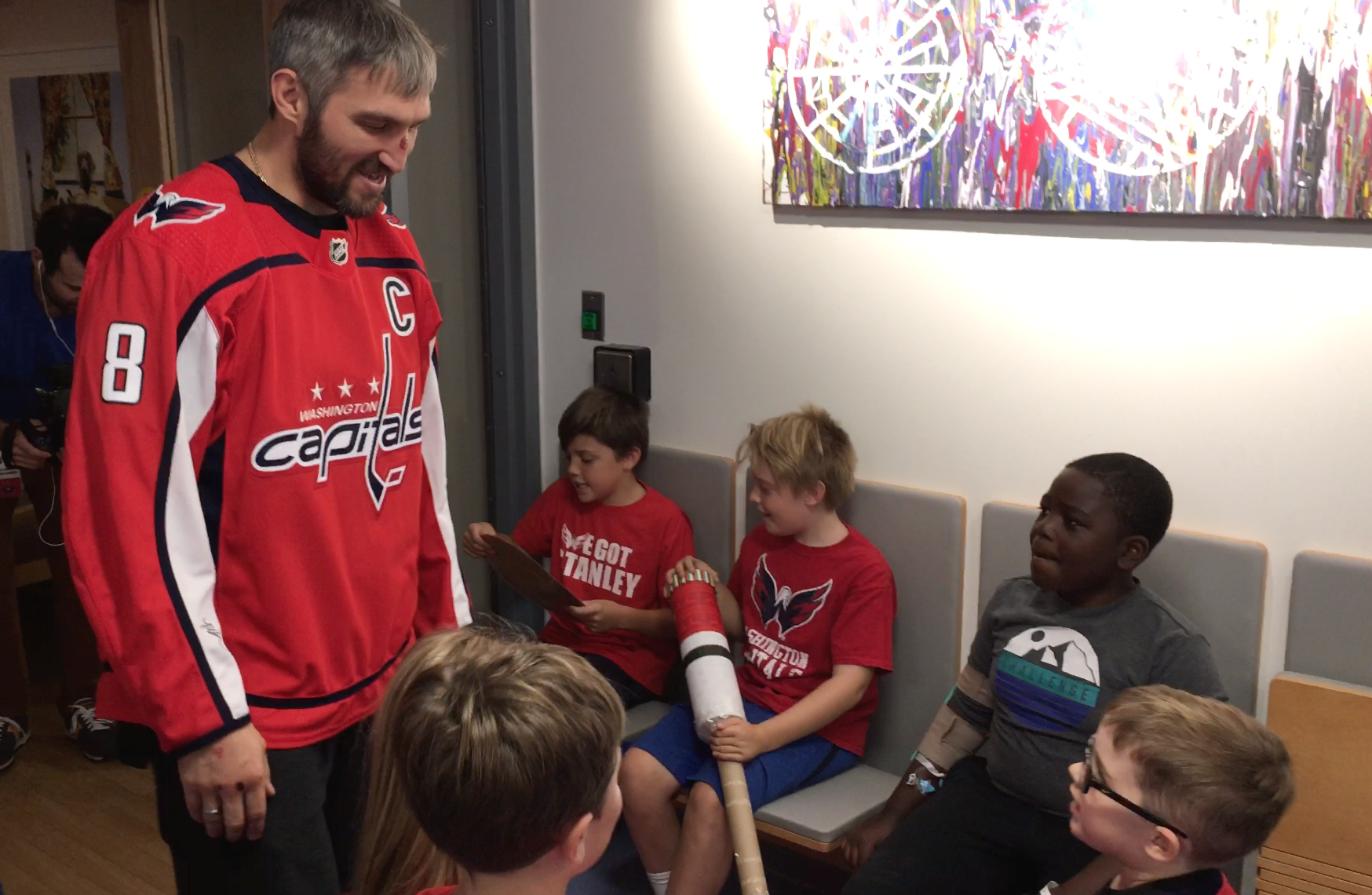 The excited group of clinic patients burst into smiles and rushed to the door as their mystery delivery person, all-star center Alex Ovechkin, walked in to share his new honey-nut cereal 'Ovi O's.' The clinic's art table soon became the breakfast table as Ovechkin sat down to hang out with the kids, serve bowls of cereal and pour milk.
"I like the honey," Job said. "It's actually really good!"
Each child received their own box of Ovi's O's to take home, and Ovechkin ended up autographing each one.
A portion of the proceeds from the cereal, available at local Giant Food stores starting Sept. 17, will benefit the Children's Cancer Foundation, Inc. a Maryland-based non-profit committed to funding pediatric cancer research.


It's How We Treat People
As the official medical team of the Washington Capitals, MedStar Health routinely teams with Ovi, the Capitals and Monumental Sports to create special experiences for these youngsters, many of whom have been treated for cancer, organ failure and other illnesses.
"They enjoy it, we enjoy it and we all have a great time," said Ovechkin.
The team stops by the hospital to visit every holiday season, and Ovi personally carried the Stanley Cup into the clinic last June as the team celebrated its historic championship win.
"We give kids happiness, a smile on their face and hope it helps them do well and get better," Ovechkin said.



An Unforgettable Moment
For kids and families who have been through so much, spending time with one of their heroes, like Ovechkin, is a chance to temporarily set aside treatment regimens, recovery and stress.
"It makes me feel a lot more happier about going to the hospital," said patient Joe Miller.
"That makes me come here more, and I like the art, so it's good for me too," adds brother James Miller.
MedStar Health partners help to build especially festive atmospheres for families in the pediatric hematology oncology clinic. For Ovechkin's most recent visit, Tracy's Kids art therapy program organized a Capitals themed art project, and Hope For Henry made sure that every child left with Caps t-shirts, hats and other pieces of memorabilia.