Bringing Health Care Home - Gratitude Story
If you are experiencing a medical emergency, please call 911 or seek care at an emergency room.
In the eyes of Bryan Gibbs, the MedStar Health House Call Program is a godsend. As the primary caregiver for his grandmother, Beatrice Gibbs, an 82-year-old with dementia, he already had a lot on his plate tending to her daily needs. When she fell and broke her right shoulder last year, then developed a deep vein thrombosis—a potentially serious blood clot—in her left leg, he didn't know what he was going to do. "The doctors prescribed blood thinners to treat her deep vein thrombosis and keep the clot from getting bigger. She also required significant bedrest," he says. "So, she was admitted into the Inpatient Rehabilitation Center at MedStar Good Samaritan Hospital. But it was clear that she was going to have a lot of mobility issues when she came home."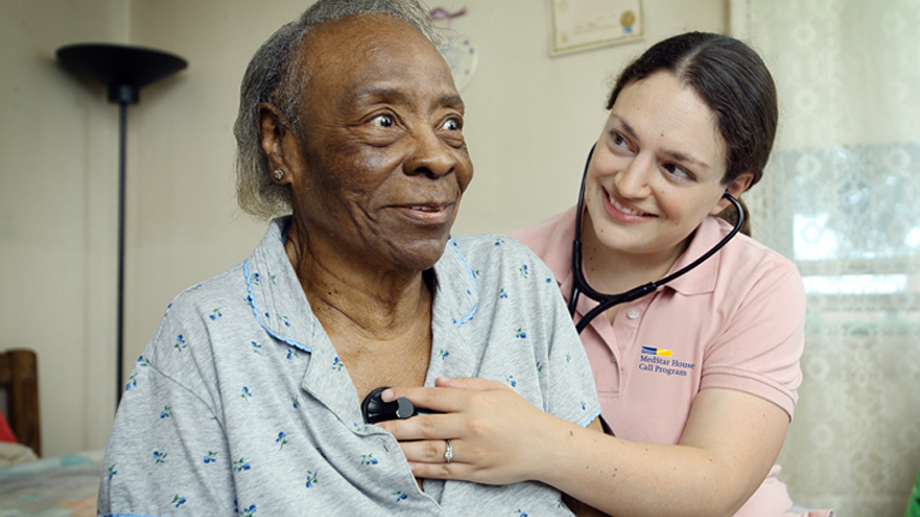 One of Bryan's biggest concerns was getting Beatrice to and from doctor's appointments. "She used to be able to use a walker, so it was easier to get her in and out of the car. But now she was in a wheelchair."
Then a social worker at MedStar Good Samaritan told him about the MedStar House Call Program, which offers home-based care, coordinating all medical and social services for people with advanced illnesses where they live. "Once she initially came home, a team from the program, typically her doctor and a social worker, came to our home every two weeks. Now they visit once a month unless she has problems," Bryan explained.
"Having her healthcare providers come to our home, rather than having to take her out has been a huge blessing," says the 45-year-old, who also provides assistance to his father, who has cancer and is on dialysis. "I try to stay positive, but sometimes it is tough. I can't explain how grateful I am for all that they do. It's a big help."