Giving to Promote Healing
If you are experiencing a medical emergency, please call 911 or seek care at an emergency room.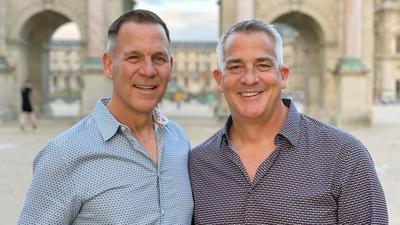 Greg Albright and Wes Combs have long had ties to MedStar Georgetown University Hospital. Wes went to Georgetown University, situated on the same campus as the hospital, where he made many friends planning to go into nursing and other medical fields. "I used to prefer studying in the medical library because it was so quiet," he says.
Both men have received care at MedStar Georgetown as well. While they have nothing but good things to say about the quality of care, they noticed the hospital's physical plant aging over the years. "The care they provide is incredible," Greg says. "But the facility needs to be modernized. Despite that, every experience we have had there has been exceptional."
But it wasn't until a friend became very ill and had to be taken to the emergency department at the hospital that they took notice. "The emergency department was very busy that day, and we realized there was such a great opportunity to provide a more calming and healing environment for the patients, visitors, and caregivers."
Fortunately, their friend was taken to the right place. He needed a liver transplant, and MedStar Georgetown has one of the largest liver transplant centers in the region. "He received great care," Greg says.
Shortly thereafter, when another friend needed a liver transplant during the pandemic, they turned to MedStar Georgetown again. "It was then that we heard about the plans to build a new Medical/Surgical Pavilion, a state-of-the-art facility designed to match the world-class care the hospital provides," says Wes.
"The new facility is going to be amazing, and we decided it was something we wanted to support,' Greg adds. "Given our recent experiences with the emergency department, we decided to make a gift that will fund one of the new patient rooms, ultimately ensuring a better and more comfortable experience for future patients," Greg explains. As a result of their generosity, one of the rooms will be named in their honor.