Engineer credits proton therapy with beating stomach cancer
If you are experiencing a medical emergency, please call 911 or seek care at an emergency room.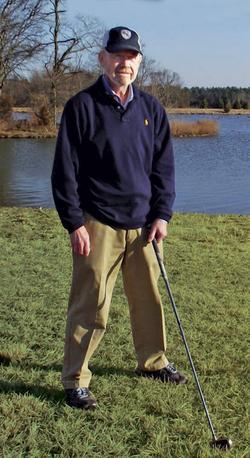 When Jack Yeatts retired at the age of 67 from his career as a space systems project and electrical engineer, he thought he would spend more time with his family and on the golf course in Stone Ridge, Virginia. However, doctors discovered a tumor in his lower esophagus and referred him to MedStar Georgetown University Hospital for treatment.
"They have a great team approach at MedStar Georgetown with an oncologist, surgeon, and radiation therapist," explains Jack. They told me that because of where my tumor was, I was a great candidate for proton therapy instead of standard radiation."
Jack was thrilled to be a candidate for the most advanced and precise proton therapy treatment available, known as HYPERSCAN™. Because his tumor was at the junction of his stomach and esophagus, conventional radiation could have damaged other nearby healthy organs. Proton therapy, on the other hand, offers the promise of greater precision with pinpoint accuracy, depositing protons directly into the tumor, layer- by- layer. Jack received the proton therapy five days a week for about six weeks (28 days total) in conjunction with chemotherapy.
"I was glad that proton therapy was an option for me," Jack says, with relief. "It was directed specifically at the tumor, and they could check with MRI and CT scans that they were getting the tumor and not anything else. Plus, once you were on the table and set up, it didn't take long, usually about 10 to 12 minutes, and you don't feel anything at all."
Jack had regular treatment sessions with Radiation Oncologist Keith R. Unger MD, director of the Gastrointestinal Cancer Service for the Department of Radiation Medicine at MedStar Georgetown, to assess his progress and any side effects. He says he didn't experience any until the last couple of weeks when he dealt with some fatigue and developed pain while swallowing. Pain medication was able to reduce the latter.
"Proton therapy can be beneficial for patients with esophageal cancer, as these tumors are surrounded by vital organs, including the lungs and heart," Dr. Unger explains "This type of radiation therapy is more targeted than traditional radiation therapy techniques and can reduce unnecessary radiation to parts of the body outside of the target. It has been shown, in selected patients like Mr. Yeatts, to significantly reduce the risk of serious complications."
After a six-week break, Jack had surgery to remove the mass. The tumor was at the bottom of his esophagus, so the portion of the esophagus with the tumor and the adjacent stomach were removed. One year later, his follow-up scans were clear. Jack says now he can eat just about anything he wants, but he does have to limit the amount since his stomach is much smaller.
With this medical challenge behind him, Jack says he is now ready to enjoy his retirement. "My prognosis is good now. It's amazing what they can do," he says. "Now, I'm able to finally spend quality time with my family and get on the golf course and do what I love and not have to focus on fighting cancer."
To find out if proton therapy may be the right treatment for you, click here or call 202-444-4639 to speak to a clinical expert.