Living organ donor gives the gift of life and expresses her gratitude
If you are experiencing a medical emergency, please call 911 or seek care at an emergency room.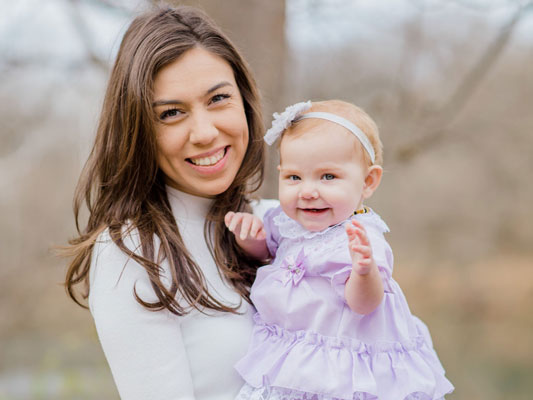 When Hannah Scheenstra received a call from a mother of a two-year-old son who needed a liver transplant, she immediately wanted to help. Unfortunately, Hannah was not a match—but this was just the beginning of her story.
The MedStar Georgetown Transplant Institute team asked if Hannah would consider remaining on the list as an altruistic living donor for a pediatric patient at a future date. She agreed.
Three months later, the transplant institute identified a six-month-old girl needing a lifesaving liver transplant, and Hannah was the rare perfect match. When Hannah woke up from surgery, she was excited and emotional—she knew the baby had a second chance at life.
Four months after the transplant, Hannah met baby Clara and her parents. The meeting was emotional, and Hannah felt an immediate connection with the family. Hannah remains in awe of the care experience and is very grateful to the team at the Transplant Institute. To express her gratitude, Hannah made a philanthropic investment to the MedStar Georgetown Transplant Institute in honor of Dr. Guerra and her care team. "Dr. Guerra was fantastic, and the nursing staff did a great job keeping my spirits up while I healed," said Hannah.