Lymph node transfer gets patient back to her adventures.
If you are experiencing a medical emergency, please call 911 or seek care at an emergency room.
There's not much that can slow down Marcia Bachman. The Washington, D.C., resident has had a long career as associate general counsel for the U.S. Air Force that has taken her all over the world. She's always been fit and active, hiking up the Rocky Mountains, skiing, and running the Marine Corps Marathon. But then, things got complicated. A skiing accident and uterine cancer were contributing factors in her developing lymphedema in her leg—a condition in which lymph fluid accumulates in the body, leading to swelling.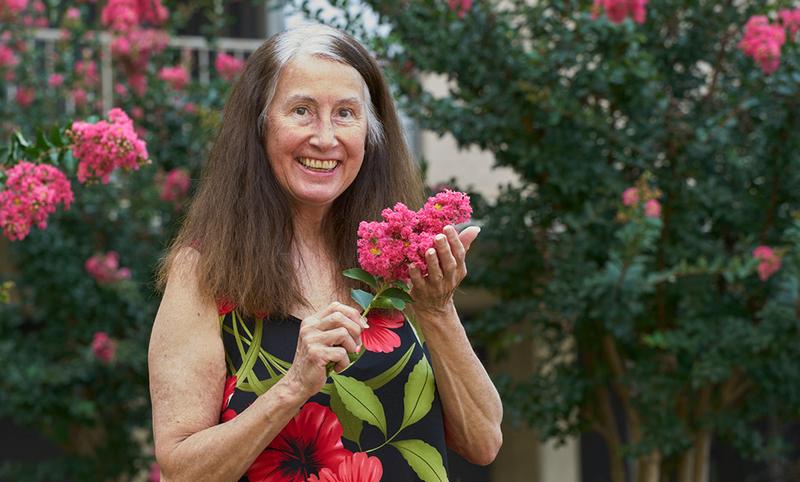 At first, the swelling caused by the condition didn't hinder her active life. But over time, it got progressively worse. Eventually, her leg became so swollen that she couldn't walk properly, despite diligently going to physical therapy and wearing compression bandages and large foam pads on her leg 23 hours a day.
"Lymphedema seriously derailed my life," Marcia says. "I was spending hours a day wrapping and unwrapping my compression bandages. I'm a petite, slim person, and I was carrying 50 extra pounds of weight in my leg. I couldn't bend my knee, so I was dragging my leg and couldn't sit normally, which caused hip and back problems. I had problems getting around at home and at work. Travel was almost impossible. I couldn't wear normal shoes or pants. I realized I couldn't go on like this."
A friend from work heard David H. Song, MD, physician executive director of Plastic and Reconstructive Surgery at MedStar Georgetown University Hospital, speaking about a surgical treatment—lymph node transfer— on NPR and shared the information with Marcia. The procedure involves taking healthy lymph nodes from another part of the body and transplanting them to the area affected by lymphedema. The healthy lymph nodes help the area drain, reducing the swelling. The team at MedStar Georgetown is a regional leader in lymphatic surgery, and the program is the largest on the East Coast, treating patients from surrounding states.
"We use a microsurgery technique, which means making small incisions at the site where we remove the healthy lymph nodes and where we transplant them," Dr. Song explains. "Once transplanted, the healthy lymph nodes act like a pump, removing the excess lymph from the area."
After surgery, patients spend four days in the hospital, then two weeks at home with their leg or arm elevated. After that, they start taking part in physical therapy several times a week. "The patient has to take responsibility for their own recovery, truly committing to physical therapy and using compression garments," Marcia says.
And she did just that. Marcia recently was cleared to begin running again and has trips planned to Chile, Argentina, Antarctica, and New Zealand after retiring from 42 years with the Department of Defense this year.
"I had a great experience with Dr. Song, Nurse Practitioner Kimberly, and the whole team," Marcia adds. "I can finally go back to being the athletic, outdoorsy, robust person I was."
Click here to learn more or schedule a consultation with one of our lymphedema specialists.