If you are experiencing a medical emergency, please call 911 or seek care at an emergency room.
"Where there is life, there is hope." – Ron Grover
When you name your child, you never think about the impact it will have on him or her. My 10-year-old daughter Zoie, whose name means "life," was diagnosed with a rare brain cancer in the summer of 2021. She went from sailing through the first week of 4th grade, attending William & Mary College's Center for Gifted Education K -12 programs, and taking guitar and swim lessons, to being transported in a medevac helicopter to Children's National Hospital in Washington, D.C.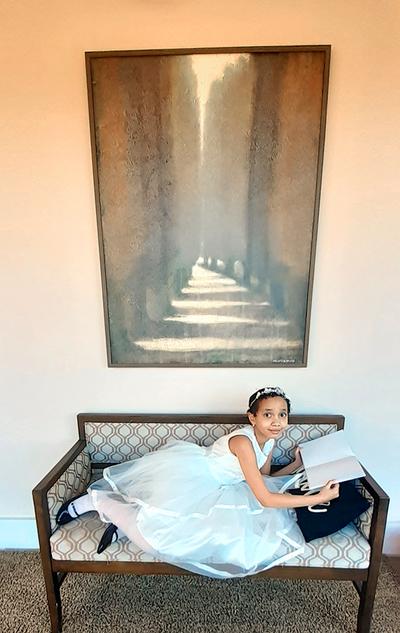 The compassionate and outstanding medical teams there provided multiple surgeries, procedures and she made it through with God's guidance. In hindsight, my faith and working as a Civilian Marine taught me resilience. Special thanks to a very supportive USMC workplace under the leadership of Lt. Gen. Kevin Iiams and team during this critical and challenging time.
After ICU, decisions regarding rehabilitation were needed despite both of us experiencing a hodgepodge of uncertainties. Zoie's center of gravity had changed. She was unable to walk, had lost strength, and more. I opted for inpatient rehabilitation at the National Center for Children's Rehabilitation (NCCR) at MedStar National Rehabilitation Hospital. To keep Zoie's spirits up during this time, I deployed my cheerleader first aid kit (encouragement and lots of humor) and enlisted other cheerleaders via video and text.
The Winning Rehab Team
It's conventional wisdom that the way to build your body is practice. Enter the talented, Dr. Justin Burton, chief of Physical Medicine & Rehabilitation at Children's and medical director of the NCCR, who provided a personal tour of the rehabilitation hospital. Zoie immediately bonded with him and his kind calming bedside manner.
Dr. Burton's doses of humor and expertise were the catalysts to Zoie's fierce mindset and hard work. The continuity and collaboration between medical doctors, therapists, and nurses was first-rate. The game-changing individualized plan for physical, occupational, and speech consisted of three to five days a week for about three hours daily. Zoie was eager to participate. They also smoothed the back-to-recovery process through play—games, art, music—and outdoor wheelchair visits to the Healing Garden.
Zoie was determined to transition from wheelchair to walking independently, which she did within a reasonable time. She had mastered the individual plan and was more than ready to go home and begin her next phase of treatment—radiation and chemo. The rehab team provided a special farewell with her favorite song. I cried tears of joy as I watched her walk from her hospital room as the staff lined up clapping and chanting "Zoie." In the meantime, Mrs. Najma Knobloch, educational coordinator, had coordinated homebound school services, and the rehab team had located outpatient rehab facilities near our home as well as other resources. What an outstanding experience!
The bible states all things work together for the good. Zoie is currently in remission and outpatient rehabilitation aiming for a full recovery. She loves learning about God, virtual school, reading, baking, video games and wearing pretty dresses. She briefly appeared on CNN: Sesame Street: The ABCs of COVID Vaccines and attended the White House Holiday Tour. Zoie was also published in the March 2023 issue of Girls' World magazine for her banana pudding recipe!