Medical Transport Services | Ground & Air | MedStar Health
Expert emergency medical transport is just a call away
MedSTAR Transport about 6,000 patients each year to and from MedStar Health facilities throughout the Baltimore and greater Washington, D.C., area. Our fleet includes both state-of-the-art medevac helicopters and ambulances. And thanks to our highly qualified air and ground transportation teams, no patient is far from advanced care.
The majority of our patients are transported between hospitals in the MedStar Health system and other major tertiary care centers in the Mid-Atlantic region as directed by the sending and receiving physicians. Medical control physicians are immediately available 24 hours a day for consultation with referring physicians and flight crews. Some patients are transported from accident scenes to the closest Level One Trauma Center in coordination with local EMS systems.
During transport, our specialized team can initiate or continue critical care via our current evidence-based treatment protocols in any setting and have immediate access to critical care physicians. Our teams routinely manage patients on advanced mechanical ventilation modes including high flow nasal oxygen and APRV, Intra-Aortic Balloon Pumps, Ventricular Assist Devices, Impellas, ECMO, and many more advanced therapies.
Air transportation
Our helicopter bases are strategically located throughout the mid-Atlantic region to transport patients and currently complete about 2,000 medevac missions a year.
All FAA Part 135 aviation services are provided by Metro Aviation, Inc., which maintains exclusive operational control over all aircraft. Our air transport service uses EC-135 helicopters, which are unmatched in maneuverability and have a cruising speed of 150 mph and a range of approximately 250 miles.
Each of the MedSTAR aircraft is equipped for single pilot operations under instrument flight rules (SPIFR) and are certified by the FAA for instrument flight in inclement weather using global positioning system (GPS) technology for increased safety. Additionally, all primary aircraft have SkyConnect Iridium-based satellite voice and tracking systems installed.
Our team also participates in Project Safeguard with Automatic Dependent Surveillance - Broadcast (ADS-B) equipment installed, which provides enhanced airspace security capabilities in the national capital region.
Air transport team
The standard flight crew includes a pilot, critical care nurse, and critical care paramedic, all of whom are trained to handle the full spectrum of adult and pediatric critical care patients.
The medical crews are required to maintain licensure in D.C., Virginia, Maryland, and Delaware and to be certified in all areas of life support.
Our pilots are required to be helicopter-instrument-rated and have a Class 2 medical certificate, as well as a minimum of:
2,000 total flight hours
1,500 helicopter flight hours
1,000 helicopter hours as pilot in command (PIC)
100 hours of unaided night-flight time as PIC
500 hours of turbine time
Ground transportation
The ground division provides nurse-attended critical care and paramedic attended advanced life support (ALS) transports. We also contract to provide advanced life support, basic life support, and wheelchair van services into or out of any MedStar Health facility.
Additionally, the ambulance is configured to move bariatric and neonatal populations with ease and comfort.
Ground transportation team
The critical care team consists of an emergency vehicle operator, critical care nurse, and a critical care paramedic. The Advanced Life Support team consists of an emergency vehicle operator and paramedic. All crews have and maintain comprehensive training and experience to handle the full spectrum of adult and pediatric critical care patients.
Public relations and outreach requests
MedStar Transport supports community outreach events that meet the following criteria:
Located in a safe and appropriate location with a secured landing zone/parking space, including fire department support to secure landing zones.
Located within the primary service area of our health system.
The ability for vehicle and crew to depart immediately if requested for a patient transport.
Event hours are between 8 AM and 8 PM
Event duration preferred to be less than two hours, though exceptions may be made for special circumstances (please note relevant details in the submission form).
Only one helicopter may be committed to an outreach event at any time.
All requests for appearances should be made at least 30 days prior to the event to allow sufficient time for planning and preparation.
All requests are subject to approval by the MedStar Transport leadership team.
Our team
Our full team includes the following members:
Medical director- Board-certified in emergency medicine and emergency medical systems

Specialty care transport director- Nursing Director with extensive experience in transport medicine, critical care medicine, and leadership experience

Chief flight nurse - Flight Nurse with extensive ICU and Transport background

Chief flight paramedic - Flight Paramedic with 911 experience and critical care training

Billing manager - Billing and Coding expert working with patient accounts

Transfer center manager - Leads the multifaceted communications and transfer center

Transfer center supervisors - Emergency Medical Technicians with communications center training and oversight

Flight nurses - Critical care trained nurses with advanced training and skills

Ground critical care nurses - Critical care trained nurses with advanced training and skills

Flight paramedics - Paramedics with 911 experience and critical care training

Ground critical care paramedics - Paramedics with 911 experience and critical care training

ALS paramedics - Paramedics with a minimum of 1 year of experience

Emergency vehicle operators - Emergency Medical Technician with EVOC certification

Communications specialists - Emergency Medical Technician and other medical training that coordinate transfers and transports for the MedStar Health system
If you're interested in joining our team, explore our career opportunities.
Our service areas
We have three bases located in the Baltimore and Washington, D.C., regions, which are strategically located to provide support to patients in Maryland, Virginia, West Virginia, Delaware, and Pennsylvania.
These bases operate and are staffed 24 hours a day, seven days a week.
MedSTAR 1 - Tipton, Maryland Base
7501 General Aviation Drive, Suite 2
Fort Meade, MD 20755
P: 410-305-0186
F: 410-305-0184
MedSTAR 2 - Indian Head, Maryland Base
3900 Livingston Road
Indian Head, MD 20640
P: 301-375-9442
F: 301-375-9441
MedSTAR 3 - St. Mary's, Maryland Base
St. Mary's Airport
44170 Airport Road
Hollywood, MD 20636
P: 202-465-5112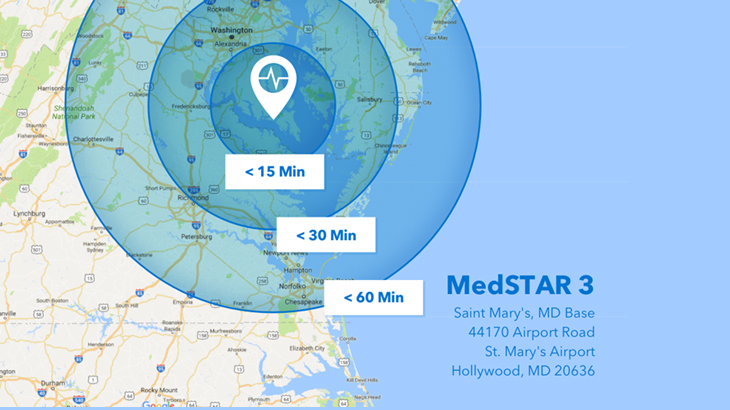 Landing zone requirements
Our team is available to land at a landing zone prepared by emergency medical services for both medical and trauma-related requests.
Our needs for a landing zone:

75 x 75 feet for day operations
100 x 100 feet for night operations

Free of wires, debris, dust, and obstacles
Flat and as smooth as possible
Sloping terrain should be less than six degrees
Clear of snow and ice (Do not use chemicals or salt to achieve this)
If the area is dusty, please wet down first

Undesirable landing zone conditions include:

An area with lots of trees, wires, debris, and obstructions
An area too small or steep sloping terrain features
An area where vertical take-off and landing are required

Orange cones
Emergency flares
Strobes
Construction or marking paint

Lighted cones can be used
Corner light from and landing zone kit can be used
Vehicles with low-beam headlights can be used to light the landing zone
Use spot lamps to illuminate hazards; no lights should point directly at the helicopter
Flashing emergency lights aid pilot and crew in finding the landing zone at night, but you may be asked to turn them off as the helicopter approaches

Other important information:

All crew members wear Night Vision Goggles (NVG) at night
NVGs amplify light 6,000 times
NVGs do not allow us to change our weather minimums and do not allow us to see through fog, clouds, heavy rain, or snow

Never approach the aircraft without a crew member

The EC-135 is equipped with an enclosed tail rotor
The tail rotor is also known as a fenestron tail rotor. This works like a ducted fan. High winds are possible during operation
Never go aft of the horizontal stabilizer of the aircraft when the tail rotor is turning. SERIOUS INJURY OR DEATH CAN OCCUR!
Our history and milestones
MedSTAR fleet was the Washington, D.C., region's first hospital-based air medical service. It was founded to deliver critical care to injured patients, much like a MASH unit used for military triage.
Learn more about our history and achievements through the decades:
1963

Three seriously injured patients are transported by police helicopter to MedStar Washington Hospital Center. This is the first time patients arrive at that centerby air for medical treatment.

1974

MedStar Washington Hospital Center installed its first helipad for air ambulance transport, a project underwritten by the Women's Auxiliary.

1979

Several years in planning, MedSTAR (Medical Shock Trauma Acute Resuscitation) opened on the first floor of MedStar Washington Hospital Center's Intensive Care Tower. The new $1.6 million unit includes a helipad, seven resuscitation rooms, one full-service operation room, and a communications center. On March 12, the unit received its first patients.

1983

MedStar Washington Hospital Center purchased its first twin-jet helicopter and established MedSTAR Transport. The first official flight took off on July 3, 1983 to fly a spinal-cord injury patient from Prince William County, Virginia to MedStar Washington Hospital Center. Pictured below, Wade Smith who was on the first flight and is still with us today!

1990

We flew more than 1,600 patients this year.

1992

We celebrated 10 years with a flawless safety record. The program was granted independent status from MedSTAR Trauma, placed within the Department of Emergency Medicine with the support of the Division of Surgical Nursing.

1993

Approaching its 15th anniversary, MedSTAR was consistently named one of the country's top 10 Level 1 Shock-Trauma units. MedSTAR Transport carried more than 3,000 critically injured or ill patients to MedStar Washington Hospital Center each year.

1996

MedSTAR leased two BK117 Helicopters based out of MedStar Washington Hospital Center, one operated 24/7 and the second 12/7

1999

MedSTAR Transport starts its dedicated ground critical care transport services based out of MedStar Washington Hospital Center using a leased ambulance. This year MedSTAR also out-based its first helicopter base at Maryland Airport (2W5).

2000

MedStar Washington Hospital Center purchased a EC-135, a single pilot instrument flight rules (SPIFR) helicopter, the first SPIFR-certified EC-135 to operate in the United States. The aircraft is able to fly in inclement weather, using GPS technology for more accurate maneuvering. MedSTAR Transport becomes the clearinghouse for referrals, flight operations and coordinating ambulances for MedStar Washington Hospital Center. This year we handled 1,700 patients.

2001

On September 11, MedStar Washington Hospital Center called a Code Orange for mass casualty readiness as it prepared to receive the injured from the terrorist attack on the Pentagon. Dispatched within minutes of the incident, our helicopters were among the first medevac helicopters to arrive at the scene. This year, the service also had two ground ambulances. More than 2,000 patients were flown this year by MedSTAR Transport.

2002

MedSTAR Transport added another helicopter and three more ground ambulances to its stable. The service flew more than 3,000 patients this year.

2003

MedSTAR Transport celebrated 20 accident-free years of service to the community. The service has made almost 40,000 flights since it began in 1983.

2004

MedSTAR obtains D.C. Commercial Ground Ambulance via Certificate of Need process. The State of Maryland approves COMAR for licensing of Commercial Air Ambulance providers.

2005

MedSTAR obtains initial Maryland commercial air ambulance license and signs a memorandum of understanding with the state of Maryland to provide helicopter medevac from accident scenes. MedSTAR also signed an Air Ambulance agreement with the state of Delaware.

2006

MedSTAR Transport opened a state-of-the-art communications center in October in Lanham, Maryland.

2008

MedSTAR celebrates 25 years of service.

2015

D.C. completes regulations on licensing commercial air ambulances and MedSTAR receives its first D.C. Air Ambulance License.

2017

MedSTAR expands ground critical care services to the Baltimore region by opening a base at MedStar Health - Harbor Hospital
How to contact the Department of Transportation
The FAA Reauthorization Act of 2018 requires Air Ambulance Providers to include the hotline telephone number (202-366-2220), website address, and contact information (Aviation Consumer Protection Division, C-75, US Department of Transportation, 1200 New Jersey Ave, SE, Washington, D.C., 20590)