Nursing at MedStar St. Mary's Hospital
Nursing at MedStar St. Mary's Hospital
MedStar St. Mary's Hospital has been serving the Southern Maryland community for more than a century. Our nursing team provides high-quality, evidence-based, and compassionate care to the diverse population we serve. Nurses practice with autonomy, authority, and accountability in a variety of acute care settings.
Click here for a comprehensive list of inpatient and outpatient nursing departments.
The hospital is currently on the journey to Magnet® Recognition, a designation from the American Nurses Credentialing Center, that signifies our commitment to quality care, highest patient safety, and a positive work environment for all associates.
Click here to learn more about Magnet® Excellence.
Nursing Mission
To model excellence in professional nursing practice through the delivery of quality, safe, and innovative care is the mission for nursing at MedStar St. Mary's.
Nursing Vision
At MedStar St. Mary's Hospital, our vision is to serve our patients, our community, and the healthcare team through our commitment to providing quality care and experience while supporting innovative programs in professional practice, education, and research.
Nursing Practice
MedStar St. Mary's Hospital is committed to providing nursing staff with an innovative and supportive practice environment. Nurses are afforded the opportunity to thrive and grow while providing expert patient care. In our collaborative work environment, nurses can share ideas, pilot new innovations, and strive towards new levels of clinical practice. Nurses are respected and have a voice through shared governance, staff meetings, town hall sessions, and during rounding with leaders. Our highly engaged nurses influence practice every day, making MedStar St. Mary's both a great place to work and receive care.
Our Professional Practice Model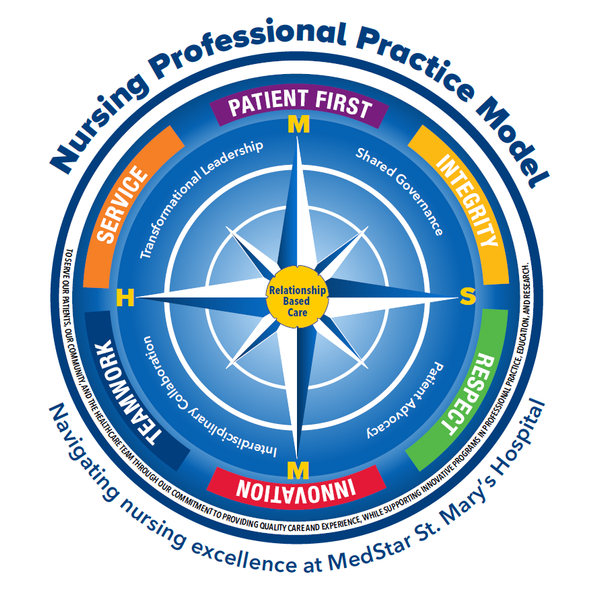 The MedStar St. Mary's Professional Practice Model is a compass that was chosen for its symbolic representation of the community we serve. St Mary's County, Maryland has deep nautical roots dating back to its establishment in the 1600's.

A compass is also used as a navigational instrument, just as the Nursing Professional Practice Model (PPM) guides nursing professional practice. Additionally, the compass as our PPM demonstrates our ability to adjust our course as necessary to ensure that our primary focus on the patient and family is upheld.
At the center of the compass is relationship-based care. This is the delivery model adopted by MedStar St. Mary's. Relationship-based care as the center of the compass demonstrates the importance placed on fostering relationships with the patients, families, and the communities we serve.
The compass's frame of reference defines the four cardinal directions of north, east, south, and west and is oriented using a compass rose. At MedStar St. Mary's, Dr. Jean Watson's Theory of Caring is our frame of reference to direct our nursing care.
The compass rose also defines intermediate directions. At MedStar St. Mary's, specific components of nursing excellence are also used to guide our nursing practice. The placement of these components, interdisciplinary collaboration, transformational leadership, shared governance, and patient advocacy demonstrate that these ideals guide the nurse in all directions.
The compass housing is the case that supports and protects the compass. At MedStar St. Mary's, the SPIRIT values provide the support for the PPM as the model is developed out of the MedStar Health's culture of caring. The SPIRIT values protect the PPM by reinforcing the importance and continued emphasis on Service, Patient First, Integrity, Respect, Innovation, and Teamwork for all MedStar St. Mary's associates.
Collaborative Governance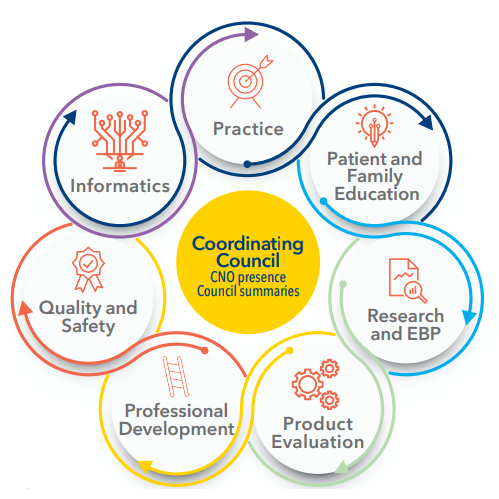 Collaborative governance empowers nurses to influence decisions and solve problems that affect their nursing practice, their professional development, and work environment. Collaborative governance is the process by which nurses have the authority to make decisions about clinical practice, quality improvement, and evidence-based practice and research.
The professional nursing staff at MedStar St. Mary's organize, integrate, and manage the delivery of nursing care through councils. Councils address issues related to practice, performance improvement/research, and education and professional development. We encourage each nurse to participate in a champion committee, or even a MedStar Health system council.
What is Magnet®?
Inclusion in the Magnet® Recognition Program reflects demonstrated strength in nursing care, innovative professional nursing practice, and nursing satisfaction. This designation is granted to hospitals by the American Nursing Credentialing Center (ANCC). According to ANCC, "Magnet status is not a prize or an award. Rather, it is a credential or organizational recognition of nursing excellence."
Why is Magnet® Recognition Important?
Magnet® designation helps to provide direction to organizations in their approach to quality improvement interventions and measurable outcomes. This culture shift helps ensure a positive and professional work environment not just for nurses, but for all associates at MedStar St. Mary's.
Our Journey Timeline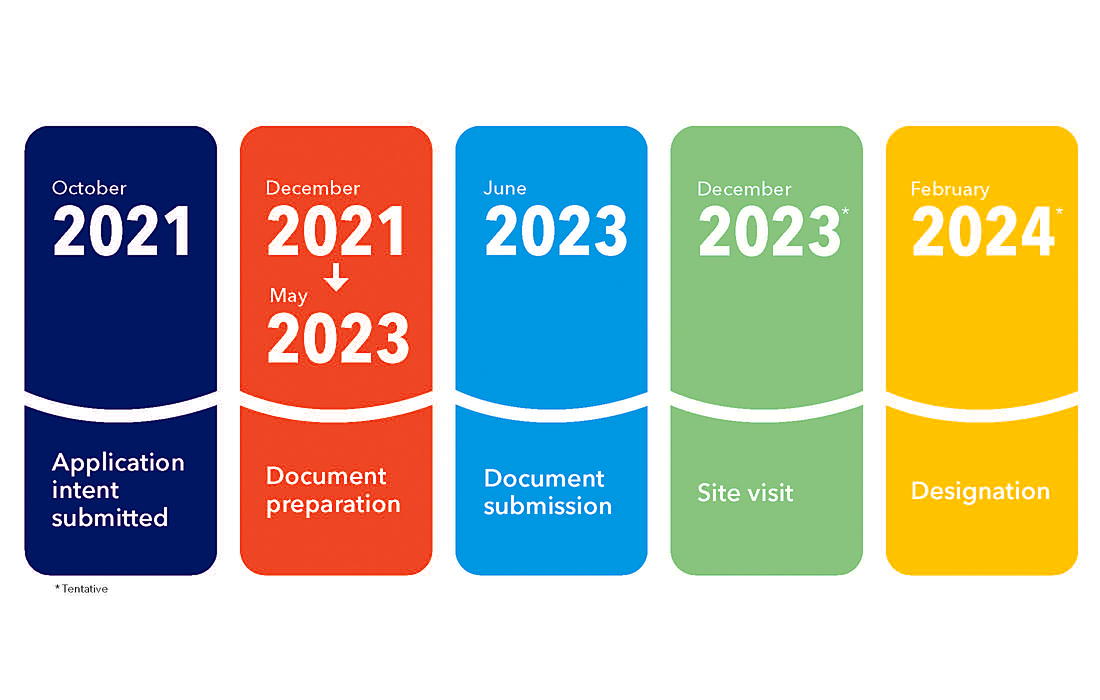 Nursing Education and Professional Development
MedStar St. Mary's has a history of offering a progressive and professionally rewarding workplace for its associates. We are committed to providing a comprehensive nursing orientation experience that includes didactic, computer assisted learning, and hands on training. Additional unit orientation and training integrates clinical knowledge with hands on skills to prepare nurses for professional practice.
MedStar St. Mary's provides a variety of learning opportunities and programs to improve clinical skills, enhance knowledge, and support professional growth. The following are offered at MedStar St. Mary's:
Student Nurse Externships
MedStar St. Mary's Hospital offers externships to student nurses, allowing them to gain valuable hands-on experiences that sets them apart. Our paid externship helps nursing students discover new nursing specialties, work collaboratively in a clinical environment, and prepare them for their next role as new graduate nurses. To learn more about the externship program, contact Human Resources at 301-475-6018.
Nurse Graduate Internships
This internship provides new graduates with the support, knowledge, and skills necessary to successfully transition from student to a new to practice nurse. Specially trained preceptors provide direction and support.
Residency Program
New to practice (NTP) nurses participate in the Vizient Residency Program. The evidence-based program is designed to enhance retention of NTP nurses and expedite their transition to competent, professional nurses. NTP residents meet monthly in didactic seminars to develop effective decision-making skills and clinical nursing leadership roles, strengthen their commitment to the nursing profession, formulate individual career plans, and incorporate research-based evidence into their practice. The NTP Nurse Residency Program incorporates collaboration from multiple disciplines, leaders, and other peers to make it a success. As new cohorts continue to form throughout the year, our hospital will continue to support and nurture NTP nurses to become clinically sound, competent, empowered, and committed MedStar St. Mary's Hospital nurses.
Mentor Program
During the first year as a new to practice nurse, there are many new and challenging learning experiences. MedStar St. Mary's Hospital pairs new nurses with a mentor for additional support. The mentor selected has a strong healthcare career concept that integrates education and work values. The side-by-side relationship allows the new nurse to work and connect with an experienced role model who can provide guidance and support.
Clinical Advancement Program
MedStar St. Mary's Hospital provides an environment of practice in which nurses can progress professionally. To support nurses in their career growth, a Clinical Advancement Program (CAP) is available. The CAP offers nurses a pathway for career advancement without needing to leave the clinical nursing practice. It also provides nurses the opportunity to progress along a continuum of competency and expertise defined into stages, based on Benner's theoretical framework of novice to expert.
Learning Opportunities
Nurses have access to tuition assistance and academic scholarships to support continuing education and learning at MedStar St. Mary's. Additionally, national certification review courses are available. Nurses are also encouraged to attend national conferences and join professional organizations.
Specialty training courses, mock codes and drills, and continuing education activities are offered annually.

Professional Growth
MedStar St. Mary's Hospital is committed to supporting each member of our nursing staff to develop professionally and meet career goals. Our nurses are encouraged to grow and become leaders at the bedside. We employ nurses throughout the organization in a variety of roles and leadership levels.
Leadership Team
Transformational Leaders
MedStar St. Mary's Hospital's nursing excellence begins with our visionary leadership team. These transformational leaders do not just supervise staff, but also provide clinical expertise, guidance, and structure. Nursing leadership at MedStar St. Mary's is committed to quality care, nursing excellence, improved patient outcomes, and optimal patient experience.
Though we are in a community setting, we offer a variety of specialty services at MedStar St. Mary's. We are proud of the exceptional team of nursing professionals and services we provide.