Wellbeing Initiatives | MedStar Health
What's new with wellbeing?
Free Coaching Services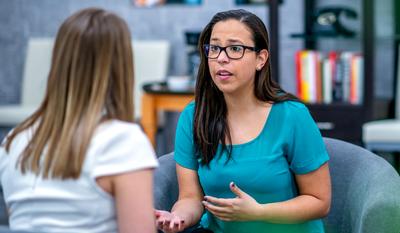 Build your skills and access support with coaching.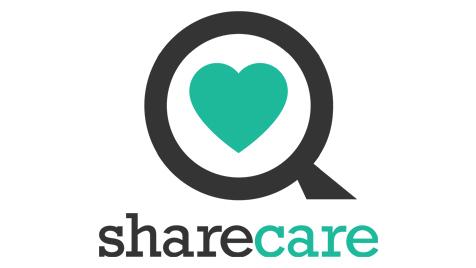 Access digital wellbeing resources with Sharecare
Track daily health habits, participate in challenges, and take action.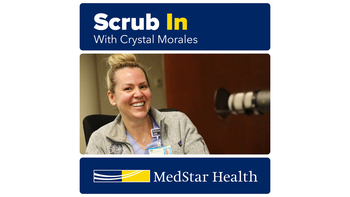 Stream the Scrub In podcast
Tune into MedStar Health's wellbeing-related podcast.
Do you want to recognize a colleague who advances associates' wellbeing throughout the system?
Our team has established the MedStar Health Wellbeing Advocate Award to recognize those who support associate wellbeing and efforts to develop associates' wellness throughout the system. Click each hyperlink below to learn more about the Wellbeing Advocate Award:
Wellbeing resources
MedStar Health has compiled a list of resources to support the wellbeing of our providers and associates. Below you will find categorized helpful links and resources.
Care for the Caregiver | Peer to Peer Support

The Care for the Caregiver team of nurses, physicians, quality, safety, risk associates, chaplains, social workers, and peers is here to support you in your time of need. The team provides free confidential 24/7 care to all associates and physicians system-wide.

Real-time attention using a nonjudgmental presence, focusing on listening and understanding
Informal debriefings, exploring the meaning of events and offering resiliency-building techniques
Information about additional services through the Employee Assistance Program (EAP) or crisis intervention services for larger scale stress reduction

Points of Contact

Call: 866-674-9355 (866-MSH-WELL)
Email: c4c@medstar.net
Voluntary COVID-19 Testing Wellness Program

Voluntary COVID-19 testing is available for all asymptomatic associates and physicians.

To schedule an appointment, contact the Voluntary COVID-19 Testing Wellness Program Call Center at 877-384-3530, Monday-Friday, 8 a.m.-5 p.m. Your appointment should be during your non-working hours. No walk-ins are accepted.

The COVID-19 Testing Wellness Call Center will schedule your testing at one of 10 sites across our system:

Hospitals: MedStar Washington Hospital Center, MedStar Georgetown University Hospital Center, MedStar Harbor Hospital, MedStar St. Mary's Hospital
Testing tents: MedStar Franklin Square Medical Center, MedStar Good Samaritan Hospital
Ambulatory locations: MedStar Health Bel Air Medical Campus, MedStar Medical Group at Adams Morgan, MedStar Health at Brandywine, MedStar Shah Medical Group at J. Patrick Jarboe Medical Center

Reporting of Test Results

The voluntary testing uses an antigen COVID-19 test. Results will be provided within 48 hours. You should continue working your regular shift schedule while awaiting your test results.

Associates and physicians with positive COVID-19 test results will be contacted by Occupational Health and provided guidance for next steps, which include additional testing and not reporting to work. Negative results will be reported through a text messaging chatbot tool. Results will also be available on the myMedStar Patient Portal.

All associates and physicians should continuously self-monitor for COVID-19 symptoms and contact the Occupational Health Call Center at 844-354-3705 should any symptoms present.

Employee Assistance Program

Expedited Mental Health Access for MedStar Health Providers and Associates

We recognize how important it is for you to take care of yourself, even as you are busy taking care of others. Through this initiative with the MedStar Georgetown University Hospital's Department of Psychiatry, MedStar Health providers and associates can establish contact with a mental health clinician within 1-2 business days of the initial call. The mental health clinician will identify the issues and either provide individual support immediately, or, if deemed helpful, will refer the associate to a mental health provider within Georgetown Psychiatry. Providers with expertise in adult, child, adolescent, and family mental health are available.

To request an appointment, call 202-944-5400. Select "schedule an appointment" and choose "established patients." Be sure to say you are a MedStar Health associate and need an appointment as soon as possible. After hours, leave a general message.

Expanded Support Services for Associates and Family Members

About Sharecare:

Sharecare is designed to equip you with the information, tools, and support required to address a wide range of needs across the health continuum and live a healthy life. MedStar Health's myHealth wellness programs, including Sharecare, are available at no cost to you.

Features

RealAge Questionnaire: In just a few minutes, the Sharecare RealAge Questionnaire will help you determine the physical age of your body, compared to your calendar age.
Personalized timeline: Receive content based on your health and wellbeing goals, in alignment with your motivation and interests.
Trackers: Connect your wearable devices or enter your own data to monitor daily habits like stress, sleep, steps, nutrition, and more.
Challenges: Stay motivated to achieve your health goals by joining or initiating a challenge.
Health profile: Access and log your health data—like biometric and lab results, vaccine information, and medication list—all in one place.

Tailored support: Based on users' responses to the RealAge Questionnaire as well as integrated medical claims data, Sharecare or CareFirst health coaches may reach out to members and offer individualized programs to assist with health goals or condition management. These programs are optional and cannot impact your medical insurance rates or eligibility. Members may request changes to their personal information consent by calling 877-260-3253 or by emailing privacy@sharecare.com.

All Sharecare and CareFirst medical claims data are maintained securely; MedStar Health does not have access to personal data and is not notified of health coach outreach to members. For more details, visit the Sharecare Terms of Use and Privacy Policy.

To set up your Sharecare account, follow the following steps for one-time registration:

Visit CareFirst.com/Sharecare

If this is your first time accessing the platform, click Log In > Register Now

MedStar Select/CareFirst members: Select Employer Sponsored and enter account information to register. If you do not know your Member ID, you may enter your full Social Security Number.
Kaiser/Other non-enrolled members: Select Wellness and enter the required information to register. If you do not know your MedStar Health Employee ID, you may enter your full Social Security Number.

Complete the registration process to log in. Download the Sharecare app on Apple or Android for on-the-go access.

Free Meditation and Mental Health Resources

Stress First Aid is a flexible model of small, manageable steps for self-help and peer support for managing stress that affects us at work. Explore the resources below to expand your knowledge of Stress First Aid and stay alert for regular training opportunities designed to deepen your knowledge of the Stress Continuum and the 7 C's of Stress First Aid.

Scrub In

is a wellbeing-related podcast hosted by MedStar Health's Crystal Morales, a registered nurse with a background in critical care, patient safety, and high reliability, who is now the director of nursing wellbeing at MedStar Health. Crystal talks with healthcare professionals with the goal of creating a community where we share information, ideas, and true insights that either inspire, inform…or possibly entertain!

Listen here

.
Resilience coaches are licensed mental health professionals available for in-person or virtual support and advice for creating solutions for work/life management, managing trauma reactions, or mental/emotional stress. When needed, they can connect you to additional mental health and support resources. Resilience coaches also provide wellness rounds and customized wellbeing support for your team, as well as workshops and presentations about stress, resilience, and thriving at work. Resilience coaches are available to support any associate or provider in all of our MedStar Health hospitals. Book an appointment here.

MedStar Health nurse wellbeing specialists are nursing professionals who can help you build and develop stress management skills, develop and set healthy goals, and provide resources needed to improve your wellbeing and overcome difficult challenges and adversities. Nurse coach specialists provide support to nurses and nurse support service lines. Sessions are offered at no cost for MedStar Health associates. Book an appointment here.

Sometimes, there is so much information out there that it is easy to miss some of the resources you need the most. On Wellness Rounds we bring the resources to you. Wellness teams conduct in-person rounding to check-in on associates, to provide information about resources, to help with wellbeing and self-care, and to provide immediate support, if needed. The teams round periodically and can also be requested to visit specific units.

If you'd like to request a Wellness Rounds session for your group or on your unit, let us know! Email: wellnessrounds@medstar.net

We know that your job is incredibly stressful and sometimes you need a break or a healthy snack on the go. We are setting up Recharge Stations around your hospital to serve as a place for you to recharge and find out more about the wellbeing resource available to you and your families.

Enhance Wellbeing with Healthy Choices and Easy Ordering

Manage mealtimes with healthy choices and efficient ordering from MedStar Health hospital cafés. The Bite by Sodexo mobile app allows associates to customize and place orders, pay, and receive a receipt digitally. The app also enables preordering food for a scheduled pickup time. To use Bite by Sodexo, create an account and link a personal credit card. Search "MedStar" to select your hospital location. The app is available in the Apple or Google Play app stores. Bite by Sodexo is owned and managed by Sodexo, the food and nutrition partner of MedStar Health.
Child and Adult Care Services

Child and Adult Care Services—Care@Work Program

MedStar Health is providing heavily subsidized child and adult care services for associates and physicians, allowing you to remain active in your role. We have contracted with the Care@Work program to make available unlimited referrals for child and adult care providers through Care.com For urgent care needs, the program provides subsidized, vetted in-home care for children and adults, and child care services at participating centers across the region. This benefit is now covered by MedStar Health and available for 10 days of subsidized coverage with a copay of $8/hour for in-home care or $15/day per child at participating child care centers. Enroll at MedStar.Care.com using your MedStar Health email address to validate your employment. Enrolling with a MedStar Health email address also provides acess to Premium membership perks, including searching the Care.com database for one-time or recurring babysitters, pet sitters, tutors, and more.

Virtual School Care Needs

The Care.com Backup Care benefit may be used to find vetted and subsidized tutors, learning pod teachers, nanny shares, or babysitters to support your children while you work during these unprecedented times. Visit MedStar.Care.com for a school-related resource guide.

External Child Care Resources

The following free resources are meant to serve as a guide and are not explicitly endorsed by MedStar Health:

Financial Wellness Resources

Managing finances can be stressful, especially in times like this. Through MedStar's retirement vendor, Empower, review the following financial wellness resources for support.

Access your personal Empower account, complete retirement plan enrollment, manage your elections, and more on the myHR Retirement Savings Plans page.
Connect with a dedicated retirement counselor serving your area for a personalized review of your retirement strategy.
For additional retirement plan support, contact 833-738-6787 (833-RET-MSTR).

Our telehealth platform, MedStar eVisit, provides quick, convenient access to trusted medical providers, available 24 hours a day, seven days a week from any mobile device or computer. MedStar eVisit may be used for the diagnosis and treatment of common illnesses like common cold, flu, sinus infections, pink eye, and more. In addition, MedStar eVisit providers are now prepared to screen for cases of COVID-19.

To sign up or log in, download the free iOS or Android mobile app OR visit medstarhealth.org/MedStar-Health-eVisit

.
Provider Resources
We are proud to offer MedStar Health providers numerous tools to meet their unique wellbeing needs. A first-of-its-kind, the Provider Concierge program connects providers directly with a personalized assistant who can help you navigate various resources. From understanding your 403b, to getting help with rescheduling your flight reservation and setting up your Care.com back-up child care and adult care, to career coaching and beyond, the Provider Concierge program is designed to remove friction from your day-to-day life. Use the Provider Concierge link to schedule an appointment with your personal concierge and fill out a confidential form for direct assistance.
Additional tools and information include access to MedStar Health's Faculty Development, MedStar GME, and the Wellness Champions network.
Review our list of suggested healthy associate hotels here.
Call us: 800-554-1399

Schedule an appointment with your personal concierge

Fill out a confidential form for direct assistance

Access child and adult care resources on medstar.care.com using your MedStar email address

MedStar Graduate Medical Education

Founded in 2018, the Wellness Champions program is a system-wide initiative to support and develop local wellness experts throughout MedStar Health. Every GME program as well as any interested department/team is encouraged to identify and provide time for a volunteer to join our multidisciplinary group of wellness champions. Wellness champions participate in regular meetings to receive the latest information about wellness research and best practices, exchange ideas, collect and understand wellness data, and work together to address challenges in implementing wellness strategies. We will continue work to develop resources and infrastructure for local wellness projects.

If you would like to learn more or are considering becoming a Wellness Champion, please contact Heather Hartman-Hall, PhD.
About us
This web resource is fueled by the leaders who now drive the MedStar Health Center for Wellbeing. The Center further develops and promotes our innovative and supportive wellbeing culture that prioritizes optimal health, professional fulfillment, and quality of life to help MedStar Health serve as a best place to work in health care.
The following is key contact information shared throughout this page, at-a-glance:
Center for Wellbeing Services