Cardiovascular Core Imaging Lab | MedStar Health
The cardiovascular core laboratories at the MedStar Health are academic cardiovascular imaging core labs, which provide internationally recognized expertise in an efficient and responsive environment. We recognize the demands placed on sponsors and pride ourselves on having the perfect blend of academic integrity and operational efficiency, unparalleled by any commercial lab.

How do we do this? It is simple — we approach every new study as we would a new patient. We seek to understand the study, its background, and what it is trying to accomplish. Then we offer our experience and expertise in medical imaging to help guide the study to effectively and efficiently reach its endpoints.
The cardiovascular core labs consist of the echocardiography core lab, the cardiac MRI core lab, and the cardiac CT core lab. We have participated in a wide range of clinical trials on such topics as:
Innovative therapeutics and assessment for structural heart diseases, such as aortic valve stenosis and mitral valve regurgitation. We have provided assessment for implantable cardiac devices like transcatheter aortic valve replacement (TAVR), transcatheter mitral valve replacement (TMVR), and pulmonary investigational replacement valves

Ischemic cardiomyopathies studies focus on coronary plaque assessment by CTA and calcium scoring

Congenital and/or genetically triggered cardiovascular diseases, like Marfan's Syndrome or other congenital connective tissue diseases

Stem cells and other pharmaceutical therapy for cardiovascular diseases
Our laboratories
Under the direction of Dr. Federico M. Asch and Dr. Neil Weissman, the echocardiography core lab provides interpretation and analysis for all types of cardiac ultrasound images including transthoracic, transoesophageal/intraoperative, intracardiac, epicardial echocardiography, and 3D TEE.

Under the direction of Dr. Gaby Weissman, cardiac CT is the latest and one of the most exciting imaging modalities introduced into the cardiac arena. CT has well established role for pericardial disease, coronary pathology, calcium detection, and now multi-slice CT is rapidly gaining acceptance for myocardial, coronary arterial imaging, and prosthetic valve assessment.

Under the direction of Dr. Gaby Weissman, cardiac MRI is an ideal imaging tool that provides high resolution images to assess left ventricular volumes, mass, flow, and function (perfusion).
Our team
MedStar Health providers
Cardiologist scientist
Anita Sadeghpour, MD, FACC, FASE
Sub specialties: Advanced echocardiography, Cardiac imaging, Structural Heart Diseases
Languages: Persian, English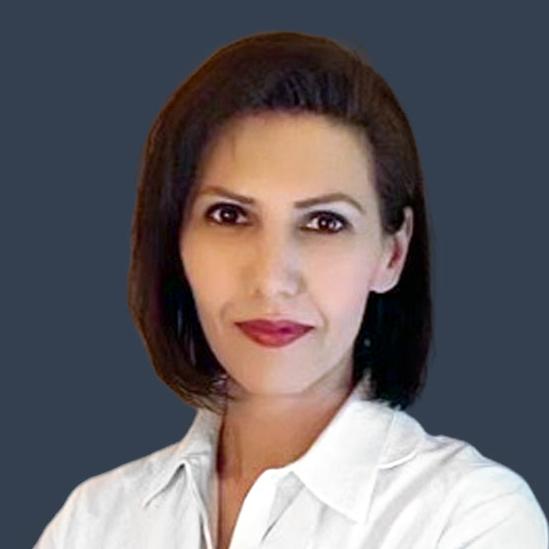 Dr. Anita Sadeghpour, MD, FACC, FASE is a cardiologist at the Cardiovascular imaging core lab of MedStar Health Research Institute, Washington Hospital Center. She is board certified in advanced echocardiography, cardiac MRI, and cardiac CT.
Dr. Sadeghpour is the first editor of two international textbooks (Case-based Textbook of Echocardiography 2018 and Comprehensive Approach to Adult Congenital Heart Disease 2014 by Springer ). She has published more than 100 original research articles in cardiology and cardiac imaging peer review journals.
She has been a professor of cardiology with 18 years of experience working in the clinic and echo lab of a tertiary high-volume academic center and a wealth of experience in research and education of advanced echocardiography, adult congenital heart disease, and structural heart disease in Iran, Tehran. In 2004, she learned echocardiography from the experts in the Cleveland Clinic Foundation, Mayo clinic echo lab, and the University of Chicago. She completed her CMR Level III training and board certification in CMR at Duke cardiac MR lab (2019-2022).
During these years, she has been actively involved in the ACC, AHA, and ASE committees as the panelist, lecturer, and reviewer of the American Society of Echocardiography (ASE) Task Forces and Guidelines Committee.
Her area of interest is advanced echocardiography, multimodality imaging, interventional imaging, and structural heart diseases.
Cardiovascular core lab services
The cardiovascular core laboratories at the MedStar Health Research Institute provides a wide range of services: analysis, management, development, or training, our team of cardiac imaging experts are here to help.
Protocol development
Our staff and physicians are available to review the clinical trial draft protocol and provide input to ensure imaging requirements are appropriate to optimize the likelihood of completing the study in an effective and efficient manner. The core lab will review all aspects of the study protocol and provide expertise and advice regarding imaging; the staff will collaborate with sponsors to develop imaging acquisition protocols for each study, as needed and appropriate. Drawing on their years of experience and knowledge of FDA guidelines, the staff is instrumental in formulating instructions for sites acquiring images.
These instructions usually address equipment requirements, personal experience or certification and a detailed 'menu' of how to acquire the images. The key parameters in the imaging protocol and analysis need to match the goals and objectives of the clinical trial. Often there needs to be a balance between a focused exam that assesses the required fields only versus one that is broader and collects several other parameters that could have potential value in the future. We will discuss the pros and cons of each approach and offer our advice based on the strengths and weakness of the imaging modality and on how those fit your trial.
Case report form development
Our physicians and staff are available to support the creation of study-specific Case Report Forms (CRFs). CRFs for the clinical sites are designed to help improve compliance with the acquisition protocol. They often involve a "checklist"' and on-site measurements of key fields. The core lab will also develop a data transfer (or core lab) case report form with all the analysis fields performed. This will be developed, in collaboration with the sponsor, to ensure all data that relates to study primary and secondary endpoints that are image-related are appropriately captured.

The cardiovascular core labs utilize electronic case report form. The lab has partnered with commercial vendors to implement eCRF's that can be housed within the core lab or web-based. Electronic CRFs utilize drop-down menus and "'gray-out"' functions to ensure complete and accurate data collection. Electronic-based CRFs may be customized to meet the sponsor's needs and have many advantages such as reduction of data queries, streamlined data transmission, and implementation of real-time data quality assurance measures.
Study-specific standard operating procedure development
Our physicians and staff work with sponsors to develop study-specific Standard Operating Procedures (SOP) for the core lab image analysis. These SOPs include step-by-step procedures performed in the core labs, including project management, study tracking, image processing and analysis, data management, and quality assurance. All aspects of image and data management are documented in the SOP and are available to the study sponsor for review. The SOP ensures documentation of all aspects of the core lab activities for your study and also ensures compliance with regulatory agencies.
Clinical site training
Training has become a required aspect of clinical trials that utilize imaging. Our physicians and staff will develop training materials to ensure all investigators are familiar and appropriately trained on the imaging acquisition protocols. "Self-study" Microsoft PowerPoint presentations can be used for relatively simple, clinically relevant acquisition protocol. These slideshows present side-by-side acquisition instructions and images. This is often a good way to ensure that physicians, sonographers /technicians, and staff know and understand the acquisition protocol. These presentations can be used during site initiation and may be combined with a conference call or web-based training sessions. Often training will take place at an investigator's meeting.
The core lab staff is available to participate in this training session and can provide "take home" material that reinforces the key points made during the presentation. In addition, the staff is available for on-site training for PIs and study staff. This is appropriate for more demanding acquisition protocols or when the imaging component of the study protocol is critical to the successful implementation of the study. Depending on the scope of the imaging requirements, we may suggest that sites provide a qualifying study before they can begin enrollment. We will ensure timely assessment of these studies and discuss issues that arise during their review.
Image management
Image tracking

The cardiovascular core labs use a tracking system to aid in the identification and tracking of studies. Images are logged into the cardiovascular core lab's tracking system upon arrival. The system generates identification number for each study. As the study moves to the technician and physician, it gets tracked electronically. Status reports can be produced at pre-determined intervals or upon request.

Digital web transmission

The cardiovascular core labs have partnered with commercial vendors to offer the option of web-based digital transmission of echo studies. Studies can be submitted to the core labs via a secure website. Studies can be submitted from any desktop computer with Internet access and the appropriate software. All studies are electronically archived on a secure server and are available for immediate review. For further information about this option, please contact the core lab.

Image storage

All images submitted to the core lab are archived. This serves as the source documentation for our analysis. Digitized studies are copied onto a secure server that has nightly backup. CDs and DVDs are stored on-site for the duration of the study and long-term, if desired. All digitized images and measurements used for analysis will be stored digitally in the core lab server which is backed up nightly.
Image analysis
Initial image analysis is conducted by trained technicians / sonographers and then reviewed side-by-side with an experienced cardiologist. Every study analyzed in the core lab is reviewed by a board-certified Cardiologist. We believe that this is necessary to maintain quality and it provides the highest level of acceptability by regulatory agencies. Image analysis is customized based on the protocol and the needs of the sponsor. The physicians and staff in the core labs are available to aid in identification of appropriate image analyses to support each study. Analyses include 2D and volumetric analysis, assessment of anatomy and physiology, assessment of function of the heart and/or implanted device. Given the very diverse nature of cardiovascular disease and the multitude of anatomic and physiologic parameters that can be measured with ultrasound, it is impractical to list all the possible parameters that could be measured. The scope of analysis will be determined after review of the clinical protocol and in collaboration with the sponsor.

Equipment

The Core Lab analyzes all studies using commercially available, 510K approved workstations. Cardiac ultrasound studies are analyzed on the Phillips Xcelera System, MediMatic ComPACS, TomTec and the Digisonics Digiview Review System. Cardiac CT images are analyzed using the Fuji Synapse system and Circle CVI42. Cardiac MRI images are analyzed using Medis Qmass / Qflow and OsiriX system. All equipment is appropriately inventoried and maintained with regular checks to assure proper function.
Data management
Once a study has been analyzed, a data transmittal sheet or case report form is completed. If third party vendor core lab electronic CRF is used, the data will be downloaded directly into an Access database. All data is run through a quality control check to ensure all variables are within pre-determined guidelines. Once data has been verified, it will be transferred to the sponsor/CRO electronically. All data fields and parameters can be specified through a data transfer agreement to ensure smooth transmittal of the information. An on-site data manager and on-site statistical support is available for customized data management or analysis.
Customized reporting
The cardiovascular core labs can provide the sponsor/CRO with progress reports or statistical analysis reports throughout the study. The lab study tracking system can be used to provide progress reports at regular pre-determined intervals or upon request. These progress reports can list every study received by the lab and whether the analysis is complete or on a preliminary status. As described above, an on-site data manager and on-site statistical support is also available for customized data management or analysis.
We work closely with sponsors and clinical research organizations to perform timely analysis of the data and generation of reports (for example, an interim quality assurance report to determine the yield of a parameter on a site-by-site basis can be performed to determine if there is adherence to the imaging protocol). We will also work with your Data Safety and Monitoring Board to produce the interim reports necessary for their proper function. Final reports by a sponsor or CRO can also be reviewed and assistance in the preparation for regulatory submission is available.