400 Stuffed Animals Donated to Hospital for Young, Elderly Patients | MedStar Health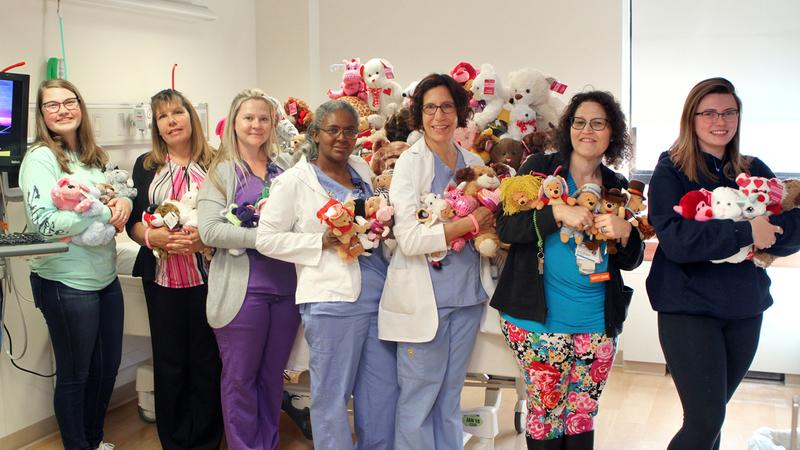 CLINTON, MD -- MedStar Southern Maryland Hospital Center recently welcomed 400 stuffed animals through their doors, a donation from LaPlata High School senior Sidney Monk.
Monk collected the brand-new stuffed animals through friends, family, acquaintances and a donation from the LaPlata Chick-fil-A restaurant. She was inspired to perform this philanthropic mission after her own experience receiving a stuffed animal during a hospital stay as a child. She has collected and donated stuffed animals to hospitals ever since, totaling thousands.
MedStar Southern Maryland Hospital Center plans to distribute the animals first to young visitors to our Emergency Department.
"Stuffed animals for pediatric patients really help," said Emergency Department Nurse Kristin Quade. "Parents are also grateful and floored we go through the trouble to have them here."
The animals will also go to elderly patients. Care of elderly patients is something MedStar Southern Maryland Hospital Center prides itself on, having achieved the highest level of care possible in the Nurses Improving Care for Healthsystem Elders (NICHE) program just a few months ago.
"When patients are elderly and/or confused, having something to help that helps soothe them will be great," said Nursing Director Anne Johnson, who helped receive Monk's donation.
Monk was accompanied on her trip to donate the stuffed animals by her best friend and fellow LaPlata High School senior Holly Miller. She was also accompanied by her mother Cheri, a teacher, who recalled, "When Sidney was six years old, she was in the hospital after an asthma attack, and she received a stuffed bear. Sidney asked if all kids in the ER received stuffed animals and was told no, the hospital often runs out. She said, 'That's really sad, I'll see what I can do to help,' and later created Sidney's Dream Foundation to bring brand-new stuffed animals to kids in hospitals."
MedStar Southern Maryland Hospital Center would like to thank Sidney Monk, Dave and Cheri Monk, Holly Miller and Sidney's Dream Foundation. This is Monk's second donation to MedStar Southern Maryland Hospital Center.