COVID Recovery Program Helping Patients Manage Lingering Symptoms | MedStar Health
COLUMBIA, MD - MedStar Health has launched a groundbreaking program designed to meet the needs of patients dealing with post-COVID conditions, such as Long COVID. Long COVID is diagnosed when COVID survivors experience persisting symptoms for weeks and even several months after they've recovered from the acute stage of the illness.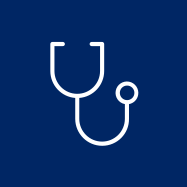 "As we started to see more and more people becoming ill with COVID, we started to notice that patients were not just bouncing back right away, but were left with many different lingering symptoms affecting different parts of the body," said Physical Medicine and Rehabilitation Physician Eric Wisotzky, MD, who serves as medical director of the program. "We quickly responded by building the MedStar Health COVID Recovery Program to respond to these needs."
The COVID Recovery Program coordinates the care of COVID-19 patients across a wide range of MedStar Health services to treat fatigue, pain, persistent shortness of breath, headache, thinking, focus, and memory issues, weakness, and other varying symptoms reported by some COVID-19 patients following their recovery from the initial stages of the virus.
Patients are paired with a physician or advanced practice provider to evaluate symptoms and develop a care plan through either a telehealth appointment or a visit to MedStar National Rehabilitation Hospital in Washington, D.C., or MedStar Good Samaritan Hospital in Baltimore. From there, a patient navigator sets up appointments and follow ups for all the specific treatments they may need, which saves valuable time and energy.
Some patients with serious cases of COVID-19, like Patrick Bright, 56, of Clinton, MD, require several different types of care following their infection. After a month long stay at MedStar Georgetown University Hospital battling the coronavirus in the Spring of 2020, Bright began physical therapy, occupational therapy, and therapy for heart failure caused by the virus.
"Now I'm at MedStar Southern Maryland Hospital Center for cardiac rehabilitation. Because I live so close, they're allowing me to do my therapy there," Bright said. "I'm so happy to be here. I just thank God for the medical staff at MedStar Health." Another patient taking advantage of the program is professional violinist Elise Blake, 38, of Washington, D.C., who spent six days at MedStar Washington Hospital Center with COVID-19 in November 2020. After overcoming her initial symptoms, Blake found that her ability to play violin at a high level had diminished.
"You check for flow. You check for technique. Even when you're learning a new piece, you know how to fix problems," she said. "I just had to kind of stop for a while. I was really weak."
Blake was referred to the COVID Recovery Program where Dr. Wisotzky evaluated her symptoms and set her up with regular appointments to see specialists in pulmonology, neurology, and physical therapy. Over time, the strength and dexterity needed to play professional violin has returned. She is now back teaching students virtually and performing in outdoor concerts as venues start to reopen.
"The thing I liked about the program was that it was so comprehensive," Blake said. "It would have taken a lot more effort to set up all the appointments on my own when I didn't have the energy. I'm convinced it helped me heal better because it was more streamlined."
"Through this whole team we're really able to help people get back to their old selves," said Wisotzky.
Patients interested in the COVID Recovery Program should be at least six weeks removed from the start of COVID symptoms and should have documentation of at least one positive COVID-19 test. If a documented positive test is not available, patients can be referred by a primary care provider.
For more information, visit medstarhealth.org/COVIDRecovery.
---
About MedStar Health
At MedStar Health, we use the best of our minds and the best of our hearts to serve our patients, those who care for them, and our communities. Our 30,000 associates and 4,700 affiliated physicians are committed to living this promise through our core SPIRIT values—Service, Patient first, Integrity, Respect, Innovation, and Teamwork—across our more than 300 locations including 10 hospitals, ambulatory, and urgent care centers. As the medical education and clinical partner of Georgetown University, MedStar Health is training future physician leaders to care for the whole person and is advancing care through the MedStar Health Research Institute. From our telemedicine and urgent care services to the region's largest home health agency, we're committed to providing high-quality health care that's also easy and convenient for our patients. At MedStar Health—It's how we treat people. Learn more at MedStarHealth.org.