DC Safe Babies Safe Moms initiative brings high-risk obstetrics services to Ward 8
MedStar Health and Community of Hope partner to provide access to specialty maternal health care for families living in the District's most under-resourced neighborhoods.
WASHINGTON – MedStar Health and Community of Hope announce a new partnership to address inequities in maternal and child health in Ward 8. Melissa H. Fries, MD, a high-risk obstetrics specialist, will begin seeing patients who have complicated or high-risk pregnancies at Community of Hope's Conway Health and Resource Center in Ward 8's Bellevue community beginning February 22, 2022. Dr. Fries will be the only high-risk obstetrics specialist in the District's Ward 8.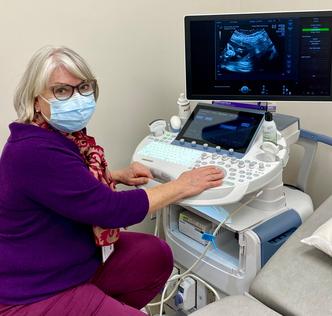 High-risk obstetric specialists care for birthing individuals whose road to parenthood has been difficult or uncertain due to underlying health conditions, risk factors, or complications with the pregnancy. MedStar Health's Dr. Fries will see up to 15 patients a day, four days a month at the Community of Hope health center in Ward 8, and will consult with Community of Hope physicians on emerging risk patients. Additionally, MedStar Health has provided a full-service sonography machine for this location and provided hand-held sonography machines for Community of Hope's three health centers.
Reducing physical barriers to quality healthcare, particularly for birthing individuals with the highest risk, is one way the D.C. Safe Babies Safe Moms initiative seeks to improve health outcomes for parents and babies who live in communities that are historically under-resourced in the District.
"Families living east of the river have had to navigate long transportation and inaccessible healthcare for too long," says Ebony Marcelle, Director of Midwifery, Community of Hope. "This partnership brings the specialists directly to their community. Removing barriers will improve health for parents and their babies and will build trust in a healthcare system that is putting their needs first."
Made possible by an investment from the A. James & Alice B. Clark Foundation, D.C. Safe Babies Safe Moms brings together MedStar Health, the area's largest healthcare provider, and trusted community-based organizations Community of Hope and Mamatoto Village, to create positive and most importantly, sustainable change in maternal and infant health. This collaboration is fulfilling an essential need to improve maternal and infant health outcomes in the nation's capital, an area that currently ranks among the worst in the United States.
Since its founding in 1987, the A. James & Alice B. Clark Foundation has supported hundreds of nonprofit organizations in the D.C. area. The Foundation's Parent-Child Health Initiative supports improved outcomes for families with a focus on building infrastructure that will serve generations to come.
"Increased access to quality care in a maternal health desert is just one of many advancements to come from the successful partnership of a large health system and a federally qualified health center," says Ryan Palmer, Director of DC Community Initiatives at the Clark Foundation. "We are thrilled to support MedStar Health and Community of Hope in their work to create a healthy, thriving future for all DC families and children."