Immunotherapy Research Expands to Include Rare Cancer | MedStar Health
Woman with Thymic Cancer Has No Evidence of Active Disease after One Year in Clinical Trial
(Washington, D.C.,) Shannon Semple of New Bern, North Carolina thought her daily four mile runs were just getting harder because she was getting older.
"Looking back on that, I probably had cancer and didn't know it yet," said Semple during a recent visit to MedStar Georgetown as she prepared for an infusion of the investigational immunotherapy pembrolizumab that appears to be keeping her rare cancer at bay.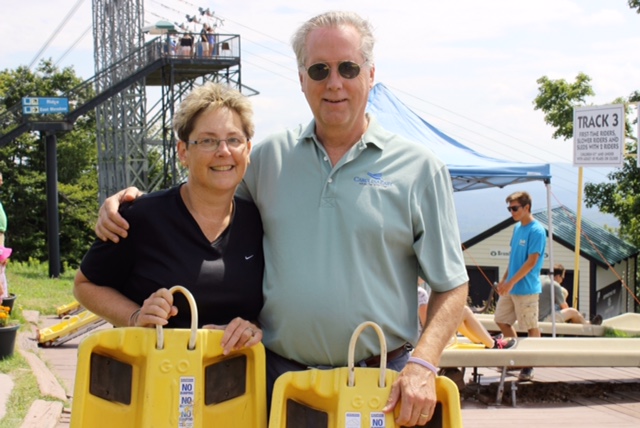 In 2013 at the age of 53, Semple, a healthy trialthlete, was diagnosed with advanced cancer of the thymus, a small gland in the neck that produces T cells for the immune system. She traveled to hospitals on the East Coast of the United States receiving chemotherapy, radiation and targeted therapy. All of those ultimately failed.
"When I was first diagnosed, I was told to get my 'bucket list' together," said Semple. "The survival rates for my cancer are very low. I was devastated.  But I couldn't fathom sitting back and waiting for treatments to fail so I did a lot of reading, pushed my local oncologist for genomic testing of my tumor, and started looking for clinical trials.
Then she started hearing about immunotherapy and a phase II thymic carcinoma study initiated by Giuseppe Giaccone, MD, PhD through the Georgetown Lombardi Comprehensive Cancer Center at MedStar Georgetown University Hospital and funded in part by Merck.  
"By the time I saw Dr. Giaccone, my cancer had disastrous effects on my bones and had spread to my liver.  I had to have a hip repaired with a titanium pin due to the cancer. I was very weak, could only walk with a cane and was in a very dark place spiritually at that time, but Dr. Giaccone said, 'we're going to do this.'"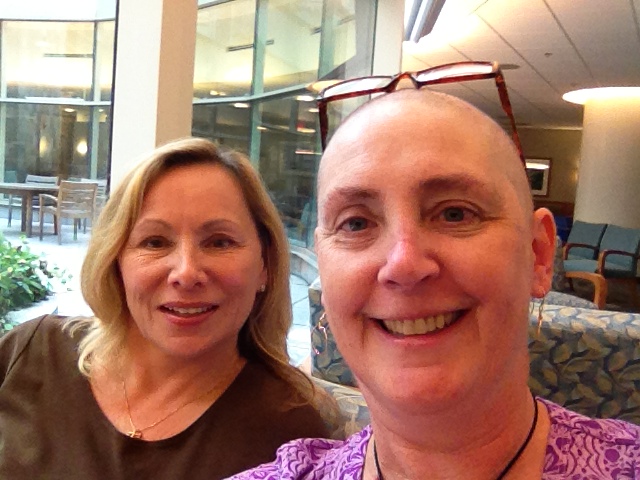 "In the past, we had little to offer patients with advanced thymic cancers," said Dr. Giaccone who is an international leader in the development of treatments for thymic as well as lung cancers.  "Chemotherapy has some effect, but especially in thymic carcinoma, the effect is limited and of relatively short duration.  We are seeing some progress with targeted therapies, but patients who respond to these agents usually relapse after only 7-8 months. Immunotherapy offers a different approach to all of the standard treatments. Pembrolizumab is an anti-PD1 antibody that, simply said, reactivates the immune system by blocking an immune inhibitory signal that is present in several cancers."
"At my first visit with Dr. Giaccone, both my family and I were immediately put at ease. Despite widely metastatic disease, he felt that I would be a good candidate for the trial. He explained the likely side effects and the possibility that the study drug might not work at all. But I was IN!"
"After receiving the pembrolizumab I felt like I had the flu at first, but that subsided and after about two days I felt pretty good. Within two weeks many of the enlarged lymph nodes had become normal in size. That was a glimmer of hope. Now, nearing the end of a year on this therapy and recently learning that I have no detectable disease- that glimmer has started to shine and I have complete, unbridled hope.  I'm back to walking four miles a day, cycling and I'm ready to return to work."
"Shannon's cancer reacted to the pembrolizumab just as we had hoped,"  said Dr. Giaccone.  "It's important to remember that hers is just one case and we can't promise that it will work this well in all of our patients. Through further study we hope to learn why immunotherapies result in a total response in some individuals, while others experience a partial response or no response at all."
Thymic cancer is extremely rare. The National Cancer Institute reports that it accounts for less than 1 percent of all adult cancers.  The American Cancer Society reports that works out to fewer than 400 cases in the U.S. per year. Thymic carcinoma usually occurs in patients age 40-60, is typically invasive, aggressive and has a high risk of relapse and mortality.
"Because thymic is such a rare cancer, from the start, I was left with only 'standard therapy,' which was devastating because I knew the odds for my five-year survival were very low. The fact that there is little funding for research of such rare cancers only served to compound these feelings, especially when half of all cancers are rare cancers. Most of the money goes to four or five common cancer types."
Through her treatments at MedStar Georgetown, Semple has developed growing friendships with other thymic cancer patients in the study who come from outside of the Washington, D.C., area.  They're working on a website aimed at educating others about thymic cancer, what treatments are available and the process of getting into clinical trials.  

"I'm so incredibly grateful that thymic cancer is being included in new studies," said Semple. "There is such excitement surrounding immunotherapy for the more common cancers like lung and melanoma. Now, at least in my case, I am seeing an exciting result for a very rare cancer.  I also feel joy for those who fight thymic and other rare cancers along with me that they too might benefit. I would encourage any patient to participate in a clinical trial.  There is potential for huge benefit.  Even if you don't get the results you are after, you have contributed in a way that can ultimately benefit others, and that is an important role."
Dr. Giaccone reports having no personal financial interests related to the study.