MedStar Georgetown's First Proton Therapy Patient Grateful for Highly Precise Treatment with Fewer Side Effects | MedStar Health
Martha Ramos of Germantown, Maryland is back to enjoying her active life with her two children thanks to treatment she received for a recurrent brain tumor that included proton therapy now being offered at MedStar Georgetown University Hospital.
In fact, Ramos, 54, was the first patient to receive proton therapy when the MedStar Georgetown University Hospital Proton Therapy Center opened its doors in March 2018.
"I was a little bit nervous to be the first patient at MedStar Georgetown to get proton therapy," says Ramos though a Spanish interpreter. "But I trust my medical team wholeheartedly and after the first treatment I knew what to expect and was very happy."
Ramos was first diagnosed with a brain tumor called oligodendroglioma in 2006. She had surgery to remove the tumor.
But in the fall of 2017 routine follow-up imaging revealed that her tumor had returned.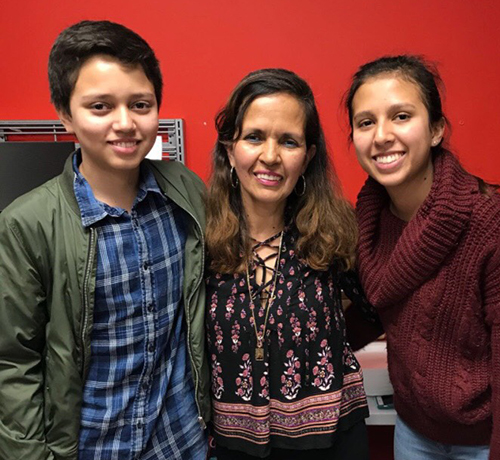 In January 2018 MedStar Georgetown Neurosurgeon Vikram Nayar, MD removed the second tumor, about the size of a golf ball, in a very complex operation. But there were some cells deep within her brain that couldn't be completely removed with surgery.
"She has a long life expectancy so we wanted to eradicate the remaining cells from this second tumor while still preserving her excellent quality of life," says Brian Collins, MD, Ramos's radiation oncologist and director of the MedStar Georgetown Proton Therapy Center.
"There was a little bit of tumor that was left after her surgery," says Ramos's neuro-oncologist, Deepa Subramaniam, MD, director of the Brain Tumor Center at MedStar Georgetown. "That's why she needed radiation after the surgery to get rid of what was left."
"I want to have more time to be a mom to my children," explains Ramos. "I want to be very healthy so I can be there for them and help them in life."
"We chose proton therapy for Ms. Ramos because we could irradiate a significantly smaller area of the brain than we could have with conventional radiation," says Dr. Collins.
Dr. Collins explains that with conventional radiation the photons or x-rays travel through the entire brain without stopping; with proton therapy, the radiation is unleashed just inside the target, then stops. That means there is no exit dose to harm healthy brain tissue.
"This results in fewer side effects like dementia or memory loss. For Ms. Ramos this was an advantage because we could deliver radiation just to the tumor without affecting other areas," says Dr. Collins.
The proton therapy system at MedStar Georgetown is the first and only in the Washington, D.C., metropolitan area and is the first in the world to offer proton therapy with HYPERSCAN™ technology. HYPERSCAN produces beams that are sharper than other proton systems and treats patients faster.
"I feel that I responded very well to the proton therapy treatment," says Ramos. "My recovery from the proton therapy was surprisingly fast."
"I'm very excited for Ms. Ramos," says Dr. Collins. "After a short time, she's back to living her normal life and we expect her to make a full recovery. Proton therapy was an excellent option and it was a pleasure helping her get through this."
"I am very, very grateful that my medical team at MedStar Georgetown told me about proton therapy," says Ramos. "I now look forward to a long and happy life."