MedStar Health and the Washington Capitals Team up to Bring Holiday Cheer to Young Patients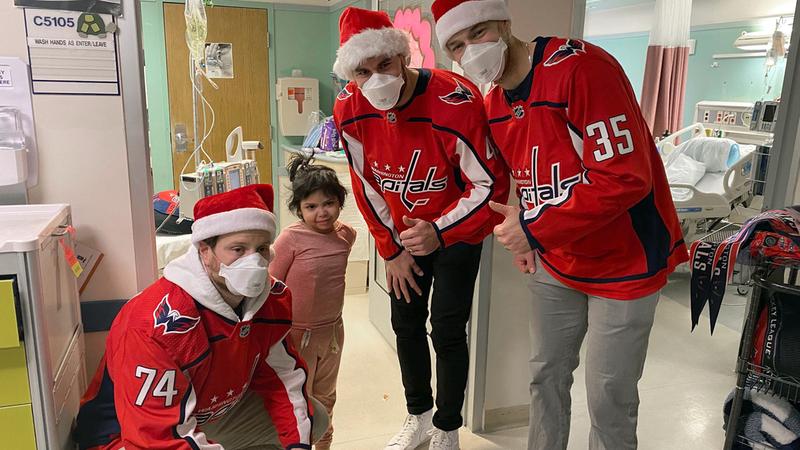 WASHINGTON – Riding a large passenger bus as their sleigh, the entire Washington Capitals team, including Slapshot joined forces with MedStar Health to spread holiday cheer with young patients and their families at MedStar Georgetown University Hospital on Friday.
Players divided into groups with the kids, created festive ornaments and together, decorated a holiday tree just outside the pediatric outpatient clinic. Players also visited other seriously ill children who are staying at the hospital as inpatients.
"The Caps visits during the holidays are the highlight of the year here at MedStar Georgetown," said Tracy Councill, art therapist and founder of Tracy's Kids, a non-profit organization that uses art to help young patients cope with the stress of cancer and other serious illnesses that can require long and scary hospital stays. "Through our Tracy's Kids art therapy program, we try to help the kids be kids, so they feel at home in the clinic. We really appreciate all the team does to lift their spirits and make them feel really special. The excitement of meeting the players and working with them to create these wonderful holiday ornaments takes their minds off being sick for an afternoon."
During the festivities, Council presented team captain and left winger Alex Ovechkin with a cardboard cutout rendering of himself in his Caps uniform, signed by the kids celebrating his 800th goal. "Oh man, this is an awesome toy," said Ovechkin, with fist bumps of thanks all around.
Thanks to Hope for Henry, which has helped with the Caps holiday visits to MedStar Georgetown since their beginning in 2015 and whose national program started at the hospital more than a decade ago, children and their siblings received Caps jerseys, pennants and other 'Rock the Red' swag.
"These families are going through some tough times, especially around the holidays," said Darcy Kuemper, Caps goaltender. "It means a lot to us to be able to come and spend the day with them and try and have some fun."
Caps forward Nic Dowd took turns making arts and crafts and pushing a delighted young patient around the halls in his toy cart. "As much as it feels like we're giving back to them, I think just being here gives a lot to the players as well. It brightens everyone's day."
Washington Capitals spread holiday cheer at MedStar Georgetown University Hospital